C-GCH Research
Top child health experts collaborate at the Centre for Global Child Health (C-GCH) to identify and plan research studies that investigate critical global child health issues. We work in collaborative field sites throughout Africa, the Caribbean, South America and South-Asia.
Keeping current global child health trends, priorities, and the expertise of the Centre's researchers in mind, our research is strategically focused in five areas of child health.
Principal Investigator: Dr. Shaun Morris
Collaborators: Aga Khan Health Services, Pakistan, Aga Khan University, Karachi, and Aga Khan Foundation, Pakistan
Funders: Grand Challenges Canada and Aga Khan Foundation, Canada
Pakistan has the highest neonatal mortality (NMR) rate in the world, with close to 200,000 annual newborn deaths. Gilgit-Baltistan (GB), the northern most administrative territory in Pakistan, is burdened with some of the most alarming NMRs in the country, and limited access to reproductive health care services exacerbates the problem.
To address this challenge, Dr. Morris and his team have adapted an integrated Newborn Care Kit (iNCK) that was previously studied in Kwale County, Kenya, and Rahim Yar Khan, Pakistan, for implementation in GB.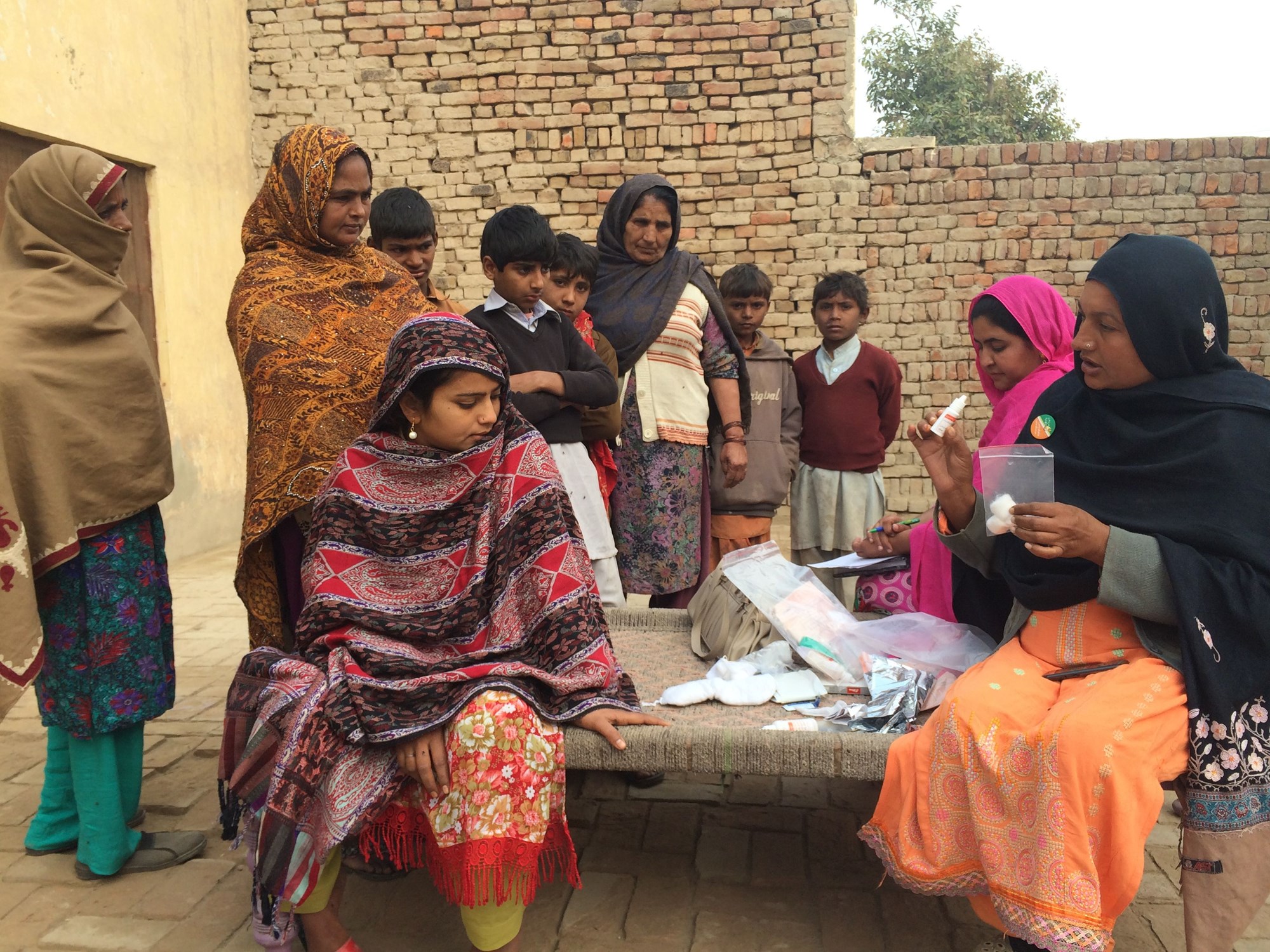 The iNCK bundles seven low cost, easy-to-use, evidence-based interventions that are designed to reduce or provide early identification of the most frequent causes of neonatal death:
A clean birth kit to reduce infection at the time of delivery.

An antiseptic, chlorhexidine, that is applied to the umbilical stump and has been shown to reduce the incidence of omphalitis and all-cause mortality.

Sunflower oil emollient to promote skin integrity and reduce infection.

Thermospot

TM

, a continuous temperature monitoring sticker, that enables the caregiver to detect fever, cold-stress, moderate, and severe hypothermia in the newborn.

A blanket to keep the baby warm (until care can be sought) after moderate or severe hypothermia is detected.

A reusable, instant heat pack to be used with the blanket when hypothermia is detected.

Three tablets of misoprostol, to be used to prevent post-partum hemorrhage, one of the leading causes of maternal mortality in GB.



The iNCK will be distributed directly to over 13,000 expectant mothers in their third trimester by government-employed female health workers performing routine home visits.
Principal Investigator: Dr. Daniel Roth
Collaborators: International Centre for Diarrheal Disease Research, Bangladesh (icddr,b), Child Health Research Foundation (CHRF), both based in Dhaka, Bangladesh, and Boston University
Funder: Bill & Melinda Gates Foundation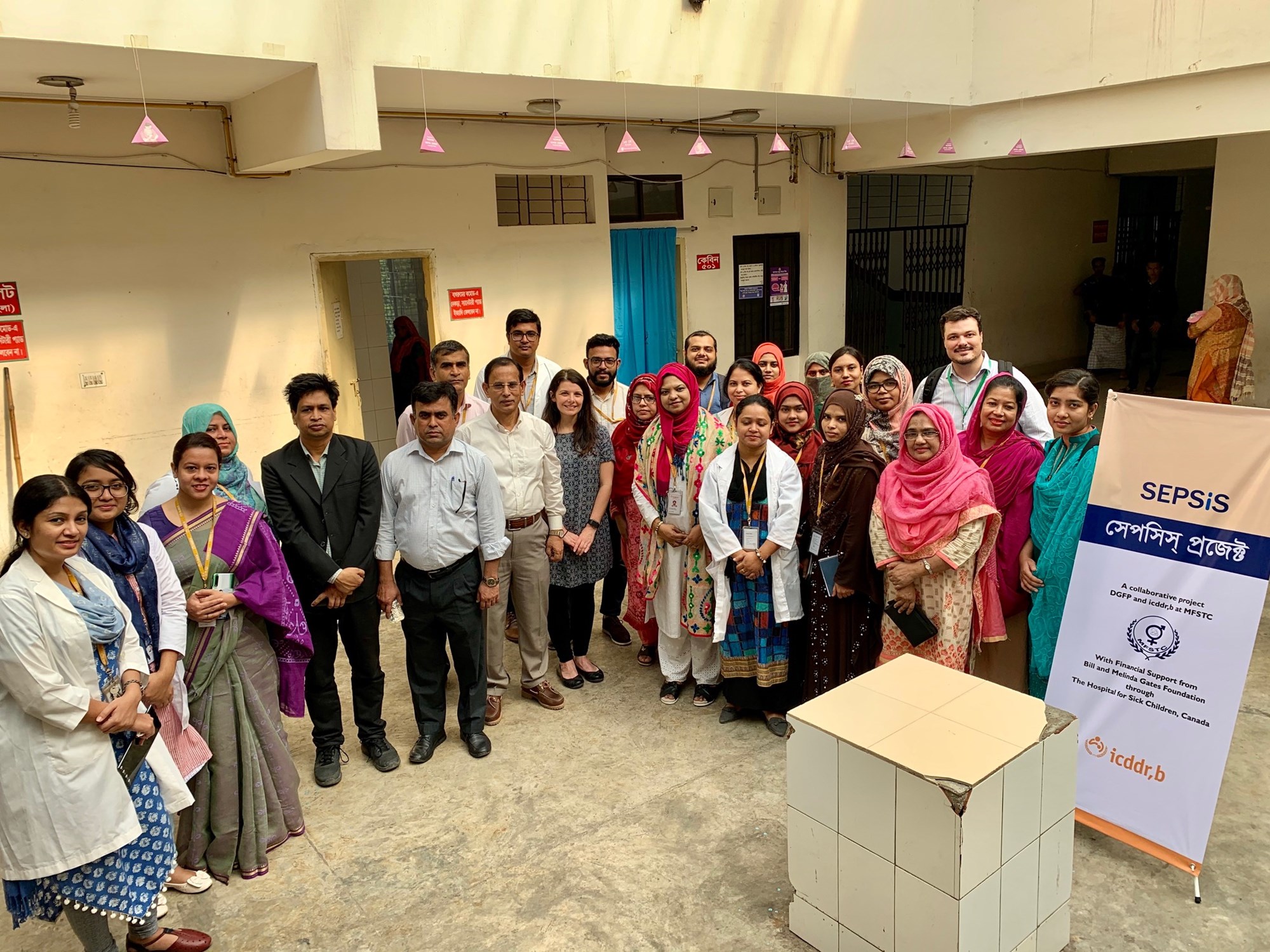 Serious bacterial infections (SBIs) cause significant neonatal morbidity and mortality worldwide. In 2016, 21% of all neonatal deaths (approximately 546,000) were attributed to either sepsis, meningitis, or pneumonia. At present, few proven interventions are available to prevent SBIs during early infancy in low- and middle-income countries.
The Synbiotics for the Early Prevention of Severe Infections in Infants (SEPSIS) project has established an adaptive clinical trial research platform aimed at describing the early infant microbiome and assessing the safety and efficacy of probiotic and/or symbiotic (probiotic plus prebiotic) interventions to prevent severe infections and promote growth and development during early infancy (0-60 days of age) in Dhaka, Bangladesh.
Principal Investigator: Dr. Stanley Zlotkin, post-doc student Nancy Dale
Co-PI: Dr. Chris Parshuram
Funding: Global Child Health Catalyst Grant and Mining4Life Chair (Zlotkin)
Millions of children suffer from Severe Acute Malnutrition (SAM) each year, and the current treatment method, the community-based treatment of Acute Malnutrition model (CMAM), includes inpatient and outpatient care depending on the severity of illness.
The mortality rate is five per cent at best. Clinical tools, adapted to low-resource settings, are needed to improve identification and management of high-risk children beyond the current recommendations. The Bedside Paediatric Early Warning System (BedsidePEWS) is a clinical decision-support developed at SickKids, to quantify severity of illness. The BedsidePEWS score has yet to be validated in children with SAM in low- resource settings.
The study site is the University of Maiduguri Teaching Hospital (UMTH), Nigeria. Children under five years of age with SAM in the inpatient therapeutic feeding centre (ITFC), supported by ALIMA, will have the seven BedsidePEWS items recorded and known risk factors for SAM measured. We have enrolled 750 of the planned 1000 patients. Preliminary data from the first 150 children demonstrates feasibility, suggests the seven-item score can identify sicker children, and children at points of escalation or de-escalation. Analyses of the complete dataset will evaluate performance of simplified scores and other SAM risk factors. Expert judgment will be used to select the simplest score.
Next, the RISQ score will be operationalized for clinical use. An expert focus group will develop care recommendations, revise the vital sign documentation record (with local clinicians) and education materials will be developed for clinical implementation. A prospective observational study will evaluate inpatient mortality and timeliness of clinical decision-making for patients who are at high risk of death.
Principal Investigator: Dr. Shaun Morris
Co-PIs: Fatima Kakkar and Charlotte Moore
Collaborators: Multiple paediatricians and sub-specialists across the country
Funders: Public Health Agency of Canada
This national project launched in April 2020 uses the Canadian Paediatric Surveillance Program to identify all children in Canada who meet one of the following case definitions:
hospitalized with acute COVID-19 infection,

non-hospitalized with COVID

-19

who are under

one

year of age or have a chronic co-morbidity, and

hospitalized with p

a

ediatric inflammatory

,

multi-system disease temporally associated with COVID-19. 
Principal Investigator: Dr. Shaun Morris
Collaborators: Multiple GeoSentinel co-investigators
Funders: CDC and ISTM
This study leverages data collected by the GeoSentinel network to identify and collect clinical and microbiologic data on cases of extremely drug-resistant typhoid exported from Pakistan to countries around the world. Analysis includes whole genome sequencing of selected isolates.  
Over 80 per cent of children with cancer live in low- and middle-income countries (LMICs), and their cure rates fall further behind those of children in high-income countries (HICs).
National Childhood Cancer Strategies hold the potential to increase childhood cancer cure rates across large LMIC populations, but are in place in only a handful of LMICs. Barriers to adoption include a lack of health policy, health economics and implementation research relevant to LMIC paediatric oncology. With a collaborative approach, PERCC will support LMICs in an effort to overcome these barriers.
PERCC is sponsored by the Garron Family Cancer Centre and the Centre for Global Child Health.
This study determined the cost and cost-effectiveness associated with delivering childhood cancer treatments in a diverse range of established, Sub-Saharan African LMIC treatment units.
Representatives from Kenya, Tanzania, Zimbabwe and Nigeria met at a preliminary meeting, funded by CIHR, on March 6, 2019 in Cairo, Egypt. The team discussed data collection tool and timelines for the study. Data collection commenced in May 2019 in four main sites in Kenya, Tanzania, Zimbabwe and Nigeria.
ACCESS is working with key health system stakeholders across East Africa (Ethiopia, Kenya, Rwanda, Tanzania, and Uganda) to improve availability, accessibility and acceptability of essential medicines required to treat childhood cancer.
The ultimate goal is to inform policy and programming for enhanced care, and to uncover opportunities for coordinated procurement of childhood cancer drugs across the region.
For more details on this project, visit the ACCESS website.
This joint initiative between PERCC and the SickKids-Caribbean Initiative (SCI) aims to bridge the existing knowledge gap on drug access in the Caribbean through:
Pilot

ing

data collection instruments to obtain key metrics of drug availability and price

Describ

ing

policies and practices related to drug procurement and provision in select Caribbean countries

Analyz

ing

the key determinants of childhood cancer drug access in these jurisdictions
This multi-site project, supported by the Optimus Foundation, aims to improve childhood cancer treatment outcomes in Sub-Saharan Africa through establishing Centres of Excellence for paediatric oncology in Ghana, building on a long-standing partnership between World Child Cancer UK, and the Ghanaian paediatric oncology community.
PERCC is contributing to the project in several ways:
Improving the design and delivery of Early Warning Signs and Symptoms training

Studying the determinants of drug access

Improving the collection of data on patient outcomes to inform new initiatives to improve care
The Lancet Oncology Commission on Sustainable Paediatric Cancer Care was a joint partnership between PERCC, St. Jude Children's Research Hospital, and the Harvard T.H. Chan School of Public Health, which undertook a comprehensive analysis to develop an investment case for funding management and control of childhood cancer. 
For more details, you can read the full Commission Report.
Principal Investigator: Dr. Zulfiqar Bhutta 
Collaborators: Aga Khan University, University of Adelaide, Mother and Child Care and Research Trust (MCCR), University of Ottawa, American University of Beirut (AUB)
Funders: This work was carried out with the aid of a grant from the Innovating for Maternal and Child Health in Africa initiative - a partnership of Global Affairs Canada, the Canadian Institutes of Health Research (CIHR) and Canada's International Development Research Centre (IDRC), and support from the World Health Organization Department of Maternal, Newborn, Child and Adolescent Health and Ageing (MCA).
Relevant Publications: Optimising the continuum of child and adolescent health and development – The Lancet
To address several issues related to new thinking in child and adolescent health, and the transition from the MDGs to the SDGs, a series of planned papers will address changing epidemiology, conceptualize the life course and intergenerational aspects, and provide an action and investment plan. As part of this effort, we'll build on a large body of work from the last two decades of evidence-based interventions and packages of care for survival, strategies for delivery, and platforms to reach those at greater risk of mortality.
Principal Investigator: Dr. Zulfiqar Bhutta 
Funders: Gates Ventures and Bill & Melinda Gates Foundation
Relevant Publications: COVID-19 pandemic and mitigation strategies: implications for maternal and child health and nutrition - AJCN
The Exemplars in Stunting Reduction Project incorporates cross-country findings from comprehensive country case studies. The study aims to understand the major determinants of stunting (height-for-age z-score < 2 SD) prevalence decline in example nations, which have reduced child stunting beyond what might be expected based on economic growth or poverty reduction alone.
In phase 1 of this project, we examined five exemplar nations: Peru, Kyrgyz Republic, Nepal, Senegal, and Ethiopia. In phase 2 (ongoing), we are undertaking a set of additional country case studies that include Pakistan, Uganda, Indonesia, Ghana, and Nigeria.
Phase 2 will include sub-national analyses of 'counterfactual' regions, or those regions within countries that have not reduced stunting to the level expected based on economic growth and improvements in other areas (e.g. under-five mortality). Phase 2 will also include an examination of trends in wasting (weight-for-height z-score < 2 SD) and concurrent stunting and wasting. Examining both exemplary and counterfactual regions will provide a unique opportunity to learn about success stories, along with the gaps and challenges of addressing stunting at scale and can be used to design innovative and effective solutions for improving child stunting nationally.
Principal Investigator: Dr. Zulfiqar Bhutta
Funder: Bill & Melinda Gates Foundation through US Fund for UNICEF
The Countdown to 2030 (CD2030) initiative involves a multi-disciplinary and multi-institutional consortium of experts from global, regional, and country institutions and UN agencies that have been tracking progress in reproductive, maternal, newborn, child, and adolescent health and nutrition (RMNCAH&N) since 2003.
A major priority of CD2030 is to provide support to Global Finance Facility (GFF) countries to generate evidence on the performance of RMNCAH&N investment cases that will assist with progress tracking, annual and midterm reviews, and subnational and multi-sectoral monitoring, learning, and evaluation.
In partnership with in-country, academic collaborators, the aim of the country case studies (Nigeria and Tajikistan) are to guide the country's health policies, strategies and plans by preparing an in-depth analysis all relevant progress and performance data related to the country's RMNCAH&N targets. The studies will identify current gaps and challenges within the health system for better health systems planning, particularly for prioritization and resource allocation. Technical collaborations will also aim to generate evidence on the performance of RMNCAH&N investment cases and programs, analyze all data sources (e.g. surveys, facility data, administrative data) to improve cost-efficiencies such as targeting, enhance program impact in Global Financing Facility (GFF) countries, and strengthen the evidence and analytic capacity of country public health institutions and governments for progress tracking, annual and midterm reviews and sub-national and multi-sectoral Monitoring Learning and Evaluation.
Principal Investigator: Dr. Zulfiqar Bhutta
Funder: UNICEF
Kyrgyzstan has made strong progress towards several Sustainable Development Goals (SDGs). However, insufficient progress has been made in promoting healthy lifestyles and well-being for youth and adolescents (SDG 3). Only a small portion of youth exercise and lead active lifestyles. Many of them face economic difficulties such as unemployment and migration (SDG 8). The level of youth engagement in socio-political activities remains very low (SDG 16). There is an urgent need and a large opportunity to close the health and well-being gaps for young people now.
The purpose of this project is to present a comprehensive assessment and analysis of the situation of youth (aged 20-24) and adolescent (aged 10-19) in Kyrgyzstan, and to provide an evidence base to inform decision-making and future strategic planning.
To achieve this, we've developed an analytical framework of five basic domains and 12 subdomains of health, education, economic opportunities, social protection and participation. For each domain, we apply UNICEF's human rights-based approach guidance to conduct a socio-demographic trend analysis, legislation and policy analysis, and stakeholder analysis.
Principal Investigator: Zulfiqar Bhutta
Co-Investigators: Michelle F Gaffey, Paul B Spiegel, Ronald J Waldman, Paul H Wise, Karl Blanchet, Ties Boerma, Ana Langer, Robert E Black
Collaborators: Collaborators from Canada, USA, Colombia, UK, Switzerland, Democratic Republic of Congo, Mali, Somalia, South Soudan, Lebanon, Yemen, Afghanistan, and Pakistan.
Funders: Norad, IDRC, Bill & Melinda Gates Foundation, UNICEF, Family Larsson-Rosenquist Foundation, PMNCH
Since November 2016, the Centre has led academic, research, operational and advocacy partners to collaboratively improve the evidence base to support effective action on women's, children's and adolescents' health and nutrition (WCH) in conflict settings.
This collection of partners, now known as the BRANCH Consortium, has been working to estimate the burden of armed conflict on maternal and child mortality, synthesize the literature on WCH intervention delivery in conflict settings, generate new data, find in-depth insight into key factors affecting intervention delivery to conflict affected WCH, and inform global guidance in this area.
This study includes a set of three systematic reviews on the impact of mitigation strategies to control the spread of COVID-19 among women and children in low-and middle-income countries.
This project will be a critical piece of work regarding the indirect impacts of COVID-19 on women, adolescents and children in developing countries. At present, we have proposed three reviews with Campbell Collaboration:
Impact of COVID-19 on the Health and Nutrition of Women and Children in Low- and Middle- Income Countries

Gender, Mental Health, and Family Violence: The Indirect Impacts of COVID-19 on Women and Children in Low- and Middle- Income Countries

Indirect Impacts of COVID-19 on Education and Human Capital of Children and Adolescents in Low- and Middle- Income Countries



Two additional systematic reviews will examine the direct effects of SARS-CoV-2 on women and children globally to determine the differences in presentation between children and adults, factors associated with infection, and risk or predictive factors for mortality and severe morbidity. This work is in collaboration with the World Health Organization, UNICEF and International Paediatric Association, and will inform paediatricians across various regions of the world through a series of webinars.
A fourth systematic review and prospective body of work will describe the course of the COVID pandemic in the Islamic world, and in collaboration with the Aga Khan University Institute of Studies in Muslim Civilizations (ISMC), will evaluate the impact of varying policy responses and COVID mitigation strategies on cases and deaths in Muslim-majority countries. More specifically, the group will be working towards an implementation strategy to rapidly upscale MNCH and immunization interventions in two affected provinces of Pakistan. As the situation changes and evolves, we will continue to track the impact to try and improve health outcomes in women and children amid this COVID crisis.
Principal Investigators: Dr. Zulfiqar Bhutta and Dr. Daniel Roth
Funders: Joannah and Brian Lawson Centre for Child Nutrition, University of Toronto
During the preliminary stage of the project, we undertook a scoping review to understand the various characteristics of the food environment. We also wanted to develop a logic model to guide subsequent systematic reviews.
Our scoping review identified that the food environment is a complex adaptive system, with various industries that operate interdependently and adaptively, and their interaction is often shaped through spatial and temporal complexity. Additionally, the food environment possesses limitations and boundaries in relation to the greater food system.
The second stage of the project involved an intervention-focused review aimed to understand the effectiveness of food environment interventions, both preventive and curative in nature, on diet-related health outcomes in school-aged children and adolescents in LMIC. Using our conceptual framework as guidance, this exercise contributed to our overall project goal by identifying which food environment interventions (and associated 'input indicators') are most effective for preventing and treating diet-related health outcome indicators in school-age children and adolescents in LMIC.
How are we contributing to Sustainable Development Goals?
International Program Evaluation
The International Program Evaluation Unit (IPE) improves international health programs, systems and policies in low- and middle-income countries through research and evaluation. IPE offers technical support and expertise to implementing agencies, governments and funders in the areas of design and implementation of large-scale evaluations.
We also provide support throughout all stages of program implementation activities, from landscape evaluation of country context – including pre-implementation impact assessment and selection of evidence-based interventions – to sustainability analysis. Above all, we offer unique access to a large network of experts in paediatric health through SickKids.
Past projects
Lead agency: Amref Health Africa in Canada
Partners: Christian Children's Fund of Canada, SickKids Centre for Global Child Health and WaterAid Canada
Funder: Government of Canada, through Global Affairs Canada
Timeline: March 2016 to March 2020
Location: Ethiopia, Kenya, Malawi and Tanzania
Role: As a technical support partner, IPE led the development and deployment of the program's monitoring and evaluation (M&E) strategy, developing baseline and end line data collection tools, sampling strategy, analysis and reporting. We also assisted in building the M&E capacity of all consortium partners.
Lead agency: Aga Khan Foundation Canada (AKFC)
Partners: Aga Khan Development Network, SickKids Centre for Global Child Health
Funder: Government of Canada, through Global Affairs Canada
Timeline: April 2016 to March 2020
Location: Kenya, Mali, Mozambique and Pakistan
Role: IPE, in collaboration with Aga Khan University (AKU), Nairobi, supported the AQCESS implementing agencies in the monitoring, evaluation, research and learning function of the project, including developing and implementing the monitoring and evaluation strategy, and leading implementation research projects across the countries.
Lead agency: Canadian Red Cross
Partners: Mali Red Cross, Mali's Ministry of Health, SickKids Centre for Global Child Health
Funder: Government of Canada through Global Affairs Canada
Timeline: April 2016 to March 2020
Location: Koulikoro and Sikasso regions, Mali
Role: IPE provided a lead technical role in developing the evaluation strategy for the program, assisting in developing the monitoring methodology and tools, and improving the Health Management Information System (HMIS). We also designed and conducted an implementation research study.
Lead agency: World Vision Canada
Partners: SickKids Centre for Global Child Health
Funder: Government of Canada, through Global Affairs Canada
Timeline: January 2017 to June 2020
Location: Tanzania
Role: As a technical support partner, IPE led the development and deployment of the program's evaluation strategy, developing baseline and end line data collection tools, sampling strategy, analysis and reporting. We also supported the assessment of current vital statistics record keeping, and worked with partners to develop a strategy for improving vital statistics recording in the SUSTAIN project area.
Learn more about Global Affairs Canada PSMNCH initiatives.
Lead agency: Plan International Canada
Partners: Promundo, SickKids Centre for Global Child Health
Funder: The Government of Canada, through Global Affairs Canada
Timeline: January 2016 to September 2020
Location: Bangladesh, Ghana, Haiti, Nigeria and Senegal
Role: IPE, in collaboration with Plan International Canada, designed and conducted research projects in the implementing countries and areas.
Meet our Centre's Principal Investigators
The SickKids Centre for Global Child Health is a part of translational, population-based and epidemiological research related to children and their families, led by a team of renowned principal investigators from the SickKids Research Institute and their respective research teams.
Dr. Stanley Zlotkin

–

Research focus: micronutrient fortification, nutrition, implementation science

Dr. Zulfiqar A. Bhutta

  

–

Research focus: MNCH, social determinants, knowledge synthesis

Dr. Robert Bandsma

 

–

Research focus: nutrition, metabolic disease

Dr. Melanie Barwick

 

–

Research focus: knowledge translation, implementation science

Dr. Diego Bassani

 

–

Research focus: MNCH, epidemiology

Dr. Shaun Morris

 

–

Research focus: infectious disease, MNCH

Dr. Isaac Odame

 

–

Research focus: sickle cell disease, MNCH 

Dr. Daniel Roth

 

–

Research focus: nutrition, MNCH, vitamin supplementation

Dr. Bonnie Stevens 

–

Research focus: pain management

Dr. Helen Dimaras 

–

Research focus: eye health, cancer

Dr. Avram Denburg 

–

Research focus: cancer, policy, economics

Dr. Sumit Gupta 

–

Research focus: cancer, policy, economics 
Contact us
For questions or more information about the Centre, please email us at globalchild.health@sickkids.ca or follow us on Twitter @SickKidsGlobal.
Mailing Address

Centre for Global Child Health
The Hospital for Sick Children (SickKids)
525 University Avenue, Suite 702
Toronto, ON, M5G 2L3