Indigenous Health Strategy
As an organization, SickKids has much to learn about the experiences of Indigenous peoples in Canada, as well as how the diverse cultures, educational backgrounds, and histories of our staff shape the care we deliver. As work continues under our SickKids Indigenous Health Strategy, we are committed to collaborating with partners to identify, prioritize, and implement improvements to ensure accessible, culturally appropriate services for Indigenous children and families in our own backyard, and across the province.
Guiding principles
The SickKids Indigenous Health Strategy developed five key guiding principles:
Self-determination: Partner with Indigenous stakeholders and communities toward development and execution of Indigenous health initiatives at SickKids.
Truth and reconciliation: Interpret work through the historical context of Indigenous peoples (in Canada and at SickKids), consistent with calls to action of the Truth and Reconciliation Committee of Canada.
Cultural safety and sensitivity: Learn from Indigenous peoples, be respectful of traditions, use appropriate language, and be open-minded in development work.
Honesty and transparency: Communicate with openness, clarity, and integrity with Indigenous partners, staff, and the public.
Efficient use of resource: Capitalize on the knowledge of local partners and minimize duplication.
Initiatives
to date
SickKids implemented various initiatives as part of our Indigenous Health Strategy. Future initiatives being explored include but are not limited to: internships for Indigenous students, enhanced Indigenous health-related policies (e.g., traditional ceremonies, traditional healing practices), strengthened linkages with Indigenous services organizations in the community, an Indigenous-friendly ceremonial space, partnerships to share Indigenous support staff with downtown hospitals, and engagement strategies to increase Indigenous youth and staff in the health system. Directions will continue to evolve as SickKids learns more from Indigenous partners.
August 7, 2018
The Truth and Reconciliation Commission of Canada states that without truth, justice is not served, healing cannot happen, and there can be no genuine reconciliation between Indigenous and non-Indigenous peoples. It is with this belief in mind that SickKids wishes to acknowledge harmful aspects of the hospital's history with Indigenous peoples as a first step on the path of reconciliation.

Between 1942 and 1952*, on behalf of the Department of Indian Affairs of Canada, SickKids physician Dr. Frederick Tisdall led nutritional experiments on malnourished populations in Indigenous communities and residential schools. During these experiments essential vitamins were withheld from children who needed them and regular physical examinations may have been confusing, painful, and potentially traumatic. The experiments were conducted without children or their parents' consent, and by modern standards of medical research ethics would not have been approved. Findings of the studies did little to alleviate the underlying causes of malnutrition for Indigenous children, and for most, the health risks experienced over the course of the studies outweighed any benefits received. As an organization, SickKids bears responsibility for having allowed this unethical research to occur.

More recently, in 2015 SickKids closed its Motherisk Drug Testing Lab after it was determined that the lab's testing procedures did not meet appropriate standards for forensic use. In response, The Government of Ontario established the Motherisk Commission to review past court cases potentially impacted by the Motherisk Drug Testing Lab. Commissioner Judith Beaman's 2018 report indicated that historically drug testing had been disproportionately imposed on Indigenous families in the provincial child protection system and in legal proceedings. While SickKids did not play a role in determining who would be tested, we recognize and regret that the issues identified with the lab potentially had a greater impact in Indigenous communities.

SickKids extends our sincere apologies to Indigenous children, families, and communities that were negatively impacted by the events described above. We recognize that there may be other circumstances about which we are unaware which may also have caused harm and extend our apologies for any other circumstances in our shared history where we have failed to provide culturally safe experiences to Indigenous children and families. With recognition of historical context, SickKids is committed to a path of reconciliation with Indigenous peoples that is based on truth, mutual respect, and partnership.

As an organization, SickKids has much to learn about the experiences of Indigenous peoples in Canada, as well as how the diverse cultures, educational backgrounds, and histories of our staff shape the care we deliver. For the past 18 months we have engaged Indigenous partners to direct us in this learning and growth, and in the coming years will continue to work with partners to identify, prioritize, and implement improvements to ensure accessible, culturally appropriate services for Indigenous children and their families.
* Dr. Frederick Tisdall passed away in April 1949.
References:
The Toronto Academic Health Science Network (TAHSN), comprised of the University of Toronto and 12 affiliated academic hospitals, has issued a statement on anti-Indigenous racism in the health-care system following the tragic mistreatment and death of Joyce Echaquan. Joyce Echaquan was a member of the Atikamekw Nation of Manawan who endured shocking treatment and anti-Indigenous racism by health-care staff during the last hours of her life. Dr. Ronald Cohn, President and CEO of SickKids, alongside his TAHSN colleagues, signed the statement, which represents a commitment to taking deliberate and urgent actions to eradicate institutional systemic racism.
To date, 171 SickKids employees, including executives, managers, administrators and clinical staff, have completed Indigenous Cultural Safety Training, an eight-week online program administered by Southwest Aboriginal Health Access Centre (SOAHAC).
The following days of significance are honoured annually at SickKids through staff education rounds: Bear Witness Day, National Indigenous People's Day, International Day of the World's Indigenous Peoples and Orange Shirt Day.
In March 2018 the leadership team completed the KAIROS Blanket Exercise, a participatory education exercise about the experiences of Indigenous peoples in Canada. The hospital is currently exploring options to engage more staff in this exercise.
In September 2018, the hospital adopted a land acknowledgment policy. The policy provides guidelines for the where, when, how, and who of how the policy should be used, as well as supporting material to ensure understanding of the history and rationale behind it.
Land acknowledgement plaques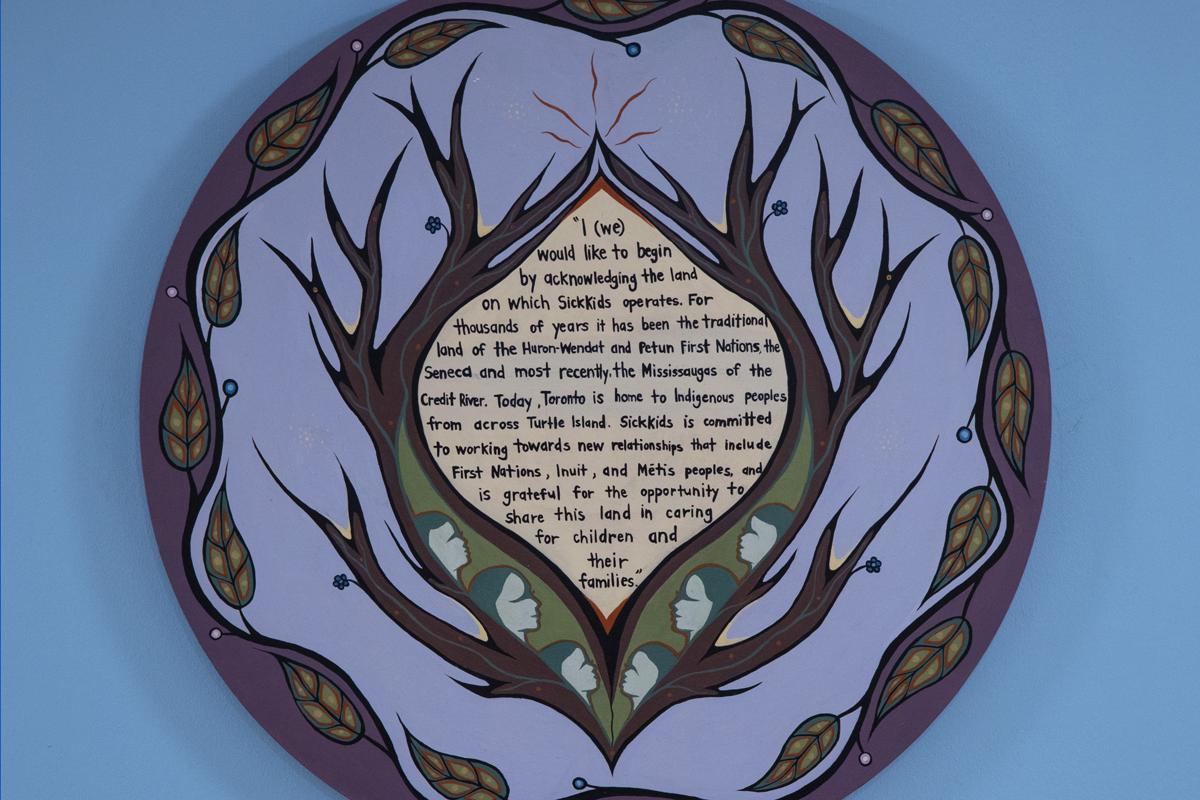 Artwork with the SickKids land acknowledgment has been installed in the hospital and in the Peter Gilgan Centre for Research and Learning. Emily Kewageshig, an Ojibwe Woodland artist, was commissioned by SickKids to paint the land acknowledgement plaques in honour of our commitment toward reconciliation.
The hospital facility is being explored to identify and remove any artwork, books, movies, toys and other items that may be offensive to Indigenous peoples. To date, six wall murals in older parts of the facility have been covered.