Children's Orthotics
The Children's Orthotics Clinic at SickKids provides orthotic care to babies, children and youth. We assess, design, fabricate and fit orthoses that are lightweight, durable, cosmetically acceptable and customized to your child's unique needs.
Our team works to deliver the highest standard of care to your child and family — from your first visit, to the professional fitting and instruction on how to use the orthosis, to follow-up care.
Treatments with orthoses can:
Correct or prevent deformities
Improve walking efficiency
Support weak muscles from neurological conditions
Reduce pain by supporting or protecting affected joints
Patients must have a prescription or a referral with a diagnosis from a physician before making an appointment with the clinic. Any physician can refer you to our clinic. If you do not have a prescription or referral, please visit your physician before contacting our clinic.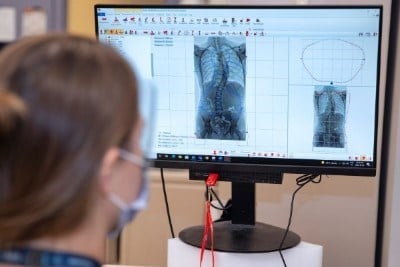 Advanced 3D scanning technology
Cranial orthoses (helmets) and scoliosis braces are created using advanced 3D scanning technology for precise measurements, creating a more seamless child and family experience.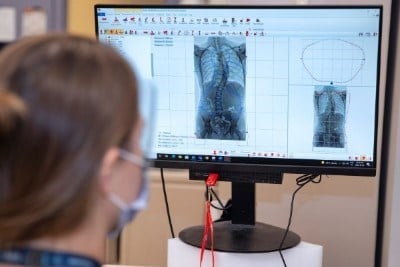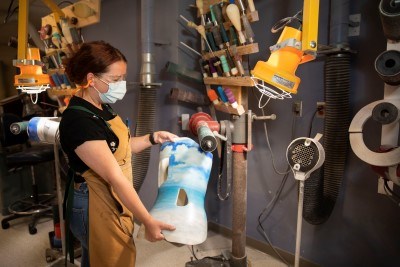 Manufacturing lab on site
All custom-made orthotics are designed, engineered, manufactured and adjusted with cutting-edge equipment and materials in our on-site lab within the clinic. Our team can provide excellent orthotic care in a timely manner for your child.
What to expect in the clinic
There is no cost for your first visit with a certified orthotist at the Children's Orthotics Clinic. Following the assessment, your orthotist will discuss treatment plans.
If you agree to a treatment plan, your child will be casted for an orthosis during your first visit. A 50 per cent deposit is required during this visit (e.g., your clinic visit for the initial assessment).
Learn more about what to expect at the Children's Orthotics Clinic.
Who we are
Our team consists of certified orthotists, orthotic technicians and administrative professionals. We assist babies, children and youth of all ages and abilities to achieve their optimal level of function, mobility and independence with highly effective orthoses.
To ensure the highest standards of care and bolster our creativity to find innovative solutions, we continue to grow through education, research and professional development.
Our certified orthotists are members of Orthotics Prosthetics Canada. Certification assures that all of our orthotists have a high degree of knowledge and experience, which is supplemented with continuing education.
They evaluate, design, fabricate, fit and deliver a supportive brace or orthotic device. Our skilled clinicians specialize in treating complex paediatric cases, following best clinical practices for the casting and fitting of children.
They also provide comprehensive follow-up care once the orthosis has been delivered. All these services help optimize your child's functional outcome.
Orthotic technicians partner with orthotists to produce, fabricate and repair orthoses (braces and supports) that are used to support, correct or realign limbs, the spine or the head. These technicians carry out the fabrication of orthotic devices with specialized hand tools, machines and software.
Taking a multidisciplinary approach, the Children's Orthotics Clinic works closely with inpatient and outpatient teams at SickKids, including — Neurology, Neurosurgery, Orthopaedic Surgery, Physiotherapy, Plastic & Reconstructive Surgery and Rheumatology — to ensure each child and family is receiving optimal support. Our patients have bracing needs for conditions such as clubfoot, scoliosis, positional plagiocephaly ("baby flat-head"), craniosynostosis, developmental dysplasia of the hip (DDH), paediatric limb lengthening and reconstruction, spinal muscular atrophy and burn injuries.
We also support outpatient care in the community, as we produce tailored braces for all types of needs:
Helmet therapy for positional plagiocephaly/brachycephaly
Custom lower limb devices (foot orthoses, ankle foot orthoses, knee ankle foot orthoses)
Chest orthoses
Erin Brennan, BA Kin, CO(c)
Clinical Manager
Jonathan Blunt, B.Sc. (Hons.), CO(c)
Certified Orthotist
Ivan Capcap, B.Sc. (Hons.), CO(c)
Certified Orthotist
Andrea Fung, B.Sc. (Hons.), CO(c)
Certified Orthotist
Linda Lui, B.Sc. (Hons.), CO(c)
Certified Orthotist
Christopher Nudds, CO(c)
Certified Orthotist
Stephanie Pugliese-Santana, CO(c)
Certified Orthotist
Bethan White, M.Sc. (RS), B.Sc. (HK), CO(c)
Certified Orthotist
Yu Xi Huang
Orthotic Technician
Barbara Laplante, BFA , RTO(c)
Orthotic Technician
Edmarl Los Banos, RTO(c)
Orthotic Technician
Daniel Low
Orthotic Technician
Kayleigh Shanahan, B.Sc., RTO(c)
Orthotic Technician
Fraser Veevers
Orthotic Technician
Tainya Dennehy
Patient Information Administrator
Mira Urosevic
Patient Information Administrator
Brian Vice, B.Sc.
Resident Orthotist
Tim Gilbert
Technical Supervisor
Cranial remolding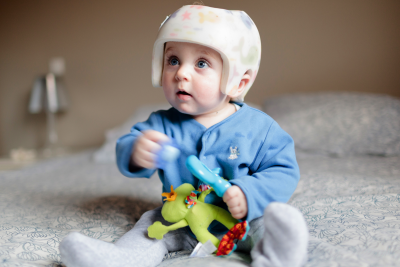 Helmet therapy is used to gently reshape the skull. A corrective helmet can help treat your baby's plagiocephaly ("baby flat-head") or cranial synastosis.
A plagiocephaly helmet is a custom-made device fabricated from a 3D digital scan of your baby's head. Your baby's will likely need to wear the helmet for four to six months or more, depending on their rate of growth. It is recommended that your baby wears the helmet between 22 and 23 hours per day.
Your orthotist will give you specific recommendations based on your baby's individual needs. Most babies complete treatment between 12 and 15 months of age.
Learn more about positional plagiocephaly on AboutKidsHealth
Spinal bracing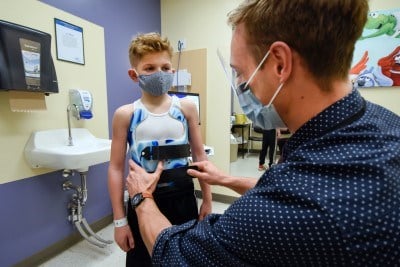 Off-the-shelf and custom-made spinal orthoses based on a physician's prescription. A spinal orthosis holds the spine in place and decreases the chance that the curve in the spine will get worse as you grow.
Custom TLSO
Custom-made thoracic-lumbo-sacral orthosis for the treatment of scoliosis and spondylolisthosis.
Custom unbending TLSO
Custom-made thoracic-lumbo-sacral orthosis for night time treatment of scoliosis.
Jewett style TLSO
Custom-made thoracic-lumbo-sacral orthosis for the treatment of anterior compression fractures.
Kidney protector
Custom-made orthosis to protect kidneys.
Milwaukee CTLSO
Custom-made cervical-thoracic-lumbo-sacral orthosis for stabilization and treatment of patients with scoliosis and kyphosis.
Pectus carinatum orthosis
Custom-made orthosis for the treatment of pectus carnatum (abnormally prominent sternum).
Sternal occipital mandibular immobilizer (SOMI)
Custom-fitted sternal occipital mandibular immobilizer back brace.
Head and neck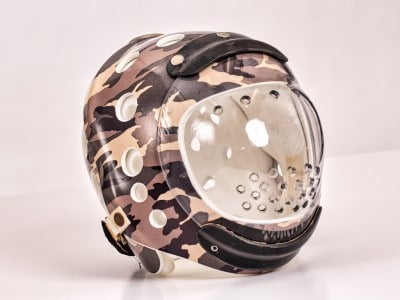 Custom protective helmets and neck collars
Custom-made helmet for children requiring head protection.
Neck collars are for various reasons such as injuries or post-surgery. A well-fitted collar allows the neck to be centrally aligned.
Cervical collar
Off-the-shelf neck collar to provide light neck support.
Custom torticollis collar (low temperature)
Custom-made collar made with low temperature thermoplstic or similar material for the treatment of torticollis.
Foot orthotics can improve alignment, reduce pain, or accommodate for problems such as bunions (painful swelling on first joint of big toe).
Custom-made foot orthoses
Foot orthoses custom-made in-house.
Pre-made quick fit
Off-the-shelf foot orthoses for treatment of many common foot ailments.
External shoe lifts
Off-the-shelf shoe lifts designed to modify and adjust leg length.
Internal shoe lifts
Off-the-shelf shoe lifts designed to modify and adjust leg length.
90/90 Wheaton
AFO (Ankle and foot orthoses)/KAFO (Knee, ankle and foot orthoses) for the treatment of metatarsus adductus/varus, clubfoot or tibial torsion. Pre-made and custom-made sections.
Foam hip abduction splints/Wheaton Hip Abduction
Custom-made hip splints for hip deformities.
Toe extension
Custom-made toe extension for AFOs or KAFOs.
Pavlik harness
Off-the-shelf hip harness for hip disorders.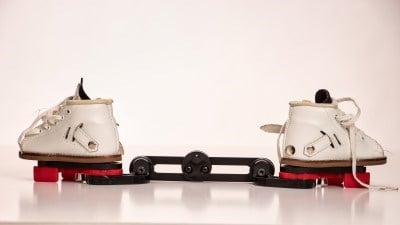 The boots and bar orthosis is also called a foot abduction orthosis or a Denis Browne splint. The brace holds your child's feet turned outwards and in the corrected position. The bar can be static or dynamic and the boots are off the shelf boots to help maintain correction of clubfoot.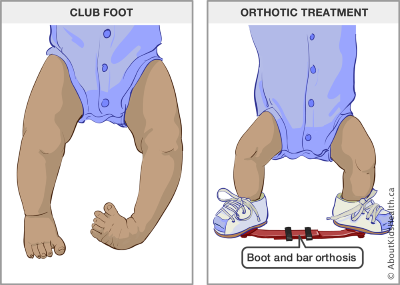 Learn more about clubfoot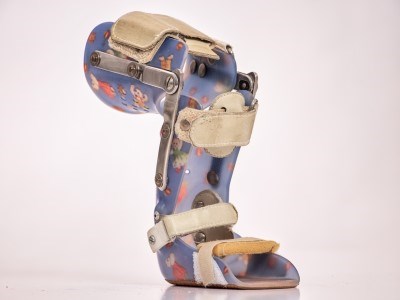 Off-the-shelf or custom-made knee orthoses are used to control motion around the knee joint due to instability (ligament damage) or arthritic pain at the knee joint.
Generation 2 FX stabilizer
Off-the-shelf knee support.
Patella Stabilizers: EPX Stabilizer, Tiny Titan Knee Sleeves
Off-the-shelf knee support.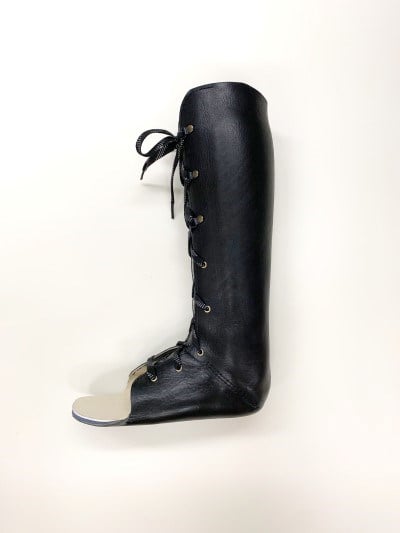 Adjustable plantar fascitis resting splint coreflex
Nighttime resting splints.
Ankle foot orthoses (various)
For ankle ligament instabilities.
Custom ankle foot brace (various)
Custom ankle foot brace from prescription.
Hand splints are prescribed for pain control and protection. A splint is sometimes used to provide rest, support and pain relief to a sore joint.
Hand splints
A variety of hand and wrist support splints available.
Freedom hand splint
Wrist support designed to allow free finger movement while immobilizing the wrist.
Coolflex hand splint
Light, cool and comfortable hand splint.
Custom bi-valved WHFO
Custom-made wrist-hand-finger-orthosis.
Custom EO
Custom-made elbow orthosis.
Custom EO with joints
Custom-made elbow orthosis with joints.
Custom resting WHFO
Custom-made wrist-hand-finger-orthosis.
Custom WHO
Custom-made wrist-hand orthosis.
Otto Bock Rehband hand splint
Off-the-shelf, soft, breathable and flexible hand splint for the treatment of rheumathoid arthritis and osteoarthritis.
Brace accessories
Boxed cotton stockinettes (various sizes)
Seamless knit 100% cotton tubular material to make undershirts for spinal orthoses.

AFO and KAFO socks
Ready-made, seamless and wrinkle-free ankle-foot and knee-ankle-foot- orthotic socks.
Torso body sock
Ready-made, seamless and wrinkle-free full body sock.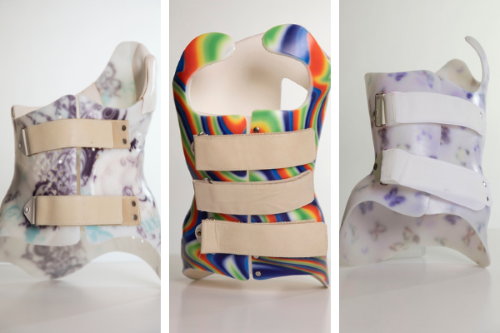 Custom transfer patterns
Families are able to send an image to our team. Your orthotist can incorporate the image into their design, followed by the orthotic technician applying the image to the orthotic device or brace.
The orthosis can be customized with our selection of standard decorative transfer patterns.
Specific fees vary depending on the type and extent of services required.
A minimum of 50% of the payment for this device is expected at the time of the casting, which takes place during your visit for the initial assessment.
The remaining 50% of the cost is expected when you receive the helmet.
The Children's Orthotics Clinic is unable to bill your insurance company directly.
We accept Visa, MasterCard, certified cheques, money orders, cash and debit.
All proceeds from orthotic treatment at the Children's Orthotics Clinic support patient care and research at SickKids.
Please review our Financial Policy to understand the expectations and responsibilities regarding payments for orthoses
Appointments must be cancelled at least 24 hours before your scheduled appointment. A $25 fee may be charged for appointments cancelled less than 24 hours in advance or not cancelled at all.
To cancel your appointment:
Call 416-813-7073 or email admin.orthotics@sickkids.ca

Provide us with the date and time you called, your name, the date of your appointment and your contact information.
Late arrivals
If you arrive to your appointment more than 15 minutes past the scheduled time, the appointment may need to be rescheduled. Thank you for understanding and cooperation.
Orthoses covered by the Assistive Devices Program (ADP)
Our orthotists are authorized vendors of the Ontario Assistive Devices Program, who can help your family navigate ADP policies and procedures for funding.
Selected paediatric orthotics are covered in part by the Ministry of Health through the ADP. ADP pays for 75 per cent of orthoses covered by the program. Patients are responsible for paying the remaining 25 per cent. For a list of devices covered by ADP, please see the Ministry of Health website.
What if I am eligible for ADP coverage?
Request an ADP application form from a doctor if you are eligible to receive ADP coverage. Any physician can prescribe ADP-funded orthoses.
Bring your signed ADP application form to your referring physician who will fill in the following: date, diagnosis, what they are prescribing and signature. Any medical physician can prescribe ADP funded orthoses.
Bring the completed form to the Children's Orthotics Clinic
If you do not have an ADP form, you can obtain one from our clinic and take it to your doctor to be filled out.
Extended health insurance
Some extended health insurance plans may cover a portion of the 25 per cent not covered by ADP. Call your health plan provider for information. The clinic requires full payment up front and your insurance company will reimburse you directly if you are eligible.
Charitable organizations
Some charitable organizations may cover a portion of the 25 per cent not covered by ADP if you do not have extended health insurance. It is the responsibility of the family to apply for assistance with charitable organizations.
Social assistance
If you are receiving social assistance benefits under Ontario Works (OW), Ontario Disability Support Program (ODSP) or Assistance to Children with Severe Disabilities (ACSD), ADP may cover the total cost. If your child is a patient at SickKids, speak to your clinic nurse or social worker for more information. For patients not affiliated with SickKids, please speak to your health care professional. Proof of social assistance is required in the form of a monthly stub.
The following charitable organizations may be able to assist you with some or all of the cost of your orthosis. You are responsible to apply for assistance from charitable organizations.
AFO: Ankle-Foot Orthosis
CO: Cervical Orthosis
CTLSO: Cervical-Thoracic-Lumbo-Sacral Orthosis
EO: Elbow Orthosis
EWHO: Elbow-Wrist-Hand Orthosis
FO: Foot Orthosis
HKAFO: Hip-Knee-Ankle-Foot Orthosis
HO: Hand Orthosis
KAFO: Knee-Ankle-Foot Orthosis
KO: Knee Orthosis
LO: Lumbar Orthosis
LSO: Lumbar-Sacral Orthosis
SEWHO: Shoulder-Elbow-Write-Hand Orthosis
SIO: Sacroiliac Orthosis
TLSO: Thoracic-Lumbo-Sacral Orthosis
WHFO: Wrist-Hand-Finger Orthosis
WHO: Wrist-Hand Orthosis
WO: Wrist Orthosis
Device instructions
AboutKidsHealth is a health education website for children, youth and their caregivers, with trusted answers from SickKids. Learn about common conditions often treated in the Children's Orthotics Clinic.
Contact us
The Children's Orthotics Clinic is located on the Service Floor (Room S247) of SickKids, near the Burton Wing elevators.
The Hospital for Sick Children (SickKids)
170 Elizabeth St.
Toronto, ON
M5G 1X8
Phone: 416-813-7073
Fax: 416-813-5957
Hours: Monday to Friday, 8:30 a.m. to 4:30 p.m.