Infant and Early Mental Health Promotion
Infant and Early Mental Health Promotion (IEMHP) is a national organization which improves outcomes across the lifespan through translating and promoting the science of early mental health into practice with families during pregnancy, infancy, and early childhood.
IEMHP advances the knowledge and skills of practitioners working with children, aged zero to five, by providing: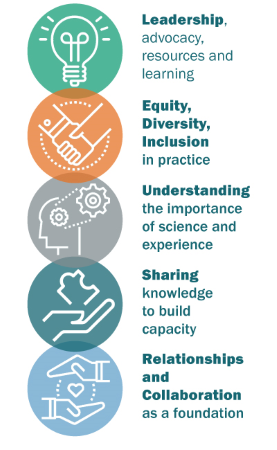 IEMHP informs policy and practice and builds capacity by working closely with organizations and communities across Canada. IEMHP is actively involved in the implementation and evaluation of a unique developmental support planning intervention model in communities across the country.
The program was formed in 1988 in collaboration with the Department of Psychiatry and is now housed within the Learning Institute.
IEMHP is headed by Director Dr. Chaya Kulkarni, BAA, M.Ed., EdD
Foundations in Infant and Early Mental Health – Certificate Lecture Series (free for SickKids staff)
Infant Mental Health: The Basics – Webcast (free)
Competencies Framework for Infant and Early Childhood Mental Health Practice
A Call to Action on Behalf of Maltreated Infants, Toddlers and Preschoolers in Canada
Comfort, Play and Teach parent-friendly resources to support early childhood development
Home
/
Learning /
Our Programs /
Infant and Early Mental Health Promotion