Specialist Knowledge Translation TrainingTM (SKTT)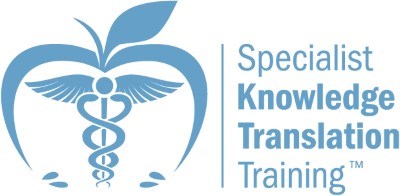 Are you a scientist, educator, policy maker or knowledge translation (KT) professional?
Do you want to know more about why KT is relevant?
Do you need to know how to develop and evaluate a KT plan?
Could you benefit from practical KT training?
SKTT is a workshop intended for those interested in sharing research knowledge with audiences beyond the academic community. The workshop was designed to teach the unique skillset associated with KT practice. This includes understanding how to increase the impact potential of research, building practical KT planning skills, as well as skills required to communicate with a variety of audiences.
The workshop is appropriate for scientists (basic, clinical, health services, population health) as well as educators, clinicians and KT professionals (e.g., KT Specialists, KT Managers, Knowledge Brokers). While the focus is on health, the material is highly relevant to individuals working in other sectors.
Upon completion of the workshop, participants will be able to:
Define KT and related terms
Describe the relevance of KT in their context and role
Identify strategies for sharing evidence and engaging multiple knowledge user audiences
Use KT planning tools and resources to develop a KT plan (e.g., KT Planning Template©, KT Game©)
Registration is first come first serve. The online registration portal opens approximately three months in advance of each workshop. The registration link will be emailed to everyone on our email communication list.
Upcoming SKTT sessions:
January 20-22, 2021 (online)
September 23-24, 2021 (mode of delivery TBD), Toronto
January 20-21, 2022 (mode of delivery TBD), Toronto
The KT Program at SickKids has partnered with Research Impact Academy to offer a tailored SKTT™ curriculum relevant to the Australian context. In Fall 2016, the three inaugural SKTT™ Australia workshops were held in Sydney, Melbourne, and Perth.
Interested in SKTT™ Australia?
Knowledge Translation Professional Certificate™ (KTPC)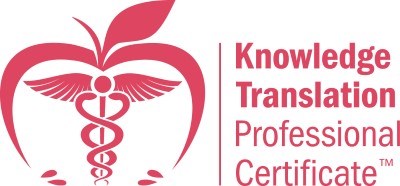 A five-day professional development certificate course for knowledge brokers
and other KT Professionals
KTPC is a five day professional development workshop for KT practitioners working across disciplines. The curriculum is delivered as a composite of didactic and interactive teaching, with a focus on KT practice and application. It focuses on the core competencies of KT work in Canada, as identified by a survey of knowledge translation practitioners (Barwick et al., 2010). KTPC™ has been recognized as a Leading Practice by Accreditation Canada since 2013 and is fully accredited by the Continuing Professional Development Office at the University of Toronto's Faculty of Medicine.
This workshop is appropriate for KT professionals (knowledge brokers, KT specialists, KT managers, and other professionals with a significant KT focus) working across all sectors (e.g., health, education, prevention/promotion, agriculture and others).
KTPC™ supports participants to achieve the following:
Improve their confidence and ability to carry out knowledge translation activities (e.g., networking, building partnerships, selecting KT strategies, creating knowledge products, advocating for KT, etc.)
Acquire and apply new knowledge and skills for KT planning
Develop and present a completed KT plan based on their current work
Establish short-term, post-workshop KT goals and develop a plan to achieve them
Applications become available approximately 4 months prior to each session.
Applicants will be notified of the status of their application within 1 month of the application deadline.
A completed application, including supervisor endorsement, is required.
Upcoming KTPC Sessions
March 8 to 12 and 15 to 16 2021 (online)
June 14 to 18, 2021 (mode of delivery TBD), Toronto
October 25 to 29, 2021 (mode of delivery TBD), Toronto
Download the application to apply for the March 2021 session of KTPC™
A completed application, including supervisor endorsement, is required. The submission deadline is Monday January 4, 2021 11:59 p.m.
Please submit the completed applications to Andrea Chiaramida via e-mail at achiara@sickkids.ca. SUBJECT LINE: KTPC March 2021 Application.
Planning for Implementation Practice™ (PIP)

Is your team looking to implement a new practice, intervention or innovation?
Do you need to develop an implementation plan but you're not sure where to start?
Implementing evidence-based practices is a complex process. There are dozens of implementation theories, models and frameworks in the literature, but knowing which one to use and when is often a barrier to implementation on the ground. The PIP workshop provides teams with a practical approach to developing an implementation plan for a new intervention, practice or innovation. PIP™ covers the core elements of implementation science with a focus on learning and planning. Participants will gain a foundational understanding of implementation science and learn how to use an evidence-based implementation planning framework.
The workshop is intended for implementers, researchers, practitioners, community partners and policy/decision-makers. PIP™ is appropriate for implementation teams from any field or sector who are:
New to implementation science; and
Currently working to implement a practice, intervention or innovation in their setting.
Participants must attend as a team (2-4 multidisciplinary team members).
PIP supports participants to achieve the following:
Improve their understanding of implementation science and factors affecting the success of an implementation endeavour
Acquire and apply new knowledge and skill for implementation planning
Develop a draft implementation plan for a practice, intervention or innovation they want to implement in their setting
Each workshop can accommodate up to 5 teams (2-4 individuals per team).
Team members can be implementers, researchers, practitioners, community partners, policy/decision-makers, or other key individuals involved in planning and executing your implementation endeavour. Teams should be multidisciplinary, including one implementer, to ensure that different perspectives are represented during the planning process.
All participants must be available to attend the entire workshop.
Applications become available approximately 4 months in advance of each session.
Applications are reviewed for alignment with workshop learning objectives and are approved on a first come first serve basis.
Application window closes 6 weeks before the start of each session.
Upcoming PIP sessions:
October 14-15, 2020 (online)
Spring 2021 (online)
Tools and Resources
The SickKids KT Program develops resources and tools that are designed to address knowledge and practice gaps. Our resources and tools are informed by evidence in KT and Implementation Science, as well as years of experience in the field. They are innovative and practical, and most of them are freely available for download.
Knowledge Translation Stories
Traditionally, new discoveries are only shared through scientific publications. At SickKids, researchers recognize the importance of sharing and their findings with many different groups using a variety of strategies.
Research findings should be communicated so that everyone can understand and use them to improve health and health care services. For example, parents should know about current research so they can advocate for their children's health, and health-care providers need to know about recent discoveries that might affect how they deliver care.
These KT stories share some of the work that goes on at SickKids. Researchers, health care providers and educators talk about what their work means for parents, health care professionals, policy makers, other researchers and society as a whole.
Contact us
Questions?
If you have any questions about our KT workshops or resources, don't hesitate to get in touch.
Want to join our email communication list?
To receive notice of upcoming training sessions and new resources, add yourself to our email communication list by contacting us. Please include your name, email, phone number and address. Collection of this information is a requirement of the anti-spam legislation. You can ask to be removed from our mailing list at any time.
Phone: 416-813-7654 ext. 228189
Email: Srdjana Filipovic, Program Manager, Knowledge Translation