Psychology
As part of the Garry Hurvitz Centre for Brain & Mental Health, the Psychology Department provides consultation, assessment, diagnosis, treatment recommendations and interventions for children and adolescents up to the age of 18 who are being treated at SickKids for primary medical and psychiatric conditions.
The SickKids Psychology Department only accepts referrals from internal SickKids physicians and staff. If you would like a referral, please speak to a member of your SickKids care team.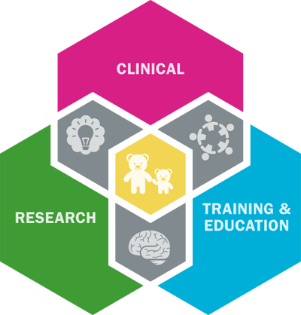 Through the integration of clinical care, research and training and education, the Psychology department at SickKids uses evidence-based approaches to address the complex developmental, medical and personal needs of patients.
What we do
SickKids Psychology provides a variety of psychological services to address complex patient needs. Examples of specialized psychological services include:
Providing evidence-based therapy for issues related to health conditions and their management

Assessing and diagnosing neuropsychological disorders in children with a variety of developmental and/or medical conditions

Providing individual or group interventions

to promote healthy coping for patients and caregivers
Programs and services
SickKids Psychology provides care to families across Ontario and beyond. To help us provide psychological services that transcend geography, we use a hybrid model in which both virtual and in-hospital appointments are offered as appropriate for the family and the nature of service.
Please note: psychology services are available for SickKids patients who belong to specific hospital programs.
There are four main categories of psychology services at SickKids, explained in detail below.
Comprehensive assessment of cognitive and academic skills to provide insight into the potential impact of a patient's medical condition and/or treatment on brain functioning. Recommendations are made to assist with educational planning and medical management.
Support and intervention services for patients and families who are struggling to cope with diagnosis or treatment-related issues.
Assessment, diagnosis and therapeutic interventions for children with mental health diagnoses including anxiety disorders and mood disorders.
Consultation with

members of the patient care team

regarding psychological issues impacting treatment.

Consultation with schools and other community agencies about developmental, behavioural and learning issues

.
Who we are
The Department of Psychology is home to Neuropsychologists, Health Psychologists, Psychometrists, research staff and students/trainees in various stages of graduate study.
We use evidence-based approaches to provide clinical services, which are enhanced by the integration of research and training [anchor]. Our family-centred model of care considers and respects the diversity of the families we serve with respect to language, culture, level of function, gender identity, medical and trauma history.
Our training programs are central to our department and include trainees at the practicum, residency and fellowship levels. We value the insights and dedication of our trainees and value supervision, as reflected by our biannual mentorship award.
Leadership Team:
Dr. Jonathan Golden, Ph.D., C. Psych., Director of Collaborative Professional Practice (Psychology and Social Work)
Moein Habibi, OT Reg. (Ont.), MHSc (Health Admin), CHE, Operations Manager of Collaborative Professional Practice (Psychology and Social Work)
Director of Clinical Training:
Dr. Sharon Guger, Ph.D., C. Psych.

The Psychology Department adopts a scientist-practitioner model that integrates clinical care with research. In addition to our group of full-time research staff, many of our clinicians are also actively involved in research – both as independent investigators and as members of multi-disciplinary teams.
Our Psychologists are involved in a variety of SickKids Research Institute programs.

The Psychology Department consists of highly qualified and experienced training faculty, all of whom are dedicated to training. You can expand the sections below to explore a variety of training opportunities offered by the department.
Residents (3) gain experience with children and youth who present with mental health issues related to congenital, perinatal, or acquired medical conditions. The overall goal is to prepare residents for the varied demands of professional practice in psychology – skills that are readily transferable to a wide range of community settings.
The practicum program is for graduate students who are in the earlier stages of their training. SickKids accepts approximately 5-8 students a year with a focus on assessment or intervention. Practicum placements typically run two days per week from September to April, or four days per week from May to August.
For more information on the above training opportunities, please see the brochures below. These include information on entrance requirements and application information, goals and objectives, key dates, and contact information.
Postdoctoral Fellowship Brochures