SickKids runs only committed interdisciplinary clinic in Canada to help children with rare genetic skin disorder
Summary:
It's epidermolysis bullosa (EB) awareness day! EB is a rare genetic blistering condition that affects the skin and internal organs. Learn more about how SickKids helps these "butterfly children."
Imagine your skin being so fragile that you develop blisters from holding a pencil or wearing clothes. Imagine blisters developing in your mouth or esophagus to the point where you can't eat or swallow, or that the pressure of walking causes painful wounds on your feet.
Such is the reality for children with epidermolysis bullosa (EB), a rare genetic blistering condition that affects the skin and internal organs. Often called "butterfly children," these children can be harmed by the things that cause any sort of friction, things that people take for granted, such as swallowing, walking, using their hands, getting dressed, grooming and washing.
When SickKids launched its committed EB clinic in 2004, it was the first EB clinic in Canada, and it remains the largest. The clinic is run by an interdisciplinary team comprised of two staff physicians, Dr. Elena Pope and Dr. Irene Lara-Corrales; Michelle Lee, a registered nurse; and social worker Nimrita Sangha. The team coordinates care by other medical and allied health specialities as required.
This kind of coordination across medical specialities is essential in managing EB. The breakdown of the skin is caused by a lack of protein, which depending on the subtype of EB, can also create problems internally. "Depending on the severity of the condition, it can lead to multi-systemic involvement, affecting bones, the gastrointestinal tract, eyes, teeth and cardiac health," says Lara-Corrales. The deeper the wounds, the more internal involvement; the more internal involvement, the greater the risk of a decrease in life expectancy. There is no cure.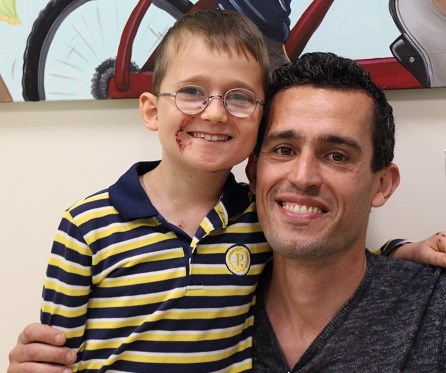 Avi, left, with dad Arie.
Avi, 8, has been coming to the EB clinic at SickKids since he was 3. Born in Israel, his parents decided to move to Canada after learning of all the possibilities of living with EB and what SickKids could do for Avi.
"It was very hard, especially the first year when he was born," says his dad Arie Asor (pictured at right with Avi). "We covered his body with bandages, and my wife was caring for him 24/7 while I worked 16 or 17 hours a day."
When he graduated from a stroller and started walking, "every three months, we were replacing Ari's shoes because he dragged his feet – it hurt too much for him to walk," says Asor.
Avi now has special shoes that have wide openings and don't hurt to put on. He is managing well, walking alongside his father. "It makes me very happy to come here (to SickKids)," says Avi. Dr. Pope is really helping me. This is the hospital that I like." But still, he says, "At school, it bothers me when people ask me what is wrong with my skin. I don't like it when they ask me. I really want it go away and I wish it would heal one day."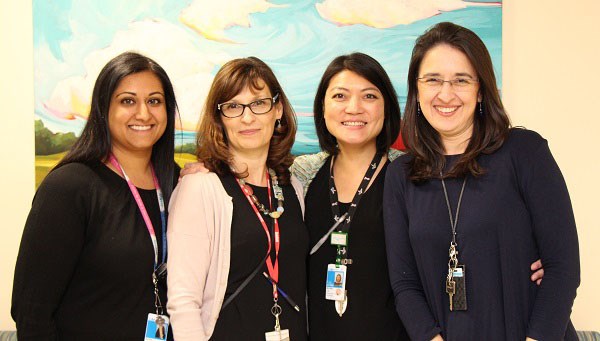 From left: Nimrita Sangha, Social Worker, Dermatology/EB Clinic; Dr. Elena Pope, Dermatology/EB Clinic; Michelle Lee, RN, Dermatology/EB Clinic and Dr. Irene Lara-Corrales, Dermatology/EB Clinic
The clinic's role is in providing care, teaching and offering support. "Wound care is a huge part of the clinic, as is educating the parents," says Sangha. The clinic teaches supportive measures, such as how to prevent complications and blistering; how to hold the child to avoid further damage; how to treat blisters; and how to handle bandage removal.
"The psycho-social impact of EB on the lives of patients and their families is significant," says Sangha. "Along with wound care and disease education, we facilitate patient and family adjustment to the diagnosis and care of EB. We also connect with schools and other community services to provide education and ensure that patients' health and psychosocial needs are being met."
"We are not correcting or replacing proteins that they are missing," says Pope. "And we have no way of genetically preventing the condition from happening. EB is an 'orphan disease' in that, in its rarity, it does not attract large funding dollars," she says, although there is a lot of research happening worldwide.
SickKids is involved in clinical research and collaborate with other clinics in North America, participating in clinical trials and contributing to a North American database on EB cases. The clinic educates other staff, such as in the ED and OR and provides them with specials kits and bandages to treat children with EB. Clinic staff also teach them how to remove bandages on these children with very fragile skin.
The clinic is developing a basic handbook for families, teaching them about basic conditions, shoes, dressings and resources available to them in the community. "We are currently finalizing the booklet," says Lee. "We surveyed our families in the creation of it to ask them what information they wanted to see included,"
Because so many of the patients live outside the city, the clinic organizes any other related medical appointments they need to attend on clinic day. The clinic runs twice-monthly, and the team can see up to 20 patients a month.
Sheerzad, 18, was a refugee, and arrived in Canada in 2009.
"In Iraq, it was very difficult," says Hayder Essw, Sheerzad's father (left, with Sheerzad). "We didn't have bandages, and we cut clothes to make wraps for his skin." Essw describes how he fled Iraq on foot with his son to get him medical care, leaving the rest of his family behind, carrying him as he was unable to walk due to his injured skin.
Upon their arrival at SickKids, Sangha jumped in to provide support to the family: connecting them to housing resources; providing Sheerzad with a wheelchair and organizing WheelTrans for his transportation, assisting with registering Sheerzad in school and educating him and his family about EB.
"Nimrita has helped us a lot, so we feel she is a member of our family," says Sheerzad. "Everybody in SickKids has helped us a lot."
Now that Sheerzad is 18, he is seen at SickKids for his skin, but the clinic is transitioning him to adult hospitals for other specialty care. "It is a challenge for us to transition our paediatric patients to adult care, due to a lack of EB expertise and multidisciplinary care available to our adult patients in the community," says Irene.
"I like it, I still want to come here, unless I don't have EB," says Sheerzad. "Sometimes when my dad comes to Toronto, he comes by the clinic to visit staff, and when I have other appointments I ask if I can come by just to say 'Hi'!"
Sheerzad is grateful for the support of his family and friends, as well as the care and support he has received – and continues to receive – from SickKids. He has been a spokesperson for EB, raising awareness of the condition, and he shares this advice: "If you see someone with EB, you should respect them, not judge them with their blisters. Be careful, be gentle, their skin is very fragile. Just be a friend, be nice, and talk to them."