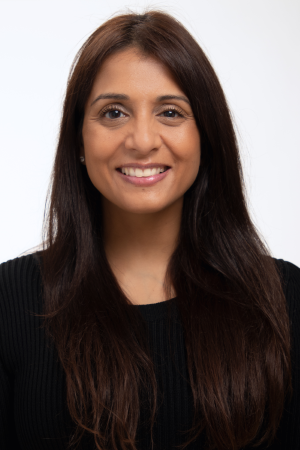 Reshma
Amin
Title:
Director, Sleep Medicine and Long-term Ventilation
Designations:
MD, M.Sc., FRCPC
Alternate Contact Name:
Crystal
Wilson
U of T Positions:
Professor, Department of Pediatrics, cross-appointed to the Institute of Health Policy, Management and Evaluation
Hospital Positions
Staff Respirologist, Division of Respiratory Medicine
Research Positions
Senior Associate Scientist
Child Health Evaluative Sciences


Biography
Dr. Reshma Amin received academic training at the University of Toronto (medicine and clinical epidemiology) and clinical training at The Hospital for Sick Children (SickKids).
Dr. Amin is the Director of the Long-term Ventilation program at SickKids, and is also a Sleep Medicine physician. She is a Senior Associate Scientist in Child Health Evaluative Sciences at the SickKids Research Institute. Dr. Amin is an Professor of Pediatrics and Health Policy, Management and Evaluation at the University of Toronto. She is also the Director of the provincial Long-term In-Home Ventilator Engagement (LIVE) Program.
Research
Dr. Amin's research focuses on improving outcomes for children using long-term ventilation at home and their families. Her team is developing and evaluating interventions aimed at supporting patients and families transitioning home with new medical technologies to decrease caregiver burden, reduce preventable healthcare utilization and associated costs and promote patient safety. An emerging research aim is the evaluation of novel therapeutics aimed at treating the underlying biology of neuromuscular disease.
Her research program will characterize the 'new natural history' of these patients, as well as their clinical outcomes from the respiratory perspective.
Education and experience
Education
2010: Paediatric Sleep Medicine, Department of Pulmonary Medicine, The Children's Hospital of Philadelphia, Philadelphia, USA.
2007–2009: Masters of Science (M.Sc.), Institute of Health Policy, Management and Evaluation, University of Toronto, Toronto, Canada
2007–2009: Research Fellowship, Paediatric Respiratory Medicine, The Division of Respiratory Medicine, SickKids, Toronto, Canada
2005–2007: Paediatric Respiratory Medicine Fellowship and Chief Fellow (2006–2007), The Division of Respiratory Medicine, SickKids Toronto, Canada
2002–2005: Paediatric Residency Training, Department of Paediatrics, SickKids, Toronto, Canada
1998–2002: Medical Doctorate with Distinction (MD), Faculty of Medicine, University of Toronto, Toronto, Canada
Experience
2021–Present: Director of Sleep Medicine and Long-term Ventilation, Division of Respiratory Medicine, The Hospital for Sick Children, Toronto, Ontario, Canada
2018–Present: Associate Professor, Department of Paediatrics, Faculty of Medicine, University of Toronto, Toronto, Ontario, Canada.
2010–2018: Assistant Professor, Department of Paediatrics, Faculty of Medicine, University of Toronto, Toronto, Ontario, Canada.
2010–Present: Staff Respirologist, Division of Respiratory Medicine, Department of Pediatrics, SickKids
Achievements
2022: Canadian Thoracic Society's Dedicated Service Award, Canadian Thoracic Society
2021: Muscular Dystrophy Canada's Research Champion Award
2021: Junior Clinical Excellence Award, Department of Paediatrics, SickKids
2017: Recipient of the 1rst Honorary Dr. Carole Marcus, International Paediatric Sleep Association
2017: Muscular Dystrophy Canada Excellence in Service Delivery Award
2016–2017: Outstanding Clinical Contribution for Clinical Excellence Award, Department of Paediatrics, SickKids
Publications
2023–2028: NMD4C: the neuromuscular network for Canada. Co-Investigator. CIHR and Muscular Dystrophy Canada. Award: 2M (1M ($200k/year for 5 years) from CIHR), and 1M matched funding from Muscular Dystrophy Canada.
2023–2024: Predictors of Adherence and Healthcare Utilization in a Population Based Cohort of Children Using Long-term Ventilation at Home: A Big Data Analysis. Principal Investigator. CIHR: Data Analysis Using Existing Databases and Cohorts. Co-PI: Kendzerska T. Co-I: Gershon A, Pizzuti R, Rose L. Award $75,000
2023–2025: Establishing the Top Ten Research Priorities for Respiratory Care of Pediatric Neuromuscular Disease. Principle Investigator. Muscular Dystrophy Canada.

Co-PI: Xiao L, Mehta K. Co-I: Lochmuller H, Selby K, Cithiravel N, Olmstead D, Worsfold N, Vander Wyk S, Hodgkinson V, Hammash N, Lacey Victoria.

Award $50,000

2023–2024: Care, Health, Economics and Society: Spillover Effects of Caregiving in Canada. Co-Investigator. CIHR Strategy for Patient-Oriented Research (SPOR). PI: Zhang W, Sawatzky R, Salmon A. Co-I: L'Heureux J, Vouve B, Brukamo K, Luger A, Chen L, Prescott K. Award $100,000