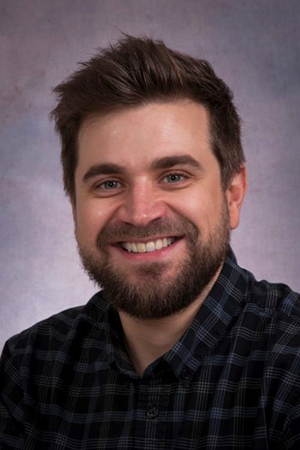 Benjamin
Dunkley
Title:
MEG Clinical Associate, Department of Diagnostic Imaging
Designations:
PhD, MRes B.Sc. (Hons)
Alternate Contact Name:
Kyra
Sophocleous
U of T Positions:
Assistant Professor, Department of Medical Imaging
Research Positions
Scientist
Neurosciences & Mental Health
Biography
Dr. Benjamin Dunkley studied at Cardiff University, UK, where he completed his PhD thesis on the role of cortical oscillations in oculomotor control and vision motion perception. He then completed a post-doctorate at York University, Toronto, where he studied transaccadic integration and spatiotopic representation in the dorsal visual stream.
This was followed by a post-doctorate at The Hospital for Sick Children (SickKids) with Drs. Margot Taylor and Elizabeth Pang, studying functional brain circuitry in cognition and behaviour and how this is dysfunctional in neuro-psychiatric disease, including PTSD and concussion. He now works at SickKids as a Clinical Associate in the Department of Diagnostic Imaging.
Research
Dr. Benjamin Dunkley is a cognitive neuroscientist who studies neural circuits in health and disease using non-invasive brain imaging. His work focuses on neurophysiology and systems neuroscience, with an emerging research focus on the development of AI and neuromodulation for use in precision medicine. He is particularly interested in the impact of trauma on neural systems, and how 'invisible' injuries can be detected and eventually treated using advanced neuroimaging and neurostimulation.
Education
2013–2015: Post-doctoral Research Fellow, Department of Diagnostic Imaging, The Hospital for Sick Children, Toronto, Canada
2012–2013: Postdoctoral Research Fellow, Centre for Vision Research, York University, Toronto, Canada
2008–2012: PhD Psychology & Neuroscience, School of Psychology/Cardiff University Brain Research Imaging Centre (CUBRIC), Cardiff University, Cardiff, UK
2007–2008: MRes Research Methods & Neuroimaging, The Wellcome Trust Laboratory for MEG Studies, Aston University, Birmingham, UK
2004–2007: B.Sc. (Hons) Psychology with Cognitive Science, University of Sussex, Brighton, UK
Experience
2015–Present: Clinical Associate, Department of Diagnostic Imaging, The Hospital for Sick Children, Toronto, Canada
2020–Present: Scientist, Neurosciences & Mental Health Program, SickKids Research Institute, Toronto, Canada
2016–Present: Associate Member, Institute of Medical Science, School of Graduate Studies (SGS) Appointment, University of Toronto, Toronto, Canada
Collaborative Program in Neuroscience (CPIN) Faculty, University of Toronto, Canada
2016–Present: Assistant Professor, Department of Medical Imaging, University of Toronto, Toronto, Canada
2016–2020: Associate Scientist, Neurosciences & Mental Health Program, SickKids Research Institute, Toronto, Canada
2015–2016: Project Investigator, Neurosciences & Mental Health Program, SickKids Research Institute, Toronto, Canada
Achievements
2017: Banting Award for Military Health Research, Canadian Institute of Military & Veteran Health Research, Canada
2016: Nancy ET Fahrner Award, The Hospital for Sick Children, Toronto, Canada
2014: CPIN Research Day Outstanding Presentation - University of Toronto, Canada
2010: Prize for Early Promise 1st Year PhD Research, Cardiff University, UK
2010: Brain Travel Award - Guarantors of Brain Charity, University College London, UK
2009: Grindley Award, Experimental Psychology Society, UK
2008: Brain Travel Award, Guarantors of Brain Charity, University College London, UK
2008: School of Psychology/CUBRIC Internal Scholarship Award - Cardiff University, UK
2007: Advanced Neuroimaging Course Scholarship Award - Medical Research Council, UK
Publications