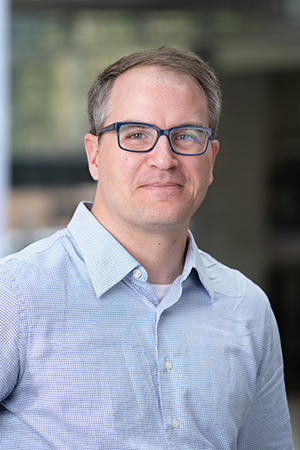 Jim
Dowling
Title:
Senior Scientist, Genetics & Genome Biology
Alternate Contact Name:
Lillian
Chow
U of T Positions:
Professor, Departments of Paediatrics and Molecular Genetics
Chair Positions:
Mogford Campbell Family Chair of Paediatric Neurosciences
Hospital Positions
Staff Clinician
Division of Neurology
Biography
Dr. James Dowling is a clinician-scientist focused on gene discovery and therapy development for childhood muscle diseases. Dr. Dowling received his B.Sc. and M.Sc. from Yale University and his MD/PhD from the University of Chicago. His PhD work was performed in the laboratory of Elaine Fuchs. He did his residency in child neurology at Children's Hospital of Philadelphia and completed postdoctoral research with Jeff Golden (UPenn) and Eva Feldman (University of Michigan). Before coming to Toronto, he was an assistant professor at the University of Michigan from 2009 to 2013.
Dowling's clinical expertise is in childhood neuromuscular disorders and he is considered one of the leading authorities on the diagnosis and management of congenital myopathies. His research examines questions of disease pathogenesis and therapy development for congenital myopathies and childhood muscular dystrophies. He has authored or co-authored more than 100 peer reviewed manuscripts and been fortunate to enjoy funding from several sources, including CIHR, NIH, MDA, and Genome Canada.
Research
The overall goal of Dowling's research program is to discover therapies for childhood muscle diseases. He is particularly focused on muscle disorders that present in infancy, including the congenital myopathies and the congenital muscular dystrophies. Dowling utilizes a combinatorial approach that includes new gene discovery (using next generation sequencing technology), model organism development (particularly using the zebrafish model system) and both targeted, and large scale screening drug discovery approaches. He complements this work with cutting edge rare disease clinical research related to natural history, outcome measure development, and interventional trials.
Education and experience
2020–Present: Professor, University of Toronto
2015–2020: Associate Professor, University of Toronto
2013–2015: Assistant Professor, University of Toronto
2013–Present: Staff Clinician and Senior Scientist, Division of Neurology, Hospital for Sick Children
2009–2013: Assistant Professor, Pediatrics (Division of Neurology), University of Michigan
2006–2009: Instructor, Pediatrics, Postdoctoral Fellow, Neurology, University of Michigan
2005–2006: Fellow, Neuromuscular Medicine and Neurogenetics, University of Michigan
2002–2005: Residency, Child Neurology, Children's Hospital of Philadelphia
2001–2002: Internship, Pediatrics, University of Chicago Children's Hospital
1993–2001: MD, PhD, University of Chicago
1989–1993: Undergraduate, Yale University
Achievements
2020–Present: Vice Chair – TREAT NMD

2019–Present:

Executive Committee – World Muscle Society
2018–Present: Chair – Canadian Paediatric Neuromuscular Group
2016–Present: Mogford Campbell Family Chair of Paediatric Neurosciences – The Hospital for Sick Children
2016: Junior Physician Researcher Award – Department of Paediatrics, University of Toronto
Publications
Maani

N, Sabha N,

Rezai

K, Ramani A, Groom L,

Eltayeb

N,

Mavandadnejad

F, Pang A, Russo G,

Brudno

M,

Haucke

V, Dirksen RT,

Dowling JJ

. (2018). Tamoxifen therapy in a murine model of myotubular myopathy.

Nature Communications

doi

: 10.1038/s41467-018-07057-5. PMID: 3045184. IF: 12.35.

Significance: This study is the first to demonstrate pre-clinical efficacy of tamoxifen for myotubular myopathy, a severe disorder without current treatment. The results are immediately translatable, and a clinical trial is funded and planned based on these data.

Amburgey

K, Tsuchiya E, de

Chastonay

S,

Glueck

M, Alverez R, Nguyen CT, Rutkowski A,

Hornyak

J,

Beggs

AH,

Dowling JJ

. (2017). A natural history study of X-linked myotubular myopathy.

Neurology

. Sep 26;89(13):1355-1364.

doi

: 10.1212/WNL.0000000000004415. (

SRA

)

IF: 8.32. Featured with an accompanying editorial.
Significance: This study represents the first natural history study of myotubular

myopathy, and

identifies key elements of the clinical course of disease and novel outcome measures.

Sabha N.,

Volpatti

JR, Gonorazky H,

Reifler

A, Davidson AE, Li X,

Eltayeb

NM,

Dall'Armi

C, Di Paolo G, Brooks SV,

Buj

-Bello A, Feldman EL,

Dowling JJ.

(2016). PIK3C2B inhibition improves function and prolongs survival in myotubular myopathy animal models.

Journal of Clinical Investigation.

Sep 1;126(9):3613-25.

doi

: 10.1172/JCI86841 (

SRA

)


IF: 12.575. Recommended by Faculty of 1000.
Significance: Using both zebrafish and murine models, this study identified the first genetic modifier of myotubular

myopathy, and

utilized this knowledge to uncover the first potential small molecule therapeutic for this disease.

Amburgey

K, McNamara N, Bennett LR, McCormick ME,

Acsadi

G, and

Dowling JJ.

(2011). Prevelance of congenital myopathies in a representative pediatric United States population

.

Annals of Neurology

DOI: 10.1002/ana.22510. (

SRA

)

IF: 11.193. Significance: This manuscript reports the first systematically obtained prevalence data for congenital myopathies for any country or region.

Dowling JJ,

Vreede

AV, Low SE, Gibbs EM,

Bonnemann

CG,

Kuwada

JY, and Feldman EL. (2009). Loss of myotubularin function results in T-tubule disorganization in zebrafish and human myotubular myopathy.

PLoS

Genetics

5(2

):

e

1000372. (

PA

).

IF: 8.517. Recommended article by Faculty of 1000. Significance: This paper reports the first association between myotubularin dysfunction and excitation-contraction coupling abnormalities. It represents a paradigmatic shift in the understanding of the pathogenesis of centronuclear myopathies. The article been cited more than 150 times.
2023–2025: Canadian "rare diseases: models and mechanisms" (RDMM) network, PI, University of British Columbia, $250,000 CAD
2023–2024: Therapy development for X-linked myotubular myopathy, PI, Canadian Institutes of Health Research (Project Grant – Fall 2022), $100,000 CAD
2022–2027: SPEG in muscle development and the pathogenesis of CNM, PI, Canadian Institutes of Health Research (Project Grant – Spring 2022), $1,000,000 CAD
2022–2023: Gene therapy for large muscle disease genes, PI, Muscular Dystrophy Association Inc. (Neuromuscular Disease Idea Grant Program), $65,830 CAD
2022–2023: Hunters CMT4B3 Drug Discovery, PI, Hunters CMT4B3 Research Foundation Inc. $50,000 CAD
2021–2023: Hurdling the liver to improve gene therapy. PI, Social Sciences and Humanities Research, (New Frontiers in Research Fund (NFRF) Exploration 2020 Competition), $250,000 CAD
2021–2022: Novel Gene Based Therapy for Nemaline Myopathy. PI, A Foundation Building Strength. $250,085 USD
2020–2025: Pathophysiology and Treatment of Recessive RYR1 Related Myopathy. Co-PI (with Dirksen), National Institutes of Health (NIH) R01, $2,030,900 USD)
2020–2024: NMD4C: An Integrated Research Network for Patients, Scientists, and Clinicians to Improve Outcomes and Access to Therapies for Patients with Neuromuscular Disorders in Canada (NMD4C Network Project), Co-PI (with Lochmuller), Canadian Institutes of Health Research (Network Catalyst Grant), $10,866,640 CAD)
2019–2024: Novel gene-based therapy for nemaline myopathy, PI, National Institutes of Health (NIH) R01, $1,250,000 USD
2018–2024: C4R-SOLVE GC LSARP Act 1,2,3, Co-PI (with Boycott), CHEO RESEARCH INSTITUTE (Genome Canada LSARP), $534,773 CAD
2017–2024: Therapy development for myotubular myopathy and related disorders, PI, Canadian Institutes of Health Research, $765,000 CAD