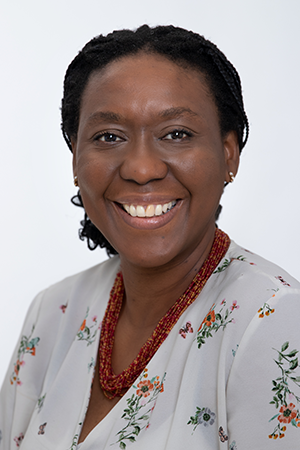 Nomazulu
Dlamini
Title:
Staff Neurologist, Division of Neurology
Designations:
MD, M.Sc., PhD
Alternate Contact Name:
Jennifer
Hyde
U of T Positions:
Associate Professor, Department of Paediatrics
Hospital Positions
Director, Children's Stroke Program
Research Positions
Associate Scientist
SickKids Research Institute
Chair positions
Chair, International Paediatric Stroke Study, Executive Committee
Co-Chair, Heart and Stroke Foundation, Paediatric Best Practice Guidelines Working Group
Biography
Dr. Noma Dlamini worked as a Staff Neurologist at the Evelina Children's Hospital, Guy's and St Thomas' Hospital in London, UK prior to returning to SickKids. She is the Director of the Children's Stroke Program. She is pioneering an integrated clinical and multi-modal neuroimaging approach for the prediction of risk and outcome in children with stroke and cerebrovascular disorders. She also provides international leadership in paediatric stroke through the International Paediatric Stroke Study and the International Paediatric Stroke Organization.
Research
Dr. Dlamini is passionate about understanding why children have stroke, why some children do well after they have a stroke, and why some do not. She follows one of the largest populations of children with stroke in Canada and uses novel imaging of the brain to understand stroke risk and outcome in childhood. Current work includes research into why some children with stroke have challenges with higher language functions such as socialization and humour, why some children develop a disabling movement disorder called dystonia, how to predict stroke risk in children with abnormalities of the brain blood vessels and how sleep affects stroke risk and outcome.
Education and experience
1990–1996: MBBS, Medicine and Surgery, University College of London, London, England
1996–2000: House Officer/Senior House Officer, Pediatrics, University College London Hospitals and Great Ormond Street Hospital, London, England
2000: MRCPCH (UK), Pediatrics, Royal College of Pediatrics and Child Health, London, England
2001: Fellow, Pediatric Intensive Care, Guys and St. Thomas' Hospital London, England
2001–2004, Specialist Registrar, Pediatrics, London Deanery, England
2004: Fellow, Neuromuscular, Dubowitz Neuromuscular Unit, Dubowitz Neuromuscular Unit, Hammersmith Hospital, London, England
2002–2004: M.Sc., Clinical Pediatrics, University College of London, London, England
2005–2008: Specialist Trainee, Pediatric Neurology, King's College Hospital and Evelina Children's/Guy's and St Thomas' Hospitals NHS Trust, London, England
2008–2010, Fellow, Pediatric Stroke, The Hospital for Sick Children, Toronto, Ontario
2017: PhD, Neurosciences, University College of London, London, England
Achievements
Member, International Paediatric Stroke Organization (IPSO) Charter Working Group
Chair, International Paediatric Stroke Study Executive Committee
Co-Chair, Heart and Stroke Foundation, Paediatric Best Practice Guidelines
Co-Founder, IPSO
Scientific Director, International Paediatric Stroke Study
Co-Director, Stroke Imaging Lab for Children
2018: Winner of Platform Presentation Award at International Child Neurology Congress
2010: Young Investigator's Award Neurobiology of Disease in Childhood
2010: Jon Stobo Pritchard Prize for Research, Hospital for Sick Children, Toronto
2009: Research Fellowship Heart and Stroke Foundation/Canadian Institute Health Research
2008: Science Award, Vasculopathy in Sickle Cell Disease NIH Bethesda, Maryland
2008: Travel Award, Vasculopathy in Sickle Cell Disease NIH Bethesda, Maryland
Publications
Funding
Auxilium Foundation Grant - Canadian Pediatric Ischemic Stroke
SickKids Stroke Registry: Risk Factors, Treatments and Outcomes
Banting Research Foundation Discovery Award
Project Title: Neural Network Reorganization and Maladaptive Plasticity in Dystonia Post Childhood Basal Ganglia Stroke:  A Developmental Model for the Investigation of the Neurobiological Substrate of Dystonia
Brain Canada: Canadian Paediatric Stroke Imaging Platform