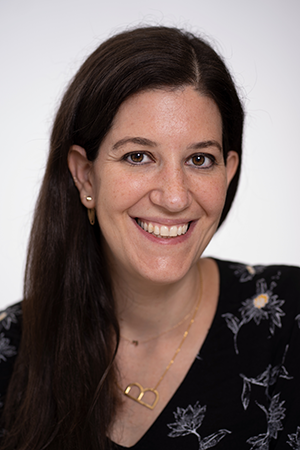 Bailey
Gallinger
Title:

Genetic Counsellor, Division of Clinical and Metabolic Genetics

Designations:

M.Sc., CGC

Email:

U of T Positions:

Lecturer, Department of Molecular Genetics
Biography
Bailey Gallinger is an ABGC-certified genetic counsellor in the Division of Clinical and Metabolic Genetics at SickKids. She joined SickKids in 2014 and is the genetic counsellor for the SickKids Cancer Genetics Program. Bailey assesses the cancer risk of patients and families, helping them navigate the complexities of hereditary cancer predisposition syndromes. Bailey is an Instructor in the University of Toronto M.Sc. Program in Genetic Counselling. She holds a Project Investigator appointment in the Research Institute at SickKids. Her areas of research include psychosocial experiences of families/patients participating in pediatric precision oncology and screening recommendations for cancer predisposition syndromes.
Research
Bailey's main research area of focus is how new genetic testing technologies can impact paediatric cancer care. Bailey is a co-investigator on the SickKids Cancer Sequencing (KiCS) study and plays and integral role on multiple aspects of this initiative.
Research interests
Precision oncology in paediatric cancer

Psychosocial experiences of families/patients participating in p

a

ediatric precision oncology

Cancer predisposition syndromes

Screening recommendations
Education
2006 – 2010: Bachelor of Science, Honors Psychology and Genetics, Western University, London, Ontario, Canada.

2010 – 2012: Master of Science in Genetic Counselling, Brandeis University. Waltham, Massachusetts, USA.

2012: Board Certified Genetic Counselor (CGC), American Board of Genetic Counselors, Overland Park, Kansas, USA.
Achievements
2016

:

Interprofessional

Staff Award in Recognition of Excellence in Teaching, The Hospital for Sick Children, Toronto.

2010

:

Dean's Honor List and Gold Medal for Highest Overall Average in Double Major Genetics, Western University, London, Ontario, Canada.
Funding
2018-2020 Co-Investigator. Pediatric Precision Oncology: Parent and Adolescent Experiences. Study Sponsor: Alex's Lemonade Stand Foundation for Childhood Cancer.


Villani A, Barrera M,

Gallinger B

, Johnstone B, Malkin D.


2016-2019 Co-Investigator. SickKids' Cancer Sequencing Program (

KiCS

): Integration of Next Generation Sequencing Into Clinical Oncology Care. The

Garron

Family Cancer Centre, The Hospital for Sick Children.
PIs: Malkin D,

Shlien

A. Co-investigators: Dr. M.

Abdelhaleem

M, Druker H,

Gallinger B

,

Hegele

R,

Hitzler

J, Huang A, Irwin M, Johnstone B, Meyn SM, Ray P, Scherer S,

Shago

M, Somers G, Stavropoulos J,

Tabori

U, Taylor M, Villani A, Wasserman JD.
Publications