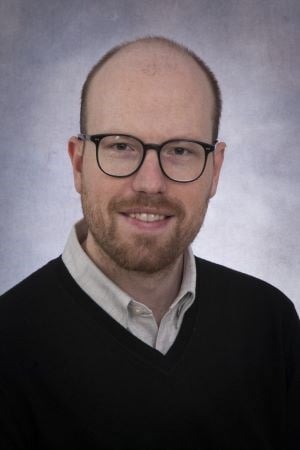 Andrew
Helmers
Title:
Staff Physician, Department of Critical Care Medicine
Designations:
MDCS, M.Sc., FRCPC
Alternate Contact Name:
Samantha
Morin
U of T Positions:
Assistant Professor, Department of Paediatrics
Biography
Dr. Andrew Helmers is a staff physician in the Department of Critical Care Medicine at The Hospital for Sick Children (SickKids), and an assistant professor in the Department of Paediatrics at the University of Toronto. He completed an M.Sc. at the University of Toronto and medical training at McGill University, followed by paediatric and paediatric critical care training at SickKids. Most recently, he completed an MH.Sc. in Bioethics through the Dalla Lana School of Public Health at the University of Toronto; he is a Clinical Bioethics Associate with the Department of Bioethics at SickKids. He is also the chair of the Critical Care Infection Prevention and Control committee.
Publications
Helmers, A.J., K. Dryden-Palmer & R. Greenberg (2020) Moral Distress: Developing Strategies from Experience. Nursing Ethics Jun;27(4):1147-1156.
Helmers, A. Stability and Viability of SARS-CoV-2 [comment on Aerosol and Surface Stability of SARS-CoV-2 as Compared with SARS-CoV-1], NEJM. 2020 Apr 13;382.
Bechard, M., A.J. Helmers & L. Mclean (2020) Resuscitation chapter in the SickKids Pediatrics Handbook, 12th Edition. Accepted for publication..
Kinlin, L.M., A.J. Helmers, J.N. Friedman, C.E. Beck (2019) Choice of maintenance intravenous fluids amongst pediatric residents in Canada. Paediatrics & Child Health, pxz093.