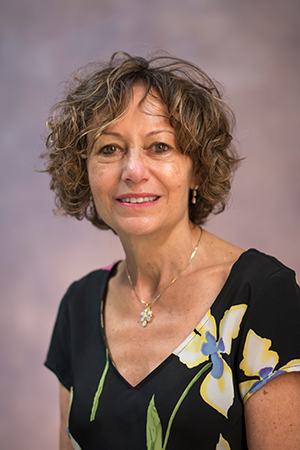 Amira
Klip
Title:
Senior Scientist Emeritus, Cell Biology
Alternate Contact Name:
Sandy
Hume
U of T Positions:
Professor, Departments of Paediatrics, Biochemistry & Physiology
Biography
The goals of Dr. Amira Klip's research are:
T

o understand the molecular and cellular basis of the regulation of glucose transport into muscle cells, with emphasis on how insulin and contraction signal to intracellular traffic events.

To resolve

how

glucose and

insulin cross the microvasculature to reach tissues

.

To

investigate

cellular

paradigms and animal models to

identify the various

contribution

s

by immune cells to insulin resistance and type 2 diabetes.
Research
Dr. Klip endeavours to unravel the intra- and inter-cellular mechanisms regulating glucose uptake into muscle in response to insulin or exercise, and how this integrated response fails in pre-diabetes.
This goal is approached through four interrelated projects:
To generate a molecular blueprint of insulin signals that promote glucose uptake into muscle, and investigate how they fail in diabetogenic conditions

.

To identify the molecular cues elicited by exercise that promote glucose uptake into muscle, and exploit them to reverse insulin resistance

.

To investigate how microvascular endothelial cells deliver insulin and glucose to adipose and muscle tissues

.

To understand the communication between muscle, endothelial and immune cells, and how they cooperate during muscle repair after exercise or conspire to promote insulin resistance

.
Education and experience
2014:

Visiting Professor

,

Cell Biology Department,

Institut

Curie, Paris, France

2007–2010:

Editor-in-Chief

,

American Journal of Physiology–Endocrinology and Metabolism

1992–Present:

Senior Scientist

,

Cell Biology Program, SickKids Research Institute, The Hospital for Sick Children, Toronto, ON

, Canada

1992–Present:

Professor

,

Departments of Paediatrics, Biochemistry,

&

Physiology, University of Toronto, Toronto, ON

, Canada

1991–2008:

Associate Chief of Research

,

Research Institute, The Hospital for Sick Children

, Toronto, ON

, Canada

1986–2009:

Founder and Director

,

Research Training Centre, Research Institute, The Hospital for Sick Children

, Toronto, ON

, Canada

1985–1992:

Associate Professor

,

Departments of Paediatrics and Biochemistry, University of Toronto

, Toronto, ON

, Canada

1980–1985:

Assistant Professor

,

Departments of Paediatrics and Biochemistry, University of Toronto

, Toronto, ON

, Canada

1980–1992:

Scientist

,

Cell Biology Program, Research Institute, The Hospital for Sick Children

, Toronto, ON

, Canada

1979–1980:

Senior Research Associate

,

Division of Neurology, Research Institute, The Hospital for Sick Children

, Toronto, ON

, Canada

1978–1979:

Research Associate

,

Laboratorium

fur

Biochemie

, ETH-

Zentrum

, Zurich, Switzerland

1976–1978:

Postdoctoral Fellow

,

Banting and Best Department of Medical Research, University of Toronto,

Toronto, ON

, Canada

1975–1976:

Biology Teacher

,

Monte Sinai High School, Mexico City

, Mexico

1975:

Membrane Structure and Function Training Course

,

Academia

dei

Lincei

, Rome

, Italy

1975:

Mitochondria

:

Biogenesis

,

Structure

, and

Function

Training

Course

,

Universidad Nacional

Autonoma

de

Mexico

,

Mexico

City

,

Mexic

o

1975:

Training in Fluorescence Spectroscopy

,

Pennsylvania State University, State College, P

A

1974–1976:

Doctor in Science (PhD)

,

Department of Biochemistry,

Center for Research and Advanced Studies of the National

Polytechnical

Institute, Mexico City

, Mexico

1974:

Membrane Biophysics Training Course

,

Yale University School of Medicine,

NH

1970–1974:

College and Master in Science (M

.

Sc

.

)

,

Department of Biochemistry, Center for Research and Advanced Studies of the National

Polytechnical

Institute, Mexico City

, Mexico
Achievements
2017:

Ulrich

Hopfer

Lecturer, Case Western Reserve University, School of Medicine, Cleveland, O

H

2016:

Walter B. Cannon Memorial Award, American Physiological Society, San Diego, C

A

2015:

Fellow, American Physiological Society, San Diego, C

A

2015:

Honorary Doctorate, University of Copenhagen, Copenhagen, Denmark

2014:

Rothschild-Yvette

Mayent-

Institut

Curie Award, Paris, France

2013:

Peter F. Curran Award Lecture, Yale University, New Haven,

CT

2013:

Hugh

Davson

Distinguished Award, American Physiological Society, Cell Biology Section

2011:

Elected Fellow, Canadian Academy of Health Sciences

2011–2018:

Canada Research Chair Tier 1, Cell Biology of Insulin Action

2009: H

onorary Professor, Tianjin Medical University, Tianjin, China

2008:

Glassman Lecturer, Hebrew University of Jerusalem,

Jerusalem

,

Israel

2007–2010:

Editor-in-Chief – American Journal of Physiology–Endocrinology and Metabolism

2006:

Dozor

Visiting Scholar, Ben-Gurion University of the Negev, Beer

Sheva

, Israel

2005:

Solomon A.

Berson

Distinguished Award, American Physiological Society, Endocrinology & Metabolism Section

2004–2011:

Canada Research Chair Tier 1, Cell Biology of Insulin Action

2004:

G. Malcolm Brown Award, Canadian Federation of Biological Societies

2002:

Dales Award for Medical Research, Life Sciences Committee, University of Toronto

, Toronto, ON

2000:

Elected Fellow, Royal Society of Canada

2000:

Jeanne

Manery

Fisher Memorial Lectureship Award, Canadian Society of Biochemistry, Molecular & Cellular Biology

1999–2004:

MRC Distinguished Scientist Award, Medical Research Council of Canada
Publications