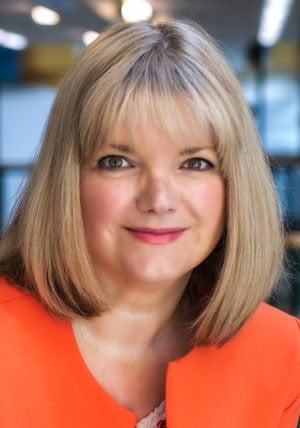 Karen
Kinnear
Title:
Vice-President, Clinical Operations
Designations:
RN, BScN, MBA
Alternate Contact Name:
Leila
Kelly
Biography
Karen Kinnear has been with The Hospital for Sick Children (SickKids) for 30 years, beginning with her career as a staff nurse in the Cancer Centre in 1990. In 2001, she was appointed to a clinical director role and earned her MBA in 2004. She became Executive Director in 2011, and Vice-President of Clinical Operations in 2014.
Kinnear provides strategic leadership to a portfolio that includes Ambulatory Services, Perioperative Services and Medical Device Reprocessing, Diagnostic Imaging and Interventional Procedures Department, Department of Paediatric Laboratory Medicine, Rehabilitation Services, Genetics and Rare Diseases Programs, and Clinical Informatics and Technology Programs, including telemedicine and the Ontario, Nunavut and Manitoba Poison Centres hosted by SickKids.
She has responsibility for provincial and national services with high dollar and high impact. Services such as Diagnostic Imaging and Laboratory Medicine are highly regulated, and SickKids hosts one of the most complex and high-volume diagnostic labs in the country, impacting all clinical programs and services across SickKids.
Kinnear also plays a key role as Co-Executive Sponsor, designing SickKids of the future, under Project Horizon, a major capital project spanning the next decade.
Education and experience
2004: MBA, Schulich School of Business, York University, Toronto, ON
1990: BScN, University of Windsor, Windsor, ON
Achievements
2015: Co-chair of the provincial expert panel on Ehlers Danlos Syndrome
2016–2018: Co-Executive Sponsor of $130M EMR successful EMR implementation
2011, 2013: Consultant to SickKids International (SKI) engagement in Doha, Qatar contributed to Paediatric Intensive Care Unit (PICU) capacity planning work and organizational KPI development
2011: Participated as part of a 9-member international expert panel commissioned by the NHS (Great Britain) as part of a judicial review process to review and recommend on the impact of the loss of critical care services on paediatric respiratory care at the Royal Brompton Hospital, London
2011: President's Circle Award, SickKids

Inaugural award given for exemplary leadership