Wayne
Lee
Title:
Director, Department of Diagnostic Imaging
Designations:
BA.Sc., M.Sc.
Alternate Contact Name:
Jill
Hynes
Biography
Wayne is an accomplished leader with experience in multiple domains. Prior to SickKids, he received his bachelor of applied science in Systems Design Engineering from the University of Waterloo and a master of science in Medical Biophysics from the University of Toronto. Wayne started his career at SickKids almost 10 years ago, developing novel MRI imaging and analysis techniques. Since then he has worked in a variety of capacities, advancing imaging practice, procuring major imaging assets, operationalizing multi-center studies, and fostering inter-disciplinary collaborations. More recently, he has taken on progressive leadership roles, managing the Children's Stroke Research Program, and later, the hospital's Length of Stay portfolio. He has experience collaborating with clinical, industry, and academic partners to achieve strategic innovation with a focus on process and technology. Wayne's breadth and depth of experience, with specific expertise in advanced imaging and data science, will help us build on DI's strong position as a leader in paediatric imaging and shepherd DI's continuing evolution into the radiology department of the future.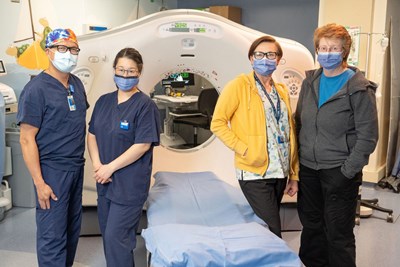 We use state-of-the-art equipment and technology to improve healthcare outcomes for children.