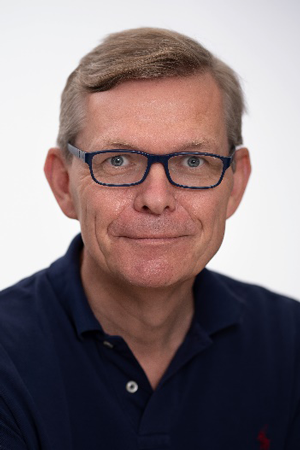 Felix
Ratjen
Title:
Paediatric Respirologist, Division of Respiratory Medicine
Designations:
MD, FRCP(C)
Alternate Contact Name:
Sara
Chowns
U of T Positions:
Professor, Department of Paediatrics
Research Positions
Program Head and Senior Scientist
Translational Medicine
Biography
Dr. Felix Ratjen is the Division Chief of Paediatric Respiratory Medicine at The Hospital for Sick Children (SickKids) and Professor of Paediatrics at the University of Toronto. He is also Program Head and Senior Scientist in the Translational Medicine research program at SickKids Research Institute. He is co-leading the CF Centre at SickKids with Christine Bear, another Senior Scientist in the Molecular Medicine Program.
Dr. Ratjen completed a majority of his medical education in Germany, along with a research fellowship at the Children's Hospital in Boston. He subsequently worked at the University of Essen, where he was appointed Deputy Chief of the Department of Paediatrics in 1998 and Professor of Paediatrics in 2001. Until 2005 he was the chief executive of the scientific board of the German CF foundation before relocating in Canada in the same year. He also is involved in the organizing committees of the major respiratory meetings (American Thoracic Society, European Respiratory Society and the North American CF conference), works on multiple grant review panels is a member of the several editorial boards including the American Journal of Respiratory and Critical Care Medicine, Thorax, Pediatric Pulmonology Lancet Respiratory Medicine and the Journal of Cystic Fibrosis.
Research
Dr. Ratjen is conducting multiple clinical trials addressing cystic fibrosis lung disease including new therapeutic strategies to target the underlying defect, treatment of airway infections such as first infection with Pseudomonas aeruginosa, airway inflammation and other important aspects of the disease. While some of these studies are single centre studies within the CF centre at SickKids or in collaboration with the adult centre at St. Michael's Hospital, many of them include both national and international collaborations with centres in Canada, the U.S., Europe and Australia. In addition, he is involved in developing and validating new outcome measures to quantify important aspects of CF lung disease that can be utilized in clinical trials. He also studies other lung diseases and over the recent years has developed an interest in the clinical evaluation of Hereditary Hemorrhagic Telangiectasia (HHT), for which he is leading one of the largest dedicated pediatric clinics.
Education and experience
1986: Doctor of Medicine, Johann Wolfgang Goethe University in Frankfurt a.M, Germany
1987–1989: Research Fellowship, Pediatric Pulmonary Medicine, Children's Hospital, Harvard Medical School, Boston, Massachusetts
1988–1993: Paediatric training, Children's Hospital, University of Essen
1996: PhD, Habilitation Paediatrics, University of Essen, Germany
2009: Leadership Training, University of Toronto, Rotman School of Business
Achievements
2005: Adolft-Windorfer Prize for Outstanding Research in CF
2005–2020: SickKids Foundation, H.E Sellers Chairholder
2012: Queen Elizabeth II Diamond Jubilee Medal for service to Cystic Fibrosis Patients
2014: Fellowship of the ERS (FERS)
2018: Maestro de Pulmonologica Pediatricia Latinamericana
Associate Editor
Journal of Cystic Fibrosis
Canadian Journal Respiratory and Critical Care Medicine
Cochrane CF and Rare Disease Group
Editorial Boards
American Journal of Respiratory and Critical Care Medicine
Lancet Respiratory Medicine
Pediatric Pulmonology
Thorax
Publications
Efficacy and safety of lumacaftor and ivacaftor in patients aged 6-11 years with cystic fibrosis homozygous for F508del-CFTR: a randomised, placebo-controlled phase 3 trial.

Ratjen F

, Hug C,

Marigowda

G, Tian S, Huang X, Stanojevic S, Milla CE, Robinson PD, Waltz D, Davies JC; VX14-809-109 investigator

group.

Lancet

Respir Med. 2017 Jul;5(7):557-567.

Hyperpolarised

129

Xe magnetic resonance imaging to monitor treatment response in children with cystic fibrosis.

Rayment JH, Couch MJ, McDonald N, Kanhere N, Manson D, Santyr G,

Ratjen

F.

Eur

Respir J. 2019 May 2;53(5):1802188.

Changes in Lung Clearance Index in Preschool-aged Patients with Cystic Fibrosis Treated with Ivacaftor (GOAL): A Clinical Trial.

Ratjen F

, Klingel M, Black P, Powers MR, Grasemann H, Solomon M, Sagel SD, Donaldson SH, Rowe SM, Rosenfeld

M.

Am

J Respir

Crit

Care Med. 2018 Aug 15;198(4):526-528.

Inhaled hypertonic saline in preschool children with cystic fibrosis (SHIP): a multicentre, randomised, double-blind, placebo-controlled trial.

Ratjen F,

Davis SD,

Stanojevic

S,

Kronmal

RA, Hinckley

Stukovsky

KD, Jorgensen N, Rosenfeld M; SHIP Study Group. Lancet Respir Med. 2019 Sep;7(9):802-809.

doi

: 10.1016/S2213-2600(19)30187-0. Epub 2019 Jun

The future of cystic fibrosis care: a global perspective. Bell SC, Mall MA, Gutierrez H,

Macek

M, Madge S, Davies JC,

Burgel

PR, Tullis E,

Castaños

C, Castellani C, Byrnes CA, Cathcart F,

Chotirmall

SH,

Cosgriff

R, Eichler I,

Fajac

I, Goss CH,

Drevinek

P, Farrell PM, Gravelle AM,

Havermans

T, Mayer-Hamblett N,

Kashirskaya

N, Kerem E, Mathew JL,

McKone

EF,

Naehrlich

L, Nasr SZ, Oates GR, O'Neill C,

Pypops

U,

Raraigh

KS, Rowe SM, Southern KW,

Sivam

S, Stephenson AL,

Zampoli

M,

Ratjen F

. Lancet Respir Med. 2020 Jan;8(1):65-124.
2012–2017: NIH – National Heart Lung and Blood Institute Lung Clearance Index (LCI) as a marker of early lung disease in preschool children.
1,738,992.71 USD
Principal Investigator
2014–2018: Cystic Fibrosis Foundation Therapeutics Inc. SHIP (Saline Hypertonic in Preschoolers) Study.
2,058,043 USD
Co-Principal Investigator
2015–2024: Sick Kids Foundation – Cystic Fibrosis Canada Program for Individualized CF Therapy
7,500,000 CAD
Co-Pricipal Investigators: F Ratjen, C Bear
2018–2022: Genome Canada – LSARP Personalized Therapy for Individuals with Cystic Fibrosis
$10,073,757 CAD ($5,000,000 GC contribution)
Principal Investigator: Felix Ratjen
Co-Investigators: L Strug, C Bear, B Knoppers, G Keller, J Rossant, M Krahn, J Kimmelman
2019–2022: Cystic Fibrosis Foundation Hyperpolarized Imaging for New Therapies (HyPOINT) in Pediatric CF
774,379.00 USD
Principal Investigator: J Woods
Co-Investigator: F Ratjen
The Ratjen Lab's research focuses on evaluating novel treatments, designing new ways to conduct research and investigating how we can better measure and monitor lung function in young children.