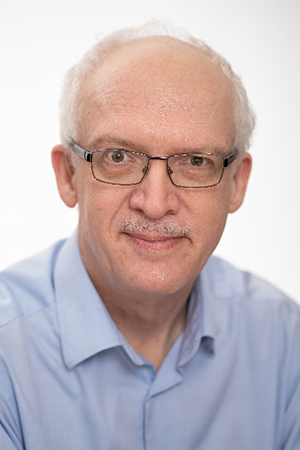 Neil
Sweezey
Title:
Staff Respirologist, Division of Respiratory Medicine
Designations:
B.Sc., MD, FRCPC
Alternate Contact Name:
Courtney
Kennedy
Research Positions
Project Investigator, Research Institute
U of T Positions
Professor, Departments of Paediatrics and Physiology
Full member, Institute of Medical Science (IMS), Faculty of Medicine
Biography
Dr. Sweezey is an experienced clinical paediatric respirologist who worked at McGill University, Montreal, before coming back to SickKids, Toronto, in 1995. He has had a career-long interest in Cystic Fibrosis (CF) and in research related to the effects of sex hormones in CF, with funding from Cystic Fibrosis Canada. He has also studied steroid hormone regulation in lung development, especially CRISPLD-2 (also known as LGL1) with funding from CIHR. He was involved for many years in clinician-scientist training at SickKids. In the Temerty Faculty of Medicine of the University of Toronto, he has been the Director of the Comprehensive Research Experience for Medical Students (CREMS) Programs and a major contributor to the establishment of the new Graduate Diploma in Health Research for selected medical students.
Research
Dr. Sweezey studies the effects of sex hormones on infections in the lungs in Cystic Fibrosis, which may account for sex-based differences in disease severity and survival. In animal models of CF he has found that female hormone (estrogen) worsens lung infections. An observational study in young CF women with normal menstrual cycles is testing for similar effects in humans. Dr. Sweezey has described a modified procedure to purify two different types of white (immune) blood cells from the same sample of blood, which is useful in testing the effects of estrogen on human immune cells.
Education and experience
1995–Present: Staff Respirologist, Division of Respiratory Medicine, The Hospital for Sick Children, Toronto, ON, Canada
1990–1995: Staff Physician, Respiratory Medicine, Montreal Children's Hospital, Montreal, QC, Canada
1987–1990: Research Fellow, Neonatology, The Hospital for Sick Children, Toronto, ON, Canada, Supervisor: M Post
1984–1987: Fellow in Pulmonary Medicine, The Children's Hospital, Boston, MA, USA, Supervisor: ME Wohl
1982–1984: Residency, Paediatric Resident III and Resident IV, IWK Hospital for Children, Halifax, NS, Canada
1980–1982: Paediatric Intern, Paediatric Resident II, The Hospital for Sick Children, Toronto, ON, Canada
1976–1980: MD, Medicine, Queen's University, Kingston, ON, Canada
1973–1976: B.Sc., Chemistry, Faculty of Arts &Science, University of Toronto, Toronto, ON, Canada
Achievements
2022: Institute of Medical Science Faculty Recognition Awards for Strong Teaching and for Exceptional Citizenship
2020: Dr. Doug Crozier National Healthcare Award, Cystic Fibrosis Canada
2018–2019: Power (Teaching) Award, Department of Paediatrics, SickKids
Publications
Senior Responsible Author. Kushwah R, Gagnon S, Sweezey NB. Intrinsic predisposition of naive cystic fibrosis T cells to differentiate towards a Th17 phenotype. Respiratory Research. 2013, 14:138.
Principal Author. Sweezey NB, Ratjen F. The Cystic Fibrosis Gender Gap: Potential Roles of Estrogen. Pediatric Pulmonology; Article first published online 2013 Dec 11.
Details: We reviewed the published evidence for a female disadvantage ("the gender gap") in CF with respect to morbidity and mortality,and presented a summary of available evidence suggesting potential roles for the female sex hormone estrogen in the causation of the gender gap.
Senior Responsible Author. Wang Y**, Cela E*, Gagnon S**, Sweezey NB. Estrogen aggravates inflammation in Pseudomonas aeruginosa pneumonia in cystic fibrosis mice. Respir Res. 2010 Nov 30;11:166.
Details: We reported that estrogen aggravates inflammation and infection in pneumonia due to Pseudomonas aeruginosa in male CF mice, stimulating pro-inflammatory mediators of the IL-23 / IL-17 pathway. This article has been cited by others as suggesting that estrogen may contribute to the CF gender gap in survival and respiratory health.
Senior Responsible Author. Manwani N*, Gagnon S**, Post M, Joza S, Muglia L, Cornejo S, Kaplan F, Sweezey NB. Reduced viability of mice with lung epithelial-specific knockout of glucocorticoid receptor. Am J Respir Cell Mol Biol. 2010 Nov;43(5):599-606.
Details: We reported that glucocorticoid signaling in perinatal lung epithelial cells, contrary to previous expectations, has a significant impact upon neonatal viability in these mice. This finding suggests that an entire set of regulatory factors localized to or acting upon epithelial cells needs to be reconsidered with respect to mammalian perinatal lung maturation.
Co-Author. Kim Chiaw P, Huan LJ, Gagnon S*, Ly D, Sweezey N, Rotin D, Deber CM, Bear CE. Functional rescue of Delta F508-CFTR by peptides designed to mimic sorting motifs. Chem Biol. 2009 May 29;16 (5):520-30. Impact Factor 5.829. Details: We contributed to the functional assessment of mutated CFTR when exposed to exogenous peptides.