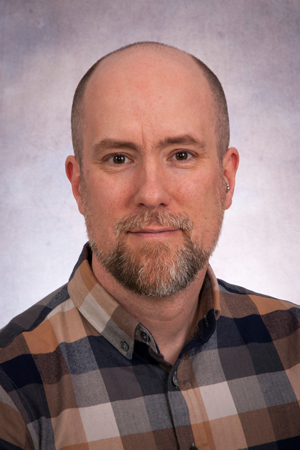 Simon
Sharpe
Title:
Associate Chief, Research Training Centre
Research Positions
Senior Scientist
Molecular Medicine
Biography
Simon Sharpe obtained his B.Sc. at the Memorial University of Newfoundland, where he studied biochemistry, cell biology and microbiology.  After obtaining a PhD in Biochemistry from the University of Western Ontario, he joined Robert Tycko's group in the Laboratory of Chemical Physics at the National Institutes of Health as a postdoctoral fellow – using solid state NMR to determine the structures of peptide-antibody complex and integral membrane proteins involved in the pathogenesis of HIV-1. Dr. Sharpe joined the Molecular Medicine program at SickKids Research Institute in 2006, where his current research focuses on using NMR spectroscopy and other biophysical tools to study the structure, dynamics and self-assembly of elastomeric proteins, proteins involved in amyloidosis, and membrane-binding proteins.
Research
The Sharpe Lab uses NMR spectroscopy and other biophysical tools to determine the molecular mechanisms that control self-assembly in several important biological systems:
Elastin is the extracellular matrix protein responsible for the elasticity of arteries, lung alveoli, bladder and other tissues. The Sharpe Lab is working to understand how the elastic matrix is assembled and how genetic changes impact this assembly at the molecular level, leading to various cardiovascular or connective tissue diseases.
In addition to elastin, there are many other elastic self-assembling proteins found in nature. Using model and natural protein sequences, the Sharpe Lab seeks to understand the molecular basis of these properties to inform biomaterial design.
Serum amyloid A is an HDL-binding protein that both plays important roles in the inflammatory response, and can misfold causing systemic amyloid disease. The Sharpe Lab is working to understand the molecular basis for SAA function and misfunction.
Education and experience
1992–1997: B.Sc., Biochemistry and Cell/Microbiology, Memorial University, St. John's, NL
1997–2002: PhD, Biochemistry, Western University, London, ON
2002–2006: Postdoctoral Fellow, NIDDK, NIH, Bethesda, MD, U.S.
Achievements
2006–2011: Canada Research Chair
2010: Early Researcher Award, Ontario
Funding
2018–2023: NSERC
2018–2023; 2019-2024: CIHR
2018–2021: Heart and Stroke Foundation of Canada
2019–2020: Lung Health Foundation