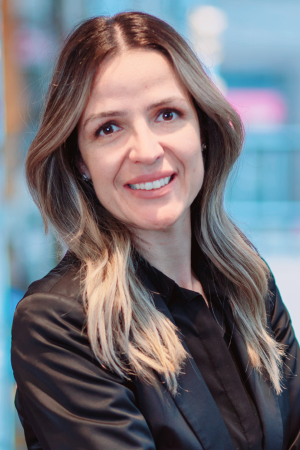 Entela
Zaffino
Title:
Director, Clinical Research Services Transformation
Designations:
MHM, H.B.Sc., CCRP
Alternate Contact Name:
Angela
Verven
Biography
Entela Zaffino is the Director of Clinical Research Services Transformation at the Hospital for Sick Children (SickKids). Prior to this role, Entela was the Manager of the Clinical Trials Support Unit (CTSU) and the Clinical Informatics teams in the Division of Haematology, Oncology, Bone Marrow Transplant and Cellular Therapy. Entela is a healthcare leader passionate about improving the healthcare system in Canada by effectively leading forward-thinking teams, spearheading innovative initiatives and bringing transformational change. Prior to SickKids, Entela worked in other health-care settings including the government, leading quality improvement, strategic planning and project management work.
Education and experience
2023–Present: Director, Clinical Research Services Transformation, Research Institute, The Hospital for Sick Children, Toronto, ON, Canada
2020–2023: Master of Health Management, Faculty of Health Sciences and DeGroote School of Business, McMaster University, Hamilton, ON, Canada
2019–2023: Manager, Clinical Trials Support Unit (CTSU) and Clinical Informatics, Haematology, Oncology, Bone Barrow Transplant and Cellular Therapy, The Hospital for Sick Children, Toronto, ON, Canada
2019–2019: Project Manager/Planner, Health System Strategy, Integration and Planning, Mississauga Halton Local Health Integration Network, Toronto, ON, Canada
2018–2019: Senior Specialist, Radiation Treatment Program, Cancer Care Ontario (Ontario Health), Toronto, ON, Canada  
2014–2018: Senior Research Associate, Data Assets and Governance, Cancer Care Ontario (Ontario Health), Toronto, ON, Canada
2013–2014: Project Management Certificate, School of Continuing Studies, University of Toronto, Toronto, ON, Canada
2012–2014: Clinical Research Project Manager, Haematology, Oncology, Bone Barrow Transplant and Cellular Therapy, The Hospital for Sick Children, Toronto, ON, Canada
2010–2012: Clinical Research Project Coordinator, Haematology, Oncology, Bone Barrow Transplant and Cellular Therapy, The Hospital for Sick Children, Toronto, ON, Canada
2009–2010: Clinical Research Post Graduate Diploma, Clinical Research Program, Humber College, Toronto, ON, Canada
2003–2008: Bachelor of Science Degree, Life Sciences (Genetics and Biotechnology), University of Toronto, Toronto, ON, Canada