COVID-19 Vaccine Consult Service
Our team of paediatric Registered Nurses are ready to listen and answer your questions about the COVID-19 vaccines.
The SickKids COVID-19 Vaccine Consult Service is a by-appointment phone service that provides a safe, judgement-free space to have an open conversation about the COVID-19 vaccine for children and youth. It is available in multiple languages, using over-the-phone language interpretation.
We are here to support residents of Ontario 5 years or older and their parents, caregivers or legal guardians who:
Have specific questions or concerns related to the COVID-19 vaccine for youth/children that you cannot find the answer to elsewhere.
Have complex medical histories or medical conditions (i.e. chronic illness) and/or their parents/caregivers.
Require additional support for their COVID-19 vaccine due to medical complexity, developmental disorder or mobility, communication, behavioural or other specialized needs, including significant needle phobia.

COVID-19 vaccine resources
Looking for answers to general questions about the COVID-19 vaccine? Review these resources, including frequently asked questions about safety and effectiveness.

Not what you're looking for?
Book a consultation
If you're interested in speaking with our team, we invite you to schedule a consultation using the booking form. If you need help booking an appointment please email vaccine.consults@sickkids.ca.
Who is eligible to book a consultation
To book a consultation with the COVID-19 Vaccine Consult Service, you must be:
A youth under the age of 18
A parent, caregiver, or legal guardian of a child or youth
A resident of the province of Ontario (you do not require an OHIP card)
While not a requirement for the visit, we encourage families to join the call together to ensure everyone's questions and concerns can be addressed at the same time.

Booking times are updated regularly. If there are currently no appointments available, please check back later for new availability.
Pre-consultation instructions
Once you have booked a consultation, you will receive a confirmation email with a link to an intake form. Please complete this form before your consultation so we can better support you.
A Registered Nurse from our team will call at your scheduled appointment time. Please be prepared to answer our call. The caller display will show SickKids Vaccine Consult.
If you need language support for your appointment, please email vaccine.consults@sickkids.ca and indicate your name, appointment date and time, and your preferred language.
If you need to cancel or reschedule your appointment, please contact vaccine.consults@sickkids.ca.
What to expect during your appointment
Our team will provide you with the opportunity to ask your questions and express your concerns. They are here to listen to you and provide you with the information you need to make an informed decision about the COVID-19 vaccine. If you still have questions and concerns, we may need to schedule a follow-up appointment.
If you decide that you and your child/youth are ready at the end of the visit, our team will help book your child/youth's COVID-19 vaccine appointment.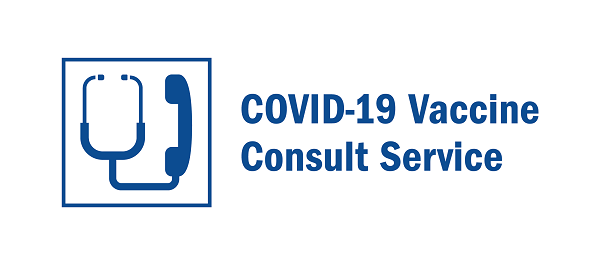 Contact information
Please email us for if you need help with booking an appointment, language support, cancelling or rescheduling your appointment.
Phone: 437-881-3505
Toll-free: 1-888-304-6558
Email: vaccine.consults@sickkids.ca