Project Horizon
Project Horizon, our campus redevelopment project, is SickKids' plan to:
Build an inspired hospital of the future,
Transform how we deliver care, enabling our staff, physicians and researchers to do their best work; and
Empower

patients and families to be partners in their care.
Learn more about what guides us: all stages of our planning process follow our Core Principles.
Our core principles
Learn more about what guides us: all stages of our planning process follow our core principles (pdf).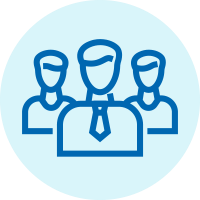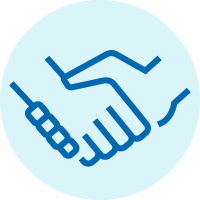 Outstanding Child & Family-centred Care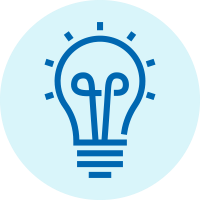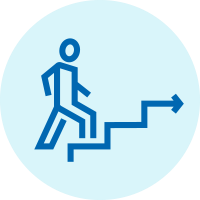 Inspired Workplace & Learning Environment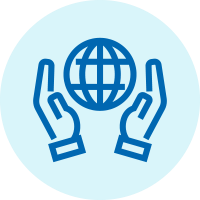 Latest news
On September 15, 2020, we erected a large tower crane that will be with us until the Patient Support Centre is complete - signifying our progress as we start building upward.
Since last year, when we broke ground on our Patient Support Centre (our educational, research and administrative tower), crews have been busy on the site to prepare to build up. On June 25, 2020, we reached a new milestone as we started to lay the foundation.
Follow our transformation on Twitter using #SKTransforms.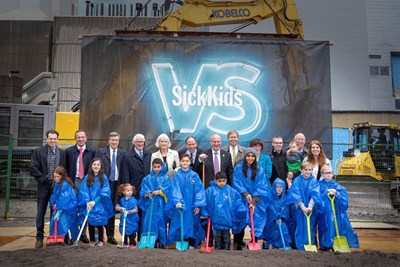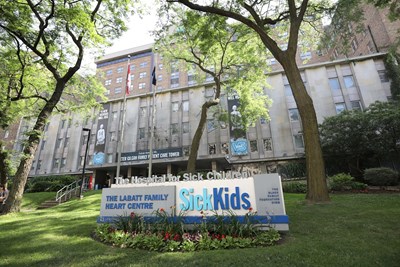 June 27, 2019
Premier Doug Ford visits SickKids
Ontario Premier Doug Ford visited SickKids with Christine Elliott, Deputy Premier and Minister of Health and Laurie Scott, the Minister of Infrastructure and Robin Martin, Parliamentary Assistant to the Minister of Health.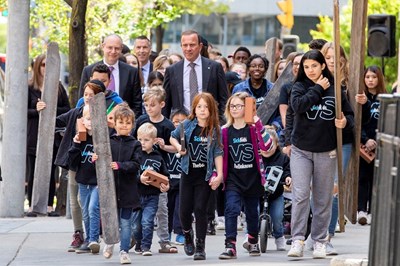 Development phases
There are three main phases of the redevelopment:
1. Patient Support Centre
The Patient Support Centre (PSC) is a new 22 storey educational, training, and administrative tower and critical first step on our way to a new hospital.
Intended to be a collaboration hub – consolidating staff from leased spaces and saving on costs
Targeted to comply with Well building standards, meaning fresh air and access to natural light for all staff
New simulation and training spaces to keep our staff on the leading edge of paediatric medicine
2. Peter Gilgan Family Patient Care Tower
A new acute care hospital tower that will help us continue to provide some of the best paediatric care in the world. Learn more about the Peter Gilgan Foundation's historic donation to SickKids.
Addition of 144 beds to meet the demands of modern, family-centred care (totalling 430 beds)
More (approximately 120, Neonatal Intensive Care Unit included) critical care beds built as single patient rooms to improve infection prevention and patient privacy for better outcomes. 
A new blood and marrow transplant unit with specialized ventilation systems to ensure Ontario's sickest children are receiving the highest quality of care. 95 per cent of solid organ and bone marrow transplants in Ontario are performed at SickKids. 
Approximately 19 operating suites, where space will be adaptable to accommodate new technologies and procedures – ~3 more than our current capacity. 
A new, Emergency Department featuring 51 treatment spaces – 12 more than what we currently have. 
3. Renovations
Renovations to the remaining hospital building (atrium) to support new and renovated outpatient clinics.

Why are we doing this?
The redevelopment will result in the renewal or renovation of virtually all clinical care and support areas of the hospital. Specifically, we are looking to:
Increase:
inpatient hospital beds and treatment spaces
capacity for clinical supports such as laboratory, medical imaging and pharmacy
outpatient clinic space
Create:
new spaces that will allow for the integration of emerging healthcare technologies and expand our ability to provide virtual care
Improve:
the efficiency and effectiveness of our operations
the healing environment for patients and families
air filtration/ventilation to more effectively reduce the risk of infection
teaching, research and administrative space
Contact us
We look forward to sharing our journey of redevelopment with you. Please direct any questions or concerns to project.horizon@sickkids.ca.