Environmental Sustainability
At SickKids, we believe that patients and their families, staff and the community need a healthy planet, so over the years, we have committed through our KidsGoGreen program to:
Prevent patients, families, staff and the community from exposure to harmful pollutants
Reduce the amount of greenhouse gases released into the environment
Become more efficient in using energy and water
Generate less waste and divert more waste from landfill
Promote healthier and greener modes of transportation options such as walking, cycling, transit and carpooling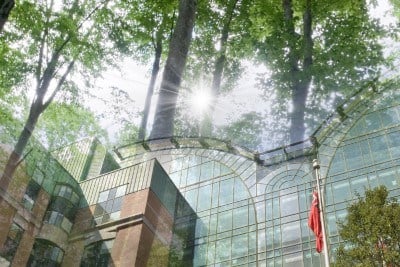 A Greener SickKids
Healthy children need a healthy environment, and that's why the aim of the Environmental Sustainability strategy is A Greener SickKids. Healthier Children. A Better World.
Initiatives
We have many initiatives to decrease the waste we generate, increase the amount of material diverted from landfills and ensure we purchase environmentally preferred products. Some of these initiatives include:
Green Office Paper: We switched across the organization to an environmentally-friendly printing/copying paper certified by the Forest Stewardship Council. This certification verifies that forest products like paper have been sourced in an environmentally-friendly, socially, and economically responsible manner.
Medical Supplies Donations: we are working with organizations to collect surplus and short-dated medical supplies to give to remote clinics worldwide.
Green Commuting: With over 85 per cent of our staff cycling, walking, and taking the public transit to work, we have partnered with Smart Commute to promote greener and healthier modes of transportation.
Office Supplies Swap Room: An exchange program where staff can drop off or pick up used supplies with over 600 exchanges and counting.
Reducing Energy Use: We have many initiatives on the go to make SickKids more energy-efficient and conserve energy, here are some of our past and current projects:

We installed LED lighting in the hospital and Peter Gilgan Centre for Research and Learning Centre
Our computers are Energy Star certified.
We encourage staff to turn off the lights and equipment when not needed - our researchers and labs close laboratory fume hoods at the Peter Gilgan Centre for Research and Learning Centre. An open sash consumes the same amount of energy as 3.5 homes annually.
Policies
We've developed and implemented policies and practices to help reduce waste and impact on the environment on our SickKids campus.
Organizational Environmental Policy
Environmentally Preferred Purchasing Policy
Green Cleaning Policy
Email us at kids.gogreen@sickkids.ca for more information on our policies.
Solid Waste Management Policy
Cooling Tower Water Management Plan
Integrated Pest Management Plan
Water Efficiency Economic Assessment Policy
Building Exterior and Hardscape Management Plan
Indoor Air Quality Management Program Plan
Email us at kids.gogreen@sickkids.ca for more information on our policies.
In compliance with Regulation 507/18 under the Electricity Act, 1998, SickKids posted its five-year Conservation and Demand Management Plan (PDF), and report annually on its energy consumption and greenhouse gas (GHG) emissions:
Awards
2020 Energy Manager Award, Independent Electricity System Operator (IESO)
2019 Canadian Green Building Council LEED Gold Existing Buildings: Operations and Maintenance, Peter Gilgan Centre for Research and Learning (PGCRL
2017 Canadian Green Building Council LEED Gold Commercial Interior, Peter Gilgan Centre for Research and Learning (PGCRL
2015 Greening Health Care Five Percent Club Award, Peter Gilgan Centre for Research and Learning (PGCRL)
2014 Greening Health Care Leadership Award
2014 Ontario Hospital Association Energy Conservation Award 2014 Canadian Green Building Council LEED Gold New Construction, Peter Gilgan Centre for Research and Learning (PGCRL)
2009 Greening Health Care Five Percent Club Award, McMaster
2009 Greening Health Care Five Percent Club Award, Annex
2009 Greening Health Care Five Percent Club Award, Atrium
2003 Natural Resources Canada's Office of Energy Efficiency, Energy Innovators Initiative