Nursing at SickKids
SickKids nurses are leaders who influence and deliver the best in specialized child and family-centred care that is grounded in a strengths-based nursing care philosophy. We focus on the whole person, to support children and families to cope, develop, grow, thrive and transform, leveraging strengths of the family. In order to advance excellence in paediatric nursing, SickKids invests in practice, education, research, quality improvement and patient safety.

Learn about education and professional development opportunities available to SickKids nurses.

Learn about how SickKids has become a global leader in paediatric nursing research, quality, improvement and evaluation.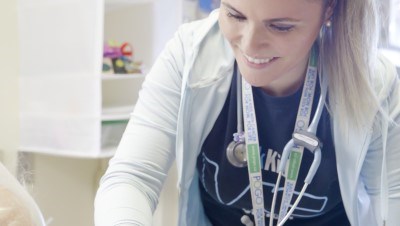 Nursing Practice
Nurses at SickKids practice within a progressive environment that provides tertiary/quaternary care for children and adolescents with complex health issues in acute and chronic phases of illness. Nurses provide leadership within multidisciplinary teams in coordinating patient care. Our nurses strive for excellence in practice, participate in a variety of learning opportunities, and advance the collective body of paediatric nursing knowledge.
Clinical specialties
SickKids provides nurses the opportunity to practice in number different type of pediatric specialists. Nursing areas of care at SickKids include:
Surgery: general

, neuro, orthopaedic

General

paediatrics

Mental health

Emergency

Pre-operative, intra-operative, post

anaesthesia

care

Organ transplant

Haematology

/Oncology

, b

one

m

arrow

t

ransplant

Cardiac

, c

ardiac

c

ritical

c

are

P

a

ediatric

i

ntensive

c

are

Neonatal

i

ntensive

c

are

Vascular

a

ccess

t

eam

(i

ntravenous

)

Wound/stoma

c

are

G-tube

Enterostomal

t

herapy
Professional practice
SickKids' Clinical Nurse Specialists – Interprofessional Practice, are a team of advanced practice nurses committed to promote, uphold, and advance excellence in nursing practice and patient and family centred care. Through leadership, collaboration and consultation of inter-professional teams, we drive hospital wide change.
Sepsis is a potentially life-threatening condition which requires immediate attention. Recognizing the signs of sepsis can be challenging even for the most experienced provider, and it is often more difficult to diagnose in children. Knowing when to suspect sepsis, and how to provide the essential elements of care in a timely manner is the best defense.
The SickKids Sepsis Management Pathway was created to give providers a reliable approach when caring for a child with sepsis. A nurse-led team worked collaboratively with teams across the hospital to develop this pathway, and the approach to educating and coaching teams in the implementation.
Building partners in care at every opportunity
In keeping with our commitment to child and family-centered care, we endorse an evidence-based, nursing shift handover practice where children and families are engaged as partners in the handover process. Nursing leaders work collaboratively to sustain this patient safety initiative.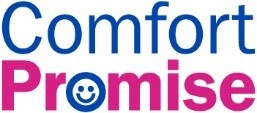 Children and families report that pain from needle pokes (such as blood work, inserting IVs or vaccinations) is one of the worst pain experienced during their hospital stay.
Untreated needle pain has short and long-term effects for infants and children. They include:
increased sensitivity to pain

anxiety before procedure

s

fear of needles

a

voidance of health

care such as vaccinations
SickKids is making a promise to do everything we can to reduce needle poke pain in our patients by implementing a hospital-wide initiative called Comfort Promise.
SickKids initiated our Intravenous (IV) Best Practices review in 2013, and developed an IV monitoring approach that requires all nurses to monitor and document patient IV sites using the Touch/Look/Compare, Plus approach.
The TLC+ approach has successfully engaged family caregivers in monitoring IV site status and has significantly reduced the number of incidents of harm associated with IV leakage.
Nursing committees and councils
The mission of the Advanced Practice Nurses Committee is to enhance and promote the optimal professional advancement and contributions of Advanced Practice Nurses (APNs) at SickKids, individually and as a group. With over 100 APNs, SickKids is fortunate to have one of the largest APN groups in the local health care community. The committee strives to strengthen APN contributions and better facilitate better knowledge transfer.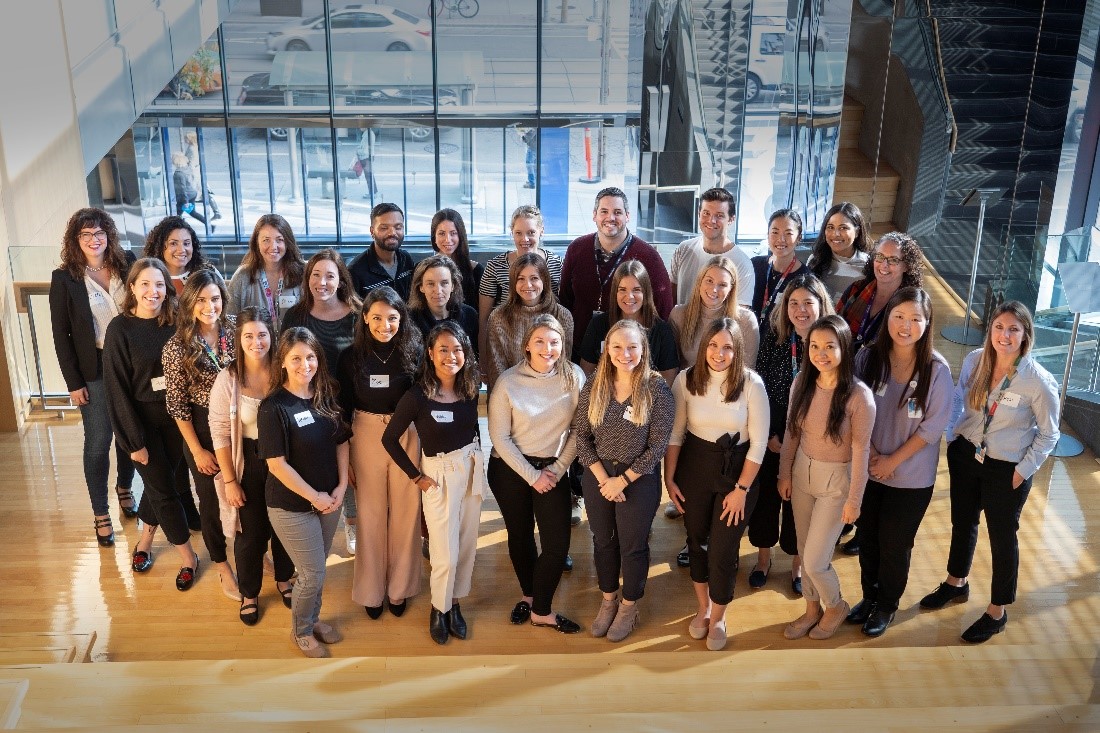 Our vision: one council, many voices – empowering nurses together.
As leaders in the nursing profession, we strive to develop leadership skills while collaborating to initiate and sustain high quality unit specific and hospital wide initiatives. We advocate to provide and solicit stakeholder input, communicate and share pertinent information to strengthen the nursing profession. We support professional practice, build a healthy workplace as well as recognize and celebrate nurses.
30+ active members from all across SickKids (Including inpatient, ambulatory and research)

Meet monthly to discuss issues impacting the Nursing profession.

Responsible for hospital-wide floating/relieving guidelines, Urgent Scrub Program, Professional Practice Rounds, Nursing Week, the DAISY

Award

and more!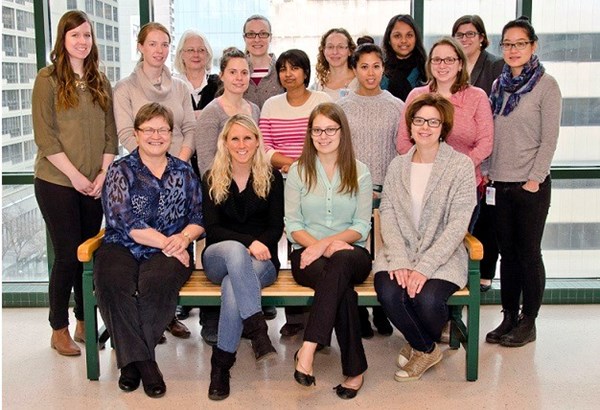 The Nursing Practice Council at SickKids is comprised of local practice leaders representing each of the clinical areas to ensure nursing has a clear and thoughtful voice in policy development, practice changes, and hospital-wide initiatives that guide and affect their practice.

Registered Nurses Association of Ontario - Best Practice Spotlight Organization
SickKids is the first paediatric Best Practice Spotlight Organization (BPSO) in Canada, and has been a BPSO since 2009. We continue to integrate Best Practice Guidelines using collaborative and inter-professional approaches. Over 20 Best Practice Guidelines have been implemented at SickKids.

History of BPSO Guidelines at SickKids
BPSO designation

Received International Award in the Inaugural Practice/

Academe

Innovation Collaboration Award
Implemented Professionalism in Nursing BPG

Implemented Prevention of Violence in the Workplace BPG
Implemented Promoting Safety: Alternative Approaches to the Use of Restraints

Implemented Care and Maintenance to Reduce Vascular Access Complications

Implemented Oral Health: Nursing Assessments and Interventions

Implemented Risk Assessment and Prevention of Pressure Ulcers
Implemented Person and Family

Centred

Care BPG

Implemented Smoking Cessation and Client-Centered Care BPGs
Implemented Developing and Sustaining Safe and Effective Staffing and Workload Practices BPG

Implemented Breastfeeding and Best Practice Guidelines for Nurses
Implemented Adopting eHealth Solutions BPG

Implemented Facilitated Client-Centered Learning BPG
DAISY Award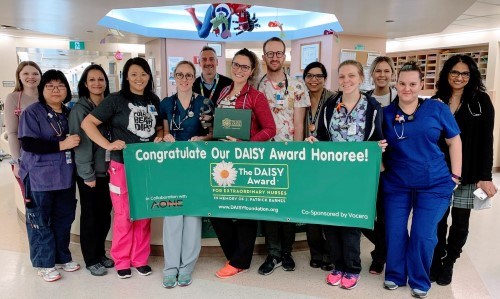 The DAISY Award is an international program that recognizes and celebrates the extraordinary clinical skill and compassionate care given by nurses everyday. Each month a SickKids nurse, nursing team or nurse leader nominated by either their nursing and interprofessional colleagues or by patients and families, is selected to receive the DAISY Award.
DAISY award honourees champion our vision of Healthier Children. A Better World. Their clinical skills and compassionate care exemplify the kind of nurses our patients, families and staff recognize as outstanding role models and leaders.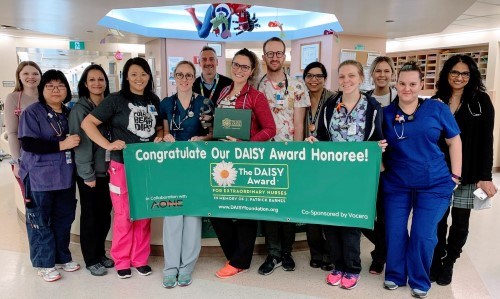 The DAISY Award was established by the not-for-profit DAISY (Diseases Attacking the Immune System) Foundation. The Foundation was established in 2000 by the family of J. Patrick Barnes who died at age 33 of complications of Idiopathic Thrombocytopenic Purpura (ITP). During Pat's eight week hospitalization his family was awestruck by the care and compassion his nurses provided not only to Pat but to everyone in his family. The Foundation, created in Pat's memory, recognizes the extraordinary nurses everywhere who make an enormous difference in the lives of so many people by the super-human work they do everyday.
SickKids has been a proud DAISY Award Hospital Partner since 2008.
Patients, family members, visitors, fellow nurses, and colleagues may nominate a deserving nurse, nurse leader, or nursing team by completing a nomination form for the selection committee to review. Nominations may be submitted through the forms linked below.
Nominations are reviewed quarterly by the DAISY Award Committee led by the Registered Nurses' Council Co-Chairs. This committee is comprised of various nurses, nurse leaders and family advisory network members. You will be notified if your nominee is selected for an award and invited to participate in the award presentation. We aim to honour 12 DAISY Awards per year. Each nurse who is nominated for the award, regardless of whether they are the Honouree, will receive a copy of the nomination and a DAISY Nominee pin.
DAISY Award recipients are surprised on their units by their peers, leaders and members of the DAISY Committee. The nomination letter is read out loud to the group and the winner is presented with a certificate, DAISY Pin and a hand-carved stone sculpture entitled A Healer's Touch. A DAISY Award banner is displayed in that unit for a month. Pictures of the presentation and parts of the nomination story are published on our internal staff intranet.
Home
/
Care & Services /
For Health-care Providers /
Nursing