Is it an Emergency?
One of every three children brought to the SickKids Emergency Department doesn't need emergency care. Learn how to distinguish between an emergency and non-emergency before you bring your child to the Emergency Department.
Many children brought to our Emergency department are not in need of urgent care. They have ear aches, flu, colds or a bit of fever. Problems like these can be looked after by a family doctor, paediatrician or community health centre.
Talk to your family doctor about what to do if your child gets sick. Make a plan with them about who you should call when your doctor isn't available.
A child with a cold may have:
a fever under 39 C or 102 F for one or two days
a stuffy or runny nose a cough
These signs usually last five to 10 days.
If your child is active, playful and eating well, you probably do not need a doctor.
Call the doctor when a baby under three months has a fever.
Also call a doctor if your child has a cold with any of these signs:
a fever that lasts more than a day or two, especially with poor appetite, vomiting, diarrhea or lack of playfulness
a fever over 39 C or 102 F
a fever that keeps coming back
Call a doctor right away if your child shows any of the following symptoms. If you can't reach a doctor, take your child to the emergency department of your local hospital right away.
When your child has diarrhea and vomiting, and has no tears, dry mouth, or is not peeing.
When your baby under three months of age has a fever over 38 C or 100.4 F.
When your child has difficulty breathing.
When your child develops a rash that does not turn white when you push on it.
When your child has a fever and is difficult to wake up or is very sleepy.
You can call these numbers anytime day or night. All of these services are free of charge.
If you're concerned that your child has ingested something poisonous, contact the Ontario Poison Centre at 1-800-268-9017 or 416-813-5900.
If you want advice about a health problem or illness, contact Telehealth Ontario at 1-866-797-0000.
If you want general information about children's health from SickKids experts, visit AboutKidsHealth. These resources are created by SickKids clinicians and staff on a variety of children's health topics.



AboutKidsHealth is a health education website for children, youth and their caregivers, with trusted answers from SickKids experts. Learn about common conditions and injuries often treated in the Emergency Department Learning Hub.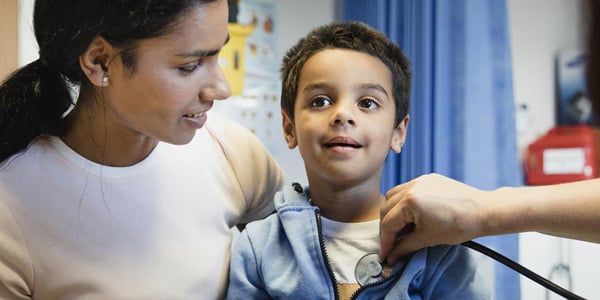 A fever can be a sign that the body is fighting an infection. Learn how to properly care for a baby, toddler or child with a fever.
Learn how acetaminophen and ibuprofen can be used to help make your child more comfortable and bring down their fever.
Colds are caused by viral infections in the nose and throat. Learn about the causes, duration, prevention and treatment of viral upper respiratory infections.
Although the flu is very common, it can be dangerous for young children and those with compromised immune systems or other underlying diseases. Learn more about the flu and how to protect against it.
Keep the whole family safe, healthy and happy during the cold weather season with these winter tips.
Anaphylaxis is a severe reaction to an allergen. Learn how to prevent and identify anaphylaxis and how to respond when someone has a reaction.
Learn about asthma attacks and what you need to know about care after a hospital visit.