Class of '67 reunion celebrates nurses' contribution to SickKids' history
Summary:
SickKids' Atrium became full of stories and heartfelt memories at a very special reunion on Oct. 12, which brought together 37 nurses from The Hospital for Sick Children School of Nursing Class of 1967.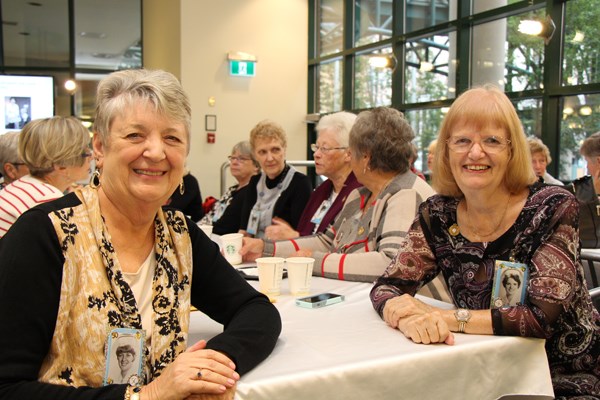 Dee Cavanagh and Margaret "Jamie" Jamieson share their patient care stories from SickKids in the 60's.
By Ana Fernandes, Intern, Communications and Public Affairs
SickKids' Atrium became full of stories and heartfelt memories at a very special reunion on Oct. 12, which brought together 37 nurses from The Hospital for Sick Children School of Nursing Class of 1967. There was talking, hugging and quite a bit of laughter when lifelong friends looked at pictures from their youth as nursing students. There were photos of them in training, treating patients and also having fun during parties and social occasions that were part of their experience living and working here in the 1960's.
"It is amazing to look back on all those years and meet our colleagues again," says Dee Cavanagh, one of the alumni who has been organizing this reunion for the past two years. "Some of us came from different provinces and even from the United States, because 50 years is a very special occasion. This is really great and I'm glad it is finally here."
Margaret "Jamie" Jamieson, who later became a social worker with the Children's Aid Society, notes, "After 50 years, we all recognize each other and it's funny that we still have the same mannerisms. We all went our different ways, but SickKids had a great impact on our lives. Our trajectory really took off here at SickKids."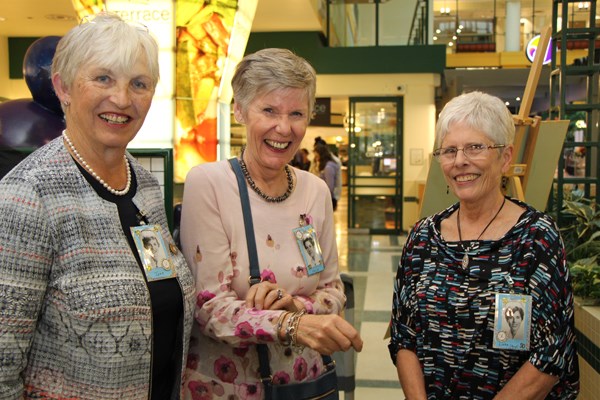 Former nurses prepared special badges with their headshots from 50 years ago.
What they all have in common is their dedication to patient care. Cavanagh remembers how much it meant for her to care for children in the burn unit while Jamieson recalls helping a child who was afraid of needles.
"This child had a lot of painful procedures and had a much loved teddy bear and a little doctor's kit and it really helped the child to stick the teddy with the toy syringe," explains Jamieson about a technique that is still used at SickKids today to help children understand the medical procedures they will undergo.
While some of the nurses went on to work further afield, some have stayed close by. Betty Phin, for example, still comes every Tuesday to SickKids as a volunteer. Phin says she loved being a SickKids nurse on the infectious diseases unit, but chose to volunteer on a different unit. As she explains, she wanted to avoid the temptation of acting as a nurse in order to get the full volunteer experience.
"Interacting more with the families is very rewarding," she says. "And as a volunteer I also get to be with the infants more, which I love. A lot of what I do today is cuddling babies. I finally have the time to do that!"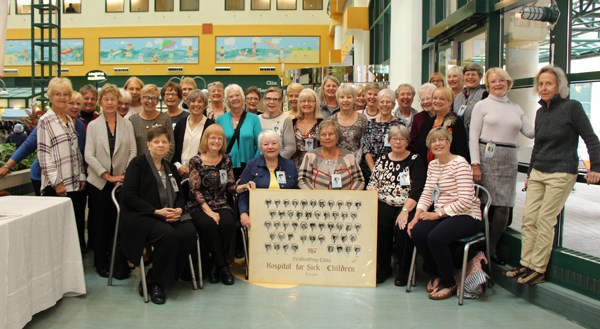 Former nurses came for a visit to SickKids hospital for the 50th anniversary celebration.
The reunion was promoted by the Alumnae Association of the School of Nursing. Aside from organizing many events over the years, the association has also created The Hospital for Sick Children Alumnae Association of the School of Nursing Endowment Fund to support professional development activities and innovation in nursing projects while also assisting the hospital's Archives to preserve and celebrate the history of nursing at SickKids. This history is, after all, a relevant source of information and inspiration for the hospital's current nurses.
"It was our honour and privilege to be able to meet and spend time with these amazing nurses from the class of 1967. Hearing stories about their days living, learning and working together as we walked through the halls of SickKids was truly inspirational and fun," says nurse and RN Council co-chair, Krista Abu Khalil, who helped coordinate the reunion activities within the hospital. "These nurses have created an amazing legacy for our profession that continues to shine through the nursing endowment program and through our nurses today."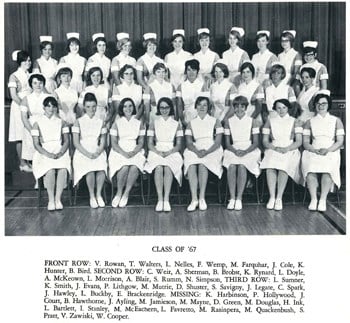 Graduates from the class of 1967 pose with their full nurse uniforms.
A little bit of history
The School of Nursing was established in 1886. A decade later, the program was expanded from two to three years and a nursing residence was built to enable nursing students to live on the SickKids campus throughout their training. These changes allowed for a fully immersive experience for the students.
The last SickKids nursing residence closed in the late 1960s and was located where the Atrium stands now. In the early 1970s, the Province of Ontario decided that nursing education should be run through universities. This resulted in all of the hospital nursing schools closing down in 1973. Those who had started their nursing education at SickKids completed their studies at Ryerson University.