International Women's Day 2018: Claudia Schauer's global child health journey
Summary:
Global health is undergoing tectonic shifts. Claudia Schauer reflects on her global child health journey helping aid developed countries improve malnutrition among children.
The seeds of my global child health journey were planted before I was even born. I was born in Canada to two immigrant parents. Ever since I was a kid, and even today, my mom has been an advocate for nutrition. The reason for this, I would come to learn, was that my mother was one of the first children to take part in a UNICEF-supported nutrition camp in Germany after World War II.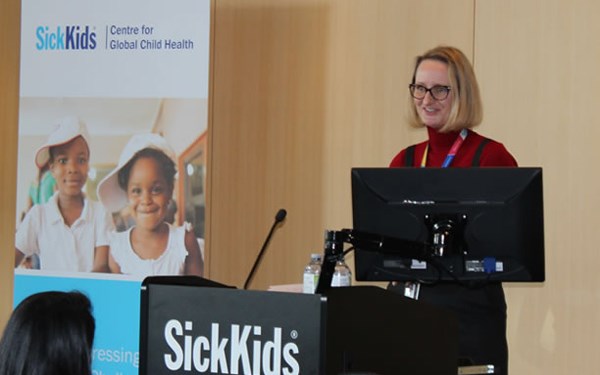 As a young adult, I was always fascinated by the cultural and socio-economic differences that benefited some children and not others based on the country that they were born in. As a teenager in the 1980s, I remember wondering why children were so devastatingly affected by famine in Africa, while in Canada we had an abundance of food. I studied in Holland for several years and came back to Canada in my early twenties with a focus on getting a job at SickKids because I wanted to be part of an organization that was dedicated to improving the lives of children.
When the opportunity arose, I applied for a position to work with Dr. Stan Zlotkin who was the Head of Gastroenterology, Hepatology and Nutrition at the time and became part of his team in the development of micronutrient powders, affectionately known as 'Sprinkles'—an innovation in home fortification to address global childhood vitamin and mineral malnutrition. At the time, SickKids' legacy of inventing Pablum and the impact it has had around the world to improve infant and young child nutrition was not only a great inspiration for me, but such a unique and life-changing opportunity to contribute to international development.
Tackling one of the biggest challenges in global child health: malnutrition
Despite the fact that we are living in times of unprecedented technological, medical and nutritional innovations, we have not made sufficient progress in addressing the roughly 250 million children under the age of five worldwide who suffer from one or other form of malnutrition.
My goal as the managing director of the Home Fortification Technical Advisory Group (HF-TAG) is to succeed in our mission, which is to provide leadership by advocating and supporting well-designed and effective home fortification (the use of multiple micronutrient powders in foods prepared in the home) at scale for children and women.
Many of the barriers to implementing effective home fortification programs are related to inadequate planning, low capacity of health systems, and lack of resources, including funding. Much of this can be addressed at the policy level but my personal goal is to make an impact in finding the breakthroughs that are needed on the ground and in the communities where nutrition interventions are needed the most.
I believe we need to build new ways of thinking and decision-making from the bottom up by engaging and empowering caregivers, who are most often women, to identify the priorities that will help improve the nutrition status of their children. From the perspective of home fortification, we need to better understand the socio-cultural aspects of infant and young child feeding and how to preserve traditional practices where products like Sprinkles are an added benefit and only part of a larger solution to improving the quality of local diets.
Balancing a career in global child health and being a mom
Being a mom of two children gives me the humility and understanding of how much work it is to raise children from infancy to adulthood. Because of this I can relate so much better to the caregivers and especially moms that I meet in the field through my work who often face far greater challenges than I do. When it comes right down to it, we all want a better world for our children. It's really this universal human connection and desire that lets me find balance and guides my journey in global health. That, along with the fact that I have a tremendously supportive organization, and HF-TAG Chair and mentor, Dr. Stan Zlotkin, who understand the importance of work-life balance for families and a productive professional environment.
Working towards a more equal world
I am a firm believer in gender equality. Over the last year or two we have been experiencing a sea change in terms of women's empowerment. I say embrace and support it. Here in Canada we are especially fortunate to have a Government and Prime Minister that are promoting and institutionalizing a feminist approach to international development. This also means promoting leadership positions for women in global health.
Global health is undergoing some tectonic shifts. While technologies in developed countries will have the potential to dramatically disrupt existing systems in redefining care delivery, digital patient experiences, etc., many low-income countries are falling further and further behind in addressing some of the most primary healthcare issues. The opportunities in the global health sector are just as numerous and as diverse.
Claudia Schauer is managing director of the Home Fortification Technical Advisory Group (HF-TAG), whose Secretariat is held at the SickKids Centre for Global Child Health (C-GCH). She is also the Chair of the Advocacy and Outreach Committee at C-GCH, leading the implementation of a Gender Equality framework.