Dr. Ron Laxer receives Master of the American College of Rheumatology designation
Summary:
Dr. Ronald Laxer now has a new title after being recognized by the American College of Rheumatology for his outstanding contribution to the field: MACR.
Dr. Ronald (Ron) Laxer, Staff Physician, Rheumatology, now has a new title after being recognized by the American College of Rheumatology (ACR) for his outstanding contribution to the field: MACR.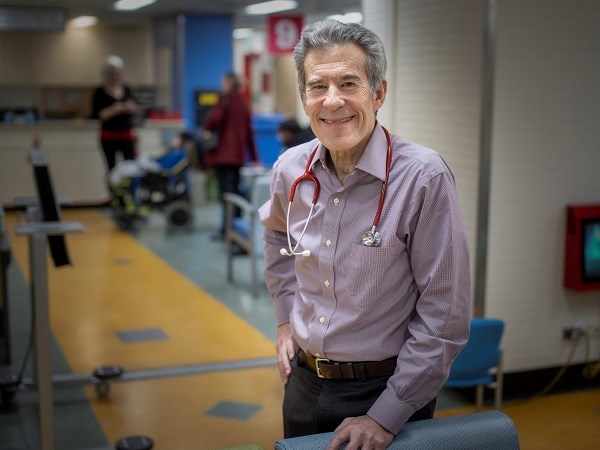 Laxer was a 2019 recipient of the Master of the ACR designation at the ACR annual meeting in November 2019. He has played an active role in the American College of Rheumatology and is currently a member of the ACR's education committee.
Here is how the ACR describes the honour: "Recognition as a Master is one of the highest honors that the College bestows on its distinguished members. The designation of Master is conferred on ACR members, age 65 or older, who have made outstanding contributions to the field of rheumatology through scholarly achievement and/or service to their patients, students, and the rheumatology profession. These honorees have devoted their long careers to furthering rheumatology research and improving clinical standards in the treatment of rheumatic diseases."
Laxer was one of the founding members of the Canadian Pediatric Rheumatology Association. This year, with 23 international recipients this year from the United States, Germany, Pakistan, Mexico and Canada, Laxer is one of the two Canadians recognized.
"The highest form of recognition is that received from one's peers," says Laxer. "It was a wonderful honour to be designated an ACR Master and to be recognized for my clinical and academic contributions. I was particularly proud to join a group of Canadian paediatric rheumatologists designated as Masters including my mentor Ross Petty and good friends Kiem Oen, Alan Rosenberg and Earl Silverman."
Laxer has been an Academic Physician and Physician Administrator at SickKids and the University of Toronto (U of T) since 1984 and has held many roles at SickKids and U of T, including: the initial Head of Rheumatology, established in 1990; full professor of Paediatrics and Medicine at U of T (since 1995); Associate Paediatrician-in-Chief of SickKids and Associate Chair (Clinical), Department of Paediatrics; and hospital Vice-President, Clinical and Academic Affairs. Laxer returned to the Division of Rheumatology full-time in 2009 as an academic paediatric rheumatologist.
Because of Laxer's influence, the Division of Rheumatology has become internationally recognized for its excellence in clinical care, education of trainees from around the world and multiple contributions to research in a variety of paediatric rheumatic diseases.
He has published over 300 papers and 40 book chapters, and is co-editor of the 'Textbook of Pediatric Rheumatology'. While he has interests in many areas, he is currently focusing his efforts on autoinflammatory diseases.
The 'Textbook of Autoinflammation', Laxer's work with his co-editors in Israel and the Netherlands, was released this past spring and is the first complete textbook on the subject. The term "autoinflammation" was first used in 1999 and its discovery led to an explosion of research activity and the opening of a clinic at SickKids in 2009.
Laxer has won many awards from his patients, students and colleagues in recognition of his clinical and teaching excellence, and his compassion and caring for patients.
Congratulations to Dr. Laxer on this well-deserved honour.