Nursing and Mental Health: Cross-training and collaboration increases mental health care capacity across SickKids
Summary:
In celebration of both Nursing Week and Children's Mental Health Week, meet two of our cross-trained nurses, who share their perspectives on bridging medical health care and mental health care.
At SickKids, we see children coming in with both medical and mental health needs. To care for them in a cohesive way, we have cross-trained some nurses from medical floors to work on our mental health inpatient unit and learn new skills in mental health care that they can bring back to the medical floors. This collaboration also brings other medical skills to the mental health unit.
Alysha: "recognizing the strength and resilience they have within themselves to get through it"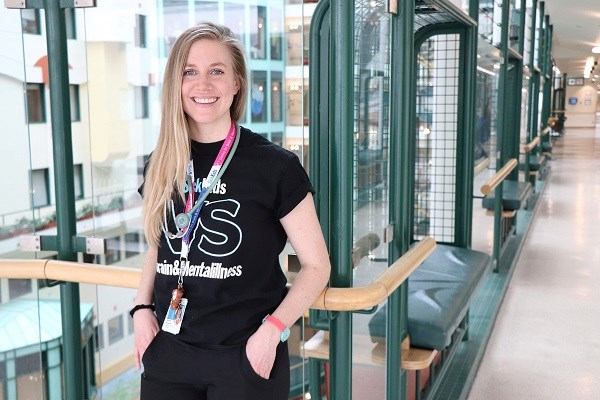 I started working as a Registered Nurse (RN) at SickKids in 2016 on the neurosurgery, neurology, and trauma unit. We care for a wide variety of patients including those with recently diagnosed brain tumours, hydrocephalus, epilepsy, stroke, and multi-system trauma.
After working on this unit for two years, I felt a desire to branch out and explore mental health nursing – it felt like a natural progression based on my background. Previously, I studied psychology and worked in a group home, supporting adults with intellectual disabilities and mental health challenges. It was at this point that I started working as a cross-trained nurse in mental health. The inpatient mental health unit at SickKids specializes in providing short-term mental health care for youth in acute crisis, as well as family-based care for youth with eating disorders.
I have been working as a cross-trained nurse for the past year and feel very lucky to have the opportunity to work in two very dynamic, challenging, and rewarding areas here at SickKids. Making the switch from one unit to another always keeps me on my toes and I never know when a skill from one setting will prove to be useful in the other.
Although the units can be very different, as a nurse I find that the core principles of the care that I provide are the same: supporting patients and families through incredibly challenging times in their lives and helping them recognize the strength and resilience they have within themselves to get through it.
Christine: "healing is at the core of what we do as nurses"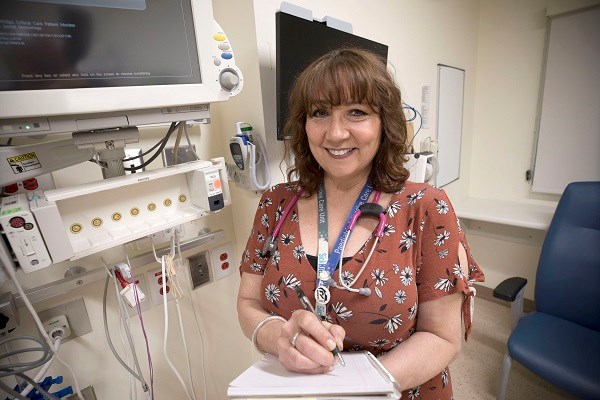 I have been nursing for 39 years, chiefly in adult and paediatric critical care. I started my paediatric intensive care unit (PICU) career at the Royal Children's Hospital in Melbourne, Australia and have worked in the SickKids PICU for five years.