New research shows potential drug therapy reduces effects of rare intestinal disease
Summary:
A drug typically used to treat rheumatic conditions could have therapeutic benefit for patients with a rare inflammatory bowel disease gene mutation. Study results have lead to a novel clinical trial led by SickKids.
Inflammatory bowel disease (IBD) is a group of chronic conditions that causes the gastrointestinal tract to become inflamed and causes painful symptoms for patients. New research led by The Hospital for Sick Children (SickKids) suggests that leflunomide, a U.S. Food and Drug Administration (FDA) and Health Canada approved drug typically used to treat rheumatic conditions, could have therapeutic benefit for patients with a rare gene mutation which results in a type of IBD that is often fatal.
The study was published on November 16, 2019 in Gastroenterology and has formed the basis for a novel international clinical trial led by SickKids.
Mutations in a specific gene – TTC7A, or tetratricopeptide repeat domain 7A – result in rare and often fatal defects in the intestinal tract of young patients, compromising both the immune system and intestine. Patients diagnosed with TTC7A-deficiency typically have a high mortality rate and respond poorly to standard treatments such as steroids, surgery and stem cell transplants.
"Because typical treatments do not work for this patient population, we wanted to investigate drugs that could improve intestinal health and quality of life for these patients," says the study's principal investigator, Dr. Aleixo Muise, Gastroenterologist, Senior Scientist in Cell Biology, and Co-Director of the IBD Centre at SickKids. "Identifying this drug candidate as a potential therapeutic could offer hope for treating patients with a disease that currently has no other option."
Study examined effects on the mutation using FDA-approved drugs
The study team developed a high-throughput drug screen using FDA-approved drugs to test 3,760 different compounds, including leflunomide, to determine how well they reduced cell death, or apoptosis – a key clinical feature of TTC7A-deficiency.
The findings identified that leflunomide – typically used to treat rheumatoid arthritis – improved intestinal health, cell viability, and increased AKT signalling, which is responsible for survival and growth of cells. It also reduced levels of active caspase 3, which typically triggers events that lead to cell death.
"We used compounds with prior FDA approval in the hope that we could identify a drug that could be eligible for compassionate use as many of these patients suffer from severe disease without any therapeutic options. Leflunomide is safe and already used in children; however, further study is needed to identify exactly how the drug regulates certain pathways such as AKT signalling," says Dr. Muise, is also an Professor in the Departments of Paediatrics and Biochemistry at the University of Toronto and holds a Canada Research Chair (Tier 1) in Pediatric IBD.
Developed a first-ever zebrafish model to replicate TTC7A-deficiency
Because no animal model existed for this rare disease, the research team developed a zebrafish model using the gene-editing tool CRISPR to replicate the intestinal abnormalities found in patients. They found that in zebrafish with TTC7A loss, leflunomide restored gut motility, reduced the narrowing of the intestinal tract, and increased cell survival. The findings were further validated using patient-derived samples.
The study team is optimistic about what the findings could mean for children with other forms of IBD. "This is the only animal disease model system for TTC7A-deficiency to date and will be important to stimulating future research into this rare disease," says Sasha Jardine, lab project manager with the SickKids IBD Centre and lead author of the paper.
Clinical trial enrolling patients to study leflunomide as a drug candidate
Now, the research team has developed an n-of-1 clinical trial and is searching for patients within Canada and from around the world with TTC7A-deficiency to participate in a novel clinical trial to validate the use of leflunomide.
TTC7A deficiency is very rare, with only 50 cases reported to date worldwide, leaving many families struggling to make sense of their child's experience. For families like Andrew and Jamie Miller's, the study findings and clinical trial could provide more insight into the rare condition.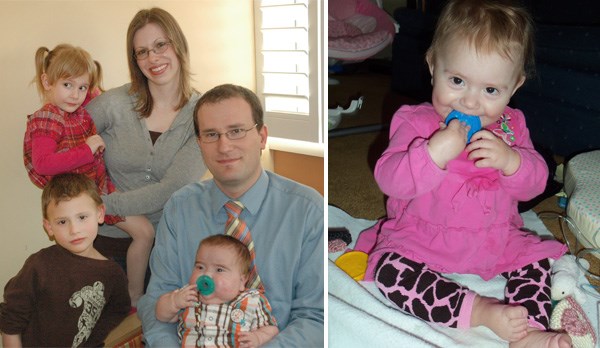 Two of their four children – Seth and Eliza – were born with TTC7A-deficiency in 2010 and 2012, respectively. Each experienced severe feeding issues and atresia, among other symptoms, and at the time, doctors were unable to provide a diagnosis. Andrew, whose children were not treated or involved with research at SickKids, says that it wasn't until about six months before Eliza died that they finally received a diagnosis.
"Seth was born and died before we knew what this condition was. In Eliza's lifetime, they cracked the code in Toronto that there was a genetic cause for the condition. Up until then, we were trying everything in the book and shooting in the dark," says Andrew, who has since worked to connect other parents online who have children with TTC7A-deficiency.
"Hope alone is something that helps keep pushing you forward as a parent when you have a critically ill child. At SickKids, you have a team that's pushing this particular area forward and is starting to connect the dots on this condition. It's really exciting," he says.
Further research will also need to be undertaken into studying the primary targets of leflunomide in patients with IBD as existing data pertains to its use in rheumatoid arthritis and understanding how TTC7A functions in intestinal cells in order to apply the findings to more common forms of IBD.
The research was funded by Canadian Institutes of Health Research (CIHR) Foundation Grant, the Leona M. and Harry B. Helmsley Charitable Trust, National Institutes of Health (NIH) (NIDDK RC2) and SickKids Foundation.