Connected Care: Sharing knowledge and expertise to help build health-care system capacity during challenging times
Summary:
Expansion of the SickKids Connected Care program to support adult and community hospitals is one of the ways SickKids is helping to build health-care system capacity in response to recent challenges.
As the health-care system in Ontario experiences a significant strain on capacity, staff at The Hospital for Sick Children (SickKids) are working together, and with colleagues from adult and community hospitals, to find innovative and nimble ways to build capacity in paediatric care.
Through innovative strategies, such as the expansion of the SickKids Connected Care program and a detailed newly developed SickKids Paediatric Intensive Care Unit (PICU) document for adult ICUs, SickKids is supporting health-care providers by offering guidance, up-to-date resources and expertise from SickKids to reassure and empower community providers in caring for paediatric patients.
Connected Care webinars for community hospitals
Connected Care is a SickKids program that offers training, reinforces skills and provides support on best practices to some health-care providers across the GTA and beyond, in order to coordinate services, improve health and safety and spread standards of paediatric practice. The Connected Care team has been supporting home care providers for over five years to improve patient transitions from hospital to home.
In November 2022, as SickKids and adult and community hospitals reached maximum capacity, SickKids expanded its Connected Care program to virtually support colleagues at these institutions to care for paediatric patients who may have otherwise received care at SickKids.
Leveraging program resources and collaborating with various clinical teams and education specialists at SickKids, including registered nurses, respiratory therapists, pharmacists, emergency medicine and critical care staff, the Connected Care program now offers live and recorded webinars on a variety of paediatric health topics to colleagues in adult and community hospitals and beyond.
In recent weeks, visits to the Connected Care website increased from 2,000 to over 5,000 per week. In addition, more than 2,000 nurses, respiratory therapists and physicians attended 25 live webinars led by SickKids experts across a variety of interprofessional fields. There have also been nearly 3,000 views of Connected Care webinars on SickKids YouTube channel and 20,000 visits to the Connected Care education resources web page.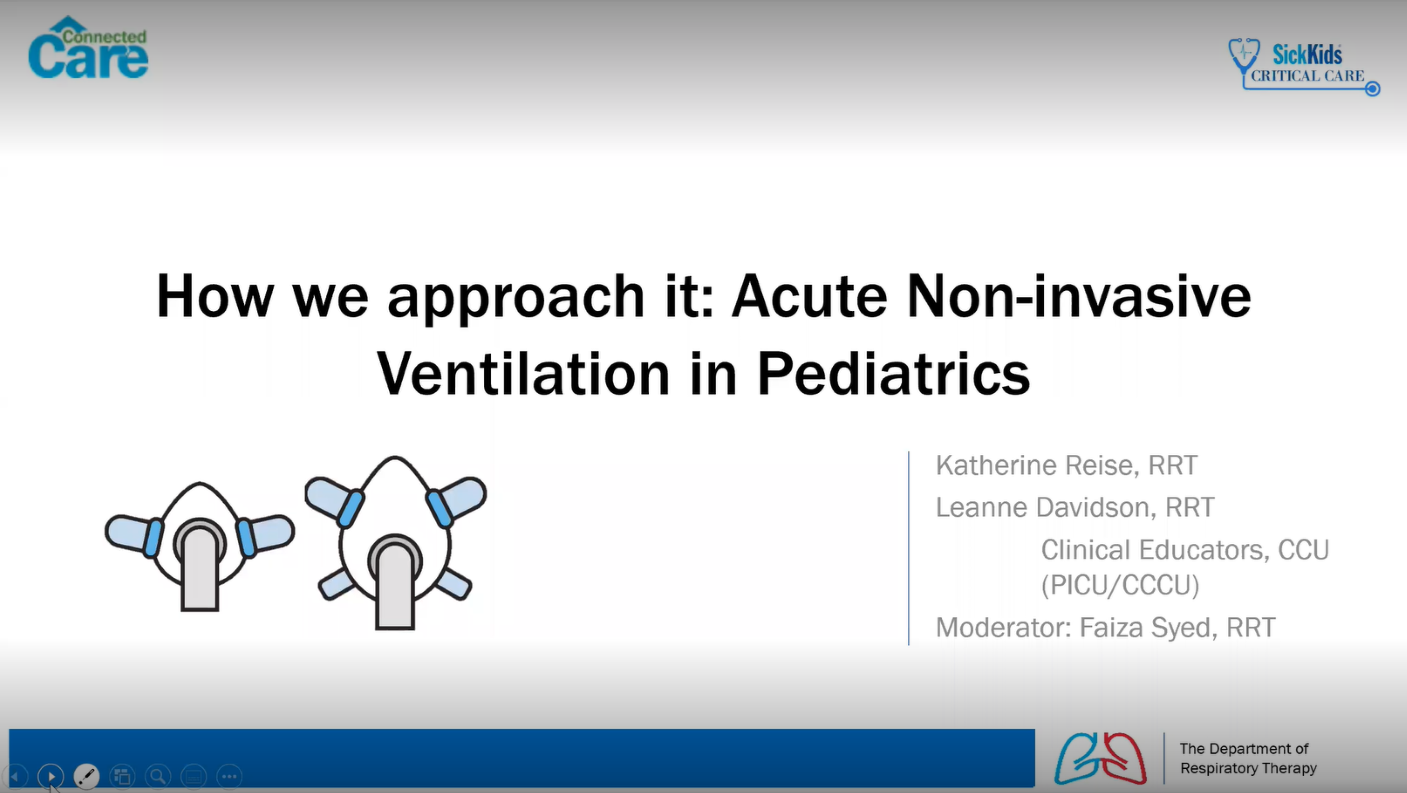 "By expanding our Connected Care webinars to colleagues in adult and community hospitals, SickKids clinicians share trusted knowledge and expertise and lead in helping to build paediatric capacity in a stretched health-care system," says Krista Keilty, Associate Chief Interprofessional Practice, Connected Care & System Integration at SickKids. "These efforts have been made possible by SickKids staff who care about paediatric patients, not only because it's their job, but because it's their passion."
Webinar topics include Essentials in Paediatric Health Assessment, Nursing Care of a Child with Bronchiolitis, and How RTs Approach it: Basics of Invasive Mechanical Ventilation in Paediatrics, with new videos added to the YouTube playlist as they become available.
PICU resources for adult ICUs
The SickKids Paediatric Intensive Care Unit (PICU) team created a detailed document for adult ICUs to use when receiving paediatric patients aged 14 and older. This resource outlines SickKids' PICU practices in caring for adolescent patients and is used in combination with real-time access to SickKids experts through the CritiCall Ontario consultation service for physicians. This "bridge call" provides vital information for health-care providers seeking urgent support for care of a child with emergent care needs. Topics covered in these resources include respiratory support, resuscitation, nutrition, diagnosis specific information, pain and sedation.
"In many cases, the important thing we can provide to our critical care colleagues in adult and community hospitals is reassurance that they are well-prepared to care for older paediatric patients. Resources and advice shared with our health-care partners can help further prepare them to care for paediatric patients and ensure we can all work as one team to support the health system through these challenging times," adds Dr. Steven Schwartz, Chief of the Department of Critical Care at SickKids.
Expansion of additional Connected Care programs
Connected Care on the Go! and Connected Care's clinical leadership placement have been expanded to support adult and community hospital colleagues. Connected Care on the Go! enables co-facilitation of education sessions and delivery of specialized paediatric training supplies, such as teaching aids, checklists and task trainers, into the hands of health-care providers in the community. The Connected Care clinical leadership placement allows health-care providers, specifically leaders in paediatric education and practice from community hospitals to gain and exchange knowledge and expertise in paediatric care through an observership at SickKids.