Fostering excellence in education and clinical training in the field of social work
Summary:
In recognition of Social Work Month, a current Master of Social Work (MSW) student in the advanced standing program at the University of Toronto and a SickKids social worker share their perspectives on why mentoring matters within the field of social work.
At SickKids, the Department of Social Work offers clinical training placements for graduate students in social work. The program focuses on teaching professional knowledge and skills related to the psychosocial experiences of health, illness and hospitalization for children, youth and families. Each student is supervised by an experienced social worker at SickKids. In addition, students learn from other health-care professionals within their interdisciplinary teams. They can also participate in the weekly family therapy treatment seminars and other learning opportunities.
In this Perspective, we hear from a graduate student-supervisor duo, MSW student Sierra Keary and social worker Gillian Liberman, as they reflect on mentorship.
Sierra Keary, MSW Student, Social Work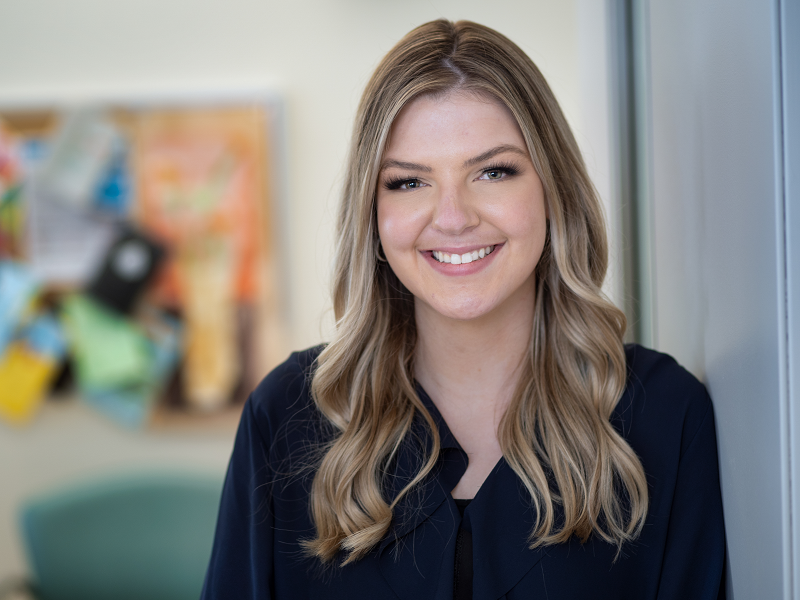 How has being an MSW student at SickKids helped provide a solid foundation as you build your career in social work?
Whether it be supporting a patient through a mental health crisis, helping caregivers make sense of a difficult diagnosis and the decision-making that follows, preparing a child for a major surgery or facilitating a teen group to allow youth the opportunity to share their experiences, being a student learner at SickKids has allowed me to develop transferrable skills that I am confident I will carry with me throughout my career.
Within this placement, I've worked with a diverse group of patients and families and have learned how to better navigate complex challenges. Through interdisciplinary collaboration, I have gained a deep understanding of, and appreciation for, various other health-care professions, and have learned how to establish and advocate for the role of social work in interdisciplinary teams.
When you look back on your experience as a student at SickKids, what has been the most memorable aspect of your placement and what will you carry with you moving forward?
What stands out the most to me is my participation in the Family Therapy Treatment Seminar (FTTS) program. This program allows MSW students the opportunity to co-facilitate family therapy together while being overseen by supervisors and observed by peers. It uses a strength-based model not only clinically with families, but also educationally with students.
I reflect on how intimidating the idea of this program was, and how timid I was to be observed by my colleagues six months ago. With the support and guidance of supervisors and my peers, I have grown immensely and gained confidence in my clinical skills. Having the opportunity to observe other students and staff facilitate family therapy allowed me to reflect on each clinician's therapeutic style and helped me to develop my own personal style of working with families. I reflect on my own vulnerability by participating in the FTTS program, but also the vulnerability of the families I have had the opportunity to work and connect with. Being able to bear witness to their strength, resilience and courage has been both a privilege and an honour. Each session left me feeling empowered and inspired.
Why are learning and training opportunities important within your profession?
The field of social work is ever-changing and evolving, which excites me and will allow me to be a lifelong learner. Whether it be attending weekly student seminars facilitated by SickKids social work staff; interdisciplinary rounds; or attending talks facilitated by the university community, I can always learn something new about the populations I work with. Research and therapeutic approaches are always evolving, and, in my opinion, it should be a personal goal to continue to expand our knowledge and skillset.
I also believe in the importance of ongoing clinical supervision as a tool to expand our knowledge and skillset. Clinical supervision provides not only the opportunity to provide the best possible services and intervention plans to our families, but also allows us as professionals to receive guidance and feedback as we navigate the challenging situations that arise in the field of social work. Being supervised by Gillian, I have always felt supported, valued and heard. By sharing her knowledge and expertise in the field, she is helping to equip me with the tools to begin my journey as a clinical social worker.
Gillian Liberman, Social Worker, Social Work

(Otolaryngology

,

Head & Neck Surgery)
How has the role of social work supervisor impacted your career in social work?
I had the privilege of completing a social work student placement at SickKids prior to becoming a social worker. My supervisor, the late Barbara Neilson, was a large part of the foundation of the Social Work Department. She was an incredible social worker and supervisor, and I am truly grateful for the passion and commitment to the social work profession that she shared with me. Barbara was influential in my desire to become a social work supervisor.
Being a social work supervisor has enriched my career in many ways. Students bring a curiosity and a commitment to learning that can be incredibly energizing. Supporting patients and families together with students over the years has allowed me to reflect on my own practice and to strive to be more creative, curious and committed to remaining current in my own practice. My commitment to supervising and teaching comes from a longstanding commitment to providing children, their families and the students who work with them with the best possible compassionate and informed care.
What has been the most memorable teaching experience this year?
My most memorable teaching experience is related to my role as one of the supervisors of the Family Therapy Treatment Seminar, a clinical and education program. The seminar provides strength-based family therapy to SickKids families facing the intersection of mental and physical health challenges, while teaching family therapy skills to the social work student group.
Each week, social work students and staff social workers join in this unique learning opportunity. Students and staff collaborate and create strength-based treatment plans through the team approach to family therapy. It is amazing to witness the students grow in their family therapy clinical skill development and confidence over the course of the year, while also witnessing families build on the strength and resilience they already possess through the therapy process. It is consistently one of the most memorable experiences of the teaching year for me.
Why are learning and training opportunities important within your profession?
I believe that both field instructors and students have a commitment to lifelong learning. We all learn the most from the patients and families we work with. Secondly, we learn from our interdisciplinary teams. Learning and working together as a team fosters safety and a more fulfilling work environment for students, whether it is through weekly supervision, the family therapy treatment seminar, interdisciplinary rounds or seeing patients and families together.