SickKids inpatient mental health unit undergoes renovation
Summary:
The renovation, completed in November 2021, provided much-needed environmental upgrades for patients and families
A warm and welcoming environment can play an important role in the treatment and recovery journey for many patients. To improve the patient experience and make important environmental upgrades, the new Slaight Family Integrated Mental Health Unit at The Hospital for Sick Children (SickKids) has recently undergone renovations designed to create a more welcoming and therapeutic environment for patients and families. The Unit renovations enhanced bed capacity and incorporated the latest patient safety standards in order to deliver the highest quality of care to our patient population.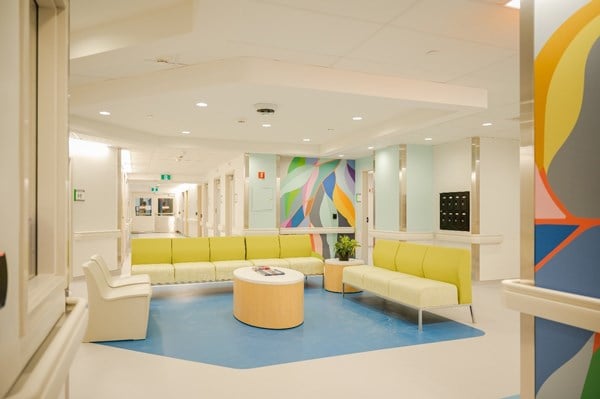 Lobby of the new Slaight Family Integrated Mental Health Unit
The design helps minimize the risk of patient injury while also allowing for staff safety and excellent monitoring of Unit activities. The physical environment is not only safer, but is brighter and more welcoming, with a focus on promoting healing, holistic and comprehensive mental health care.
"We're thrilled to be able to provide a healing environment that matches the warm, compassionate and high-quality care our patients receive from our Mental Health team at SickKids," says Christina Bartha, Executive Director of the Garry Hurvitz Brain and Mental Health Program at SickKids. "The new space is such an improvement over what we had before and brings a real sense of life and hopefulness to the whole space for our patients and families."
The renovations and environmental upgrades to the Slaight Family Integrated Mental Health Unit were made possible with support from an anonymous donor. The Unit is being named now to recognize SickKids' portion of the Slaight Family Foundation's $30M donation in 2021 to child and youth mental health organizations. At SickKids, the Slaight gift is supporting the building of the new Unit within the Peter Gilgan Family Patient Care Tower as part of Project Horizon.