'A place where everyone is acknowledged, valued and respected': Tee Garnett reflects on the next steps of SickKids' EDI journey
Summary:
During Black History & Liberation Month, Tee Garnett reflects on their first 10 months as Executive Lead and Strategic Advisor, Equity, Diversity and Inclusion (EDI), and shares their perspective on why language matters as SickKids forges ahead in its EDI journey.
It's hard to believe I joined The Hospital for Sick Children (SickKids) almost a year ago as the first Executive Lead and Strategic Advisor for Equity, Diversity and Inclusion (EDI). The last 10 months have been truly rewarding – and exhausting.
The type of work I do can take a toll. Since April 2021, I've engaged in many in-depth conversations on how to support SickKids in becoming a place where everyone feels a sense of safety and belonging. I've listened to patients, families and staff speak courageously and openly about their lived experiences and ideas for how SickKids can do better. There's desire for change, for new outcomes to begin to take shape and for other voices to be amplified. To achieve these outcomes, my work over the last 10 months has focused on identifying and digging into what barriers are impacting feelings of safety and belonging.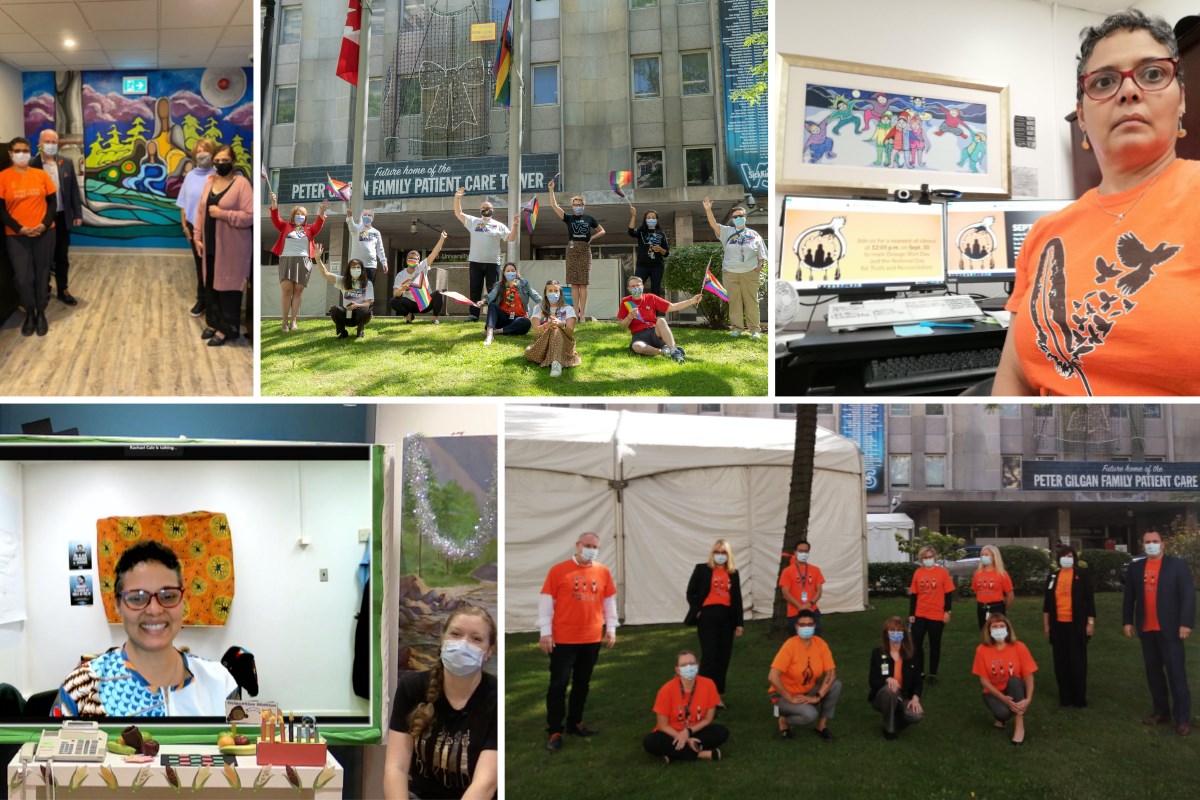 Challenging long-held practices and reflecting on the work needed to facilitate EDI
Part of leading EDI work requires having a common language to better understand the challenges experienced by the communities we serve and support. To help folks question assumptions, call out microaggressions and ask who else could be engaged in progressive discussions. While most people are honest and open to leaning into the new and unfamiliar spaces associated with this work, we are not "there" yet. There have been some hard moments for me, such as having my gender misidentified by others. While speaking with me, a staff member once said, "I mean he, she, they, whatever," and then proceeded to wave their hand like they were shooing away a fly. As a person who is vocal about my personal pronouns (they/them), this behaviour made me wonder how safe others might feel at SickKids.
I recall once being stopped in the hallway to discuss my educational background, only to have the person comment on how 'proud' my family and community must be of my professional pursuits, including my master's degree, and asking to see if my diploma was on my office wall. I realized that they may have been questioning my value or 'qualification' to be in this role at SickKids.
Language matters. Exploring barriers to equity and inclusion involves challenging ways of acting and speaking, as well as bringing new voices to the table so we can learn from others.
Taking steps forward to acknowledge, value and respect everyone in the SickKids community
This month at SickKids, we are celebrating Black History & Liberation Month with a weekly speaker series on the theme of Black Health & Wellness. It was important to me that we add more to the term "Black History Month," so that we can recognize the historical contributions of Black community members, while also discussing the need for Black liberation – which will support the liberation of other marginalized people and places. This year's event series, which begins on February 2, will also further reflections and conversations on how our organization can learn from others as we forge ahead in our EDI journey.
On February 28, the series will culminate with the launch of the first organization-wide SickKids Equity, Diversity and Inclusion Strategy. Aligned with our SickKids 2025 Strategic Plan and created through consultation with patients, families, staff and community partners, this strategy will guide SickKids in building a foundation to advance and embed EDI across its patient care, research and education initiatives. One size does not fit all, especially in medicine. It's imperative that we have a thoughtful and measured path forward that acknowledges and addresses that some folks have very different experiences and lived realities, and that many have been historically invisible.
Ten months later, I still love my job and remain equally, if not more, excited to come to work every day. SickKids is a world-class paediatric health-care organization, revered and respected internationally. It is also a community. I am honoured to have met so many amazing people already and truly am in awe of the commitment that staff here hold to patients and families, regardless of their role.
Like I said, language matters and every moment offers an opportunity to learn, myself included. Folks may remember I used to advocate for everyone to be "seen, valued and heard," and then someone reminded me that not all people can see or hear, and the ableist language I was using may be erasing their value. My new goal, and the guiding purpose behind our new EDI Strategy, is that SickKids will be a place where everyone is acknowledged, valued and respected. On February 28, I hope you will join me as we take the next step in our EDI journey.