Dr. Zulfiqar Bhutta awarded prestigious Sitara-e-Imtiaz for outstanding contributions to Pakistan
Summary:
Dr. Zulfiqar Bhutta at the SickKids Centre for Global Child Health (C-GCH) has been conferred the Sitara-e-Imtiaz (Star of Excellence) in recognition of his lifetime of exceptional contributions to the country of Pakistan. This is one of the highest honours and civil awards in Pakistan.
Over the last three decades, Dr. Zulfiqar Bhutta, a world-renowned expert in the field of global maternal and child health research and public policy, has led research in Pakistan and many other regions in South Asia and sub-Saharan Africa with the goal of reducing child mortality rates globally and informing innovative solutions to maternal and child health challenges. He has remained world-renowned for his research in and public policy impact on global maternal, newborn and child health.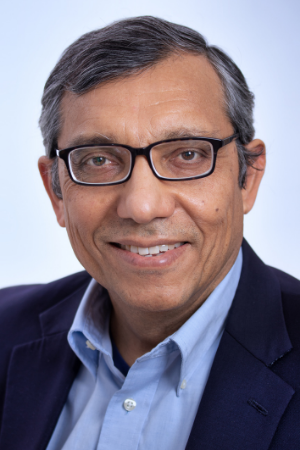 Dr. Zulfiqar Bhutta
"Being recognized by one's peers and country of origin holds special significance to me, and I am both humbled and deeply honoured," Bhutta says.
"For me, this is also a personal vindication of my team's efforts to improve maternal and child health in rural Pakistan and among the poorest and most marginalized populations in the world."
A history of global leadership in maternal and child health
Bhutta came to SickKids from Pakistan on a sabbatical almost 12 years ago to enhance the global health initiatives and programs at SickKids and to work on The integrated Global Action Plan for Prevention and Control of Pneumonia and Diarrhoea (GAPPD). Bhutta later teamed up with Dr. Stanley Zlotkin, Senior Scientist in the Child Health Evaluative Sciences (CHES) program and SickKids Research Institue to help establish the Centre for Global Child Health and upon his move to SickKids in 2013, Bhutta became the Centre's Co-Director and was awarded the inaugural Robert Harding Chair in Global Child Health. In a unique joint appointment with the Aga Khan University (AKU), Bhutta holds the distinguished University Professorship and is the Founding Director of its Center of Excellence in Women and Child Health and the Institute for Global Health and Development.
Since joining SickKids, Bhutta has received several leading international awards recognizing his impact on global health, including the 2021 Roux Prize for public health achievement and impact, the 2022 John Dirks Canada Gairdner Global Health Award and more recently, the 2023 Henry G. Friesen International Prize in Health Research, one of the most esteemed awards of its kind in Canada, for his leadership, vision and innovation in health research and policy.
Today, Bhutta is one of the most highly cited academics in global health and has been ranked among the top one per cent globally on the Highly Cited Researchers list by the Web of Science since 2013.
"Dr. Bhutta's recognition with the Sitara-e-Imtiaz is a testament to his unwavering commitment to global child health. His dedication to improving maternal and child well-being is an inspiration to many," says Dr. Stephen Scherer, Chief of Research at SickKids.
The Sitara-e-Imtiaz will be presented to Bhutta on Pakistan's 77th Independence Day by the President of Pakistan in March 2024, and is his third successive recognition by the Government of Pakistan for his contributions to public health. In 2001, he was awarded the Tamgha-I-Imtiaz (Medal of Excellence) and in 2017 he received the President's Pride of Performance Award for contributions to education and research.
Bhutta expressed his gratitude to the next generation of professionals dedicated to improving the health and well-being of children.
"To the many young colleagues and trainees who work with me, this award and recognition truly belong to you, thank you."
Bhutta's impactful SickKids-led global child health research projects include:
Naunehal
Naunehal is a pilot implementation research project designed to help overcome bottlenecks in childhood immunizations and care in insecure and conflict-affected areas with internally displaced populations and refugees. Implemented in three union councils of Pakistan, Kharotabad 1(Quetta District, Balochistan Province), Bhana Mari (Peshawar District, Khyber Pakhtunkhwa (KP) Province) and union council Bakhmal Ahmedzai in district Lakki Marwat, KP, the project aimed to improve health service delivery and enhance uptake. Naunehal focuses on three main intervention strategies: community mobilization, mobile health teams offering maternal newborn and child health (MNCH) and immunization services and engagement of private health care providers to increase immunization coverage. The target group of the project included children under five years old and women of reproductive age (15 to 49 years old). The project's work reached marginalized and at-risk populations through a low-cost strategy of community mobilization, mobile outreach services and health camps, reducing key gaps in childhood immunizations and a range of indicators for MNCH.
PREPARE: Promoting Resilience, Preparedness, Adaptation, and Response in 4C complex Emergencies
The goal of the PREPARE project is to inform efforts to improve national, regional, and global capabilities for planning and implementing preparedness, resilience promotion, and adaptation in complex emergencies within the context of the sustainable development goals (SDGs). Currently in the inception phase, this project particularly focuses on the compounding impacts of climate change, in relation to other emergencies — such as conflicts, pandemics/epidemics and the rising cost of living, also known as the 4Cs. Working with regional expert teams, this project strives to develop and uncover key regional implementation research questions in Pakistan and Kenya to address identified evidence gaps and establish and expand partnerships to answer prioritized implementation research questions through local collaborations.
CHOICE: driving inter-sectoral strategies to progress on the Health and Health-related Sustainable Development Goals (HHSDGs): Building a consortium to address climate change, health, and complex challenges
The CHOICE project strives to improve the health and well-being of vulnerable groups, including women and children, as well as to address inequality in low-and-middle-income countries (LMICs). Its focus is on ensuring the implementation of health and health-related sustainable development goals using the expertise of multi-sectoral Think Tanks, including one based in Pakistan, alongside regional consortia that will be created to provide cross-cutting solutions towards achieving the SDGs with a particular focus on the intersectionality of climate change and mental health.
Exemplars in Global Health
The Exemplars methodology, designed through the partnership between the SickKids Centre for Global Child Health (C-GCH) and Gates Ventures, identifies countries that have made notable improvements across health indicators. The Aga Khan University collaborates closely with the SickKids C-GCH and Gates Ventures to conduct Exemplars studies.
The first study under this methodology investigated the drivers of stunting reduction in five exemplar nations: Peru, Kyrgyz Republic, Nepal, Senegal and Ethiopia. The second phase of the study expanded to examination of trends in wasting and concurrent stunting and wasting in Pakistan, Uganda, Indonesia, Ghana and Nigeria.
The second study within this methodology examined the drivers of maternal anemia reduction. Five country case studies were undertaken in Senegal, Philippines, Uganda, Pakistan and Mexico. The anemia work was presented at the ASN 2023, with plans for a supplement publication in early 2024.
The C-GCH is currently executing two additional Exemplars studies on family planning and women's health and well-being. Within the family planning study, qualitative and quantitative research methods are combined to determine which factors have played a role in increasing the rate of family planning needs being met in LMICs. The women's health study examines countries that have made progress in improving women's health and well-being across a range of domains. To date, the C-GCH has created a conceptual framework that holistically captures key aspects of women and girls' health and well-being across the course of their lives. The framework is being tested in several case countries to identify key drivers of women's health and well-being. Given the important implications for Global Health that have come from the Exemplars work to date, The Centre aims to undertake an additional analysis on maternal nutrition status and infant growth in the first six months of life, with support from the Bill and Melinda Gates Foundation as well as Gates Ventures.