Family experiences central to new trauma-informed care video series for staff education
Summary:
A core component of SickKids Mental Health Strategy, the video series is being co-created with family partners to centre lived experiences of trauma.
May 1 - 7 is Mental Health Week and the theme for 2023 is #MyStory. As part of acknowledging the complexity and interconnectedness of individual's stories with health and hospital experiences, the Mental Health Strategy Literacy team at The Hospital for Sick Children (SickKids) is developing an educational video series for professionals in paediatric care settings focused on trauma and trauma-informed care.
Co-created by staff and family caregivers, this video series seeks to bring awareness to the various ways patients and families may experience trauma within hospital environments, while also providing SickKids staff with examples of how to provide more trauma-informed care.
What is trauma and trauma-informed care?
Trauma is one or many experiences that threaten someone's well-being and overwhelms their ability to cope. The word "trauma" is often associated with life-threatening situations, like natural disasters or motor vehicle collisions. But it also includes on-going and/or common experiences like childhood abuse or neglect, daily microaggressions based on race, gender or ability, or living in poverty.
Medical trauma refers to the psychological and physical responses patients and their families may have while accessing and navigating the health-care system. For example, receiving a new diagnosis, enduring painful procedures, and experiencing fear from living with uncertainty. This form of trauma can also impact health-care providers through the daily witnessing of traumatic events or pain.
Trauma-informed care acknowledges and responds to the impact trauma has on physical and mental health, while focusing on people's individual and collective strengths. Using a trauma-informed care approach includes being proactive about planning for psychological and physical safety, and providing choice, control and collaboration along the way.
Education series co-created with family partners
On their journey to create the educational series, the Mental Health Strategy Literacy team has been working closely with family partners to centre lived experiences in the content to help increase staff awareness of the types of trauma that can manifest in a health-care setting.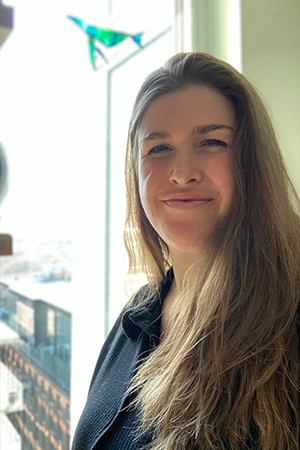 In these working groups, the team has been to engaging family partners in a way that is itself trauma-aware.
"The presence of a compassionate interdisciplinary care team has helped bridge staff and caregiver perspectives, all while promoting psychological wellbeing. We have also intentionally included SickKids staff that the caregivers already know and trust. These previous relationships, along with the ones we are forming together as a group, help facilitate coping with uncomfortable emotions and memories that this process awakens in participants," explains Ren Charette, Patient & Family Engagement Coordinator for the Mental Health Strategy.
Both the working groups and staff leading the project are passionate about making this initial education series and sharing their learnings with other hospitals and health-care networks across Ontario and Canada. The education will begin at SickKids in select areas in the Fall of 2023 with it becoming available across the organization in 2024.
"Throughout the co-creation process of this series, we've sensed a real spirit of community growing, among staff and family caregivers as they shared their experiences, building deeper empathy and understanding along the way," says Charette.
"The Mental Health Strategy Literacy team is grateful for the courage and vulnerability required by everyone involved in speaking openly about their journeys. Through patient and family advocacy, we are striving to integrate a ground-up approach to trauma-informed child and family-centred care at SickKids."
Ren Charette, Patient & Family Engagement Coordinator