How neurodiagnostic technologists support patient care by measuring and recording brain waves
Summary:
It's Neurodiagnostic Week! Get to know some of SickKids' neurodiagnostic technologists.
Neurodiagnostic technologists record and study the electrical activity of the brain and central nervous system using a variety of techniques and instruments. Also known as neurophysiology technologists, they work with patients who have diagnoses of epilepsy, coma, sleep disorders, tumours, strokes and other conditions of the central and peripheral nervous systems.
As we wrap up Neurodiagnostic Week, meet some of the neurodiagnostic technologists at The Hospital for Sick Children (SickKids)! Instrumental in the diagnosis and monitoring neurological issues, they perform routine diagnostic procedures to more complex invasive monitoring studies. They have many areas of expertise and act as "eyes and ears" for neurologists, neurosurgeons and critical care physicians.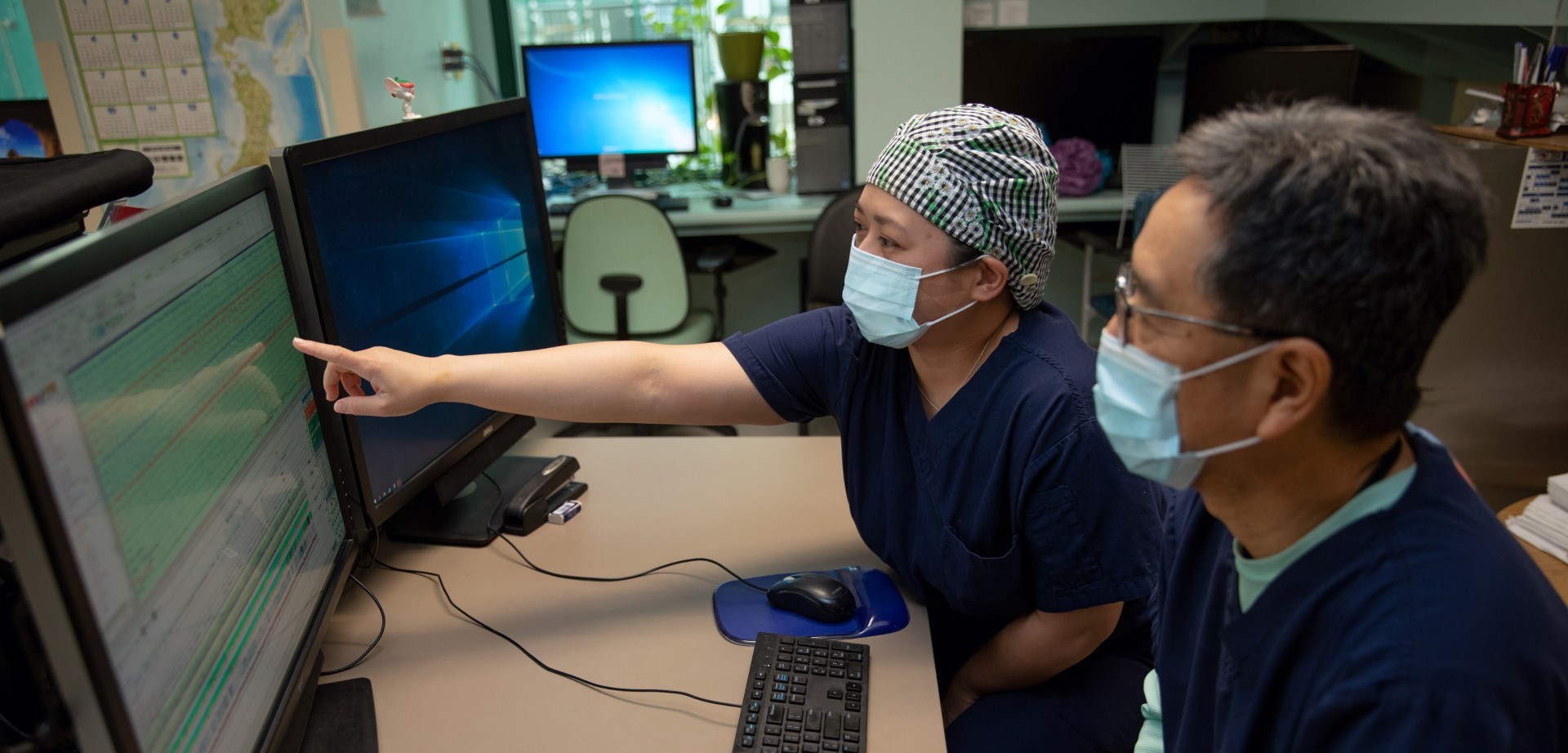 Paula Melendres
Registered Neurodiagnostic Technologist, Neurophysiology Lab
Describe the equipment you work with. What does it do/how does it work? Tell

us

about the procedure.
A common question that I get asked by families is how an EEG is different from a brain CT or MRI. I tell them a CT and MRI shows how the brain looks, while an EEG shows how the brain works. It is a snapshot of the brain's electrical signals, which tell us about its functional state at the time of the recording. Based on the patient's age and level of consciousness, we expect to see specific patterns on the EEG. These "squiggly lines" tell us about a patient's level of consciousness, brain maturation, seizures and response to medication.
For routine EEG testing, we apply gold electrodes on specific scalp locations using an international system of electrode placement. The electrodes pick up signals from large groups of neurons and the signals are then sent to the EEG machine for amplification. The machine converts these analog signals into digital which are displayed on a computer screen for analysis. The digitized data can further be manipulated using filters, montages, and specialized software in order to conduct a more granular analysis for seizure localization, background characterization, pre-surgical evaluation, and even research, among many others.
A continuous EEG (cEEG) is one of the many neurophysiological testing services that we offer. It's available to patients in the Neonatal ICU, Paediatric ICU, and Cardiac ICU. The most common indication for a cEEG request is possible subclinical seizures, which are seizures that do not show any observable symptoms. In cases like this, cEEG monitoring is the only way to know if the patient is having seizures. cEEG can also be used to characterize events of uncertain etiology as well as assess the efficacy, titration, and weaning of anti-seizure treatment. The recording runs continuously until it is no longer needed (e.g. the seizure has been brought under control). Analysis is performed by our fellows and staff, and the information is then relayed to the team managing the patient. A cEEG can be as short as 24 hours or as long as one month.
What makes it rewarding

to work

at SickKids

?
I work with a great team of people who go above and beyond the call of duty to provide excellent patient care. Our teamwork and dedication are regularly put to the test, especially during periods of staff shortage and increased demand. I'm proud to say that we are able to step up and give the best care for our patients, and every member of our team is always willing to pitch in and go the extra mile to make things work.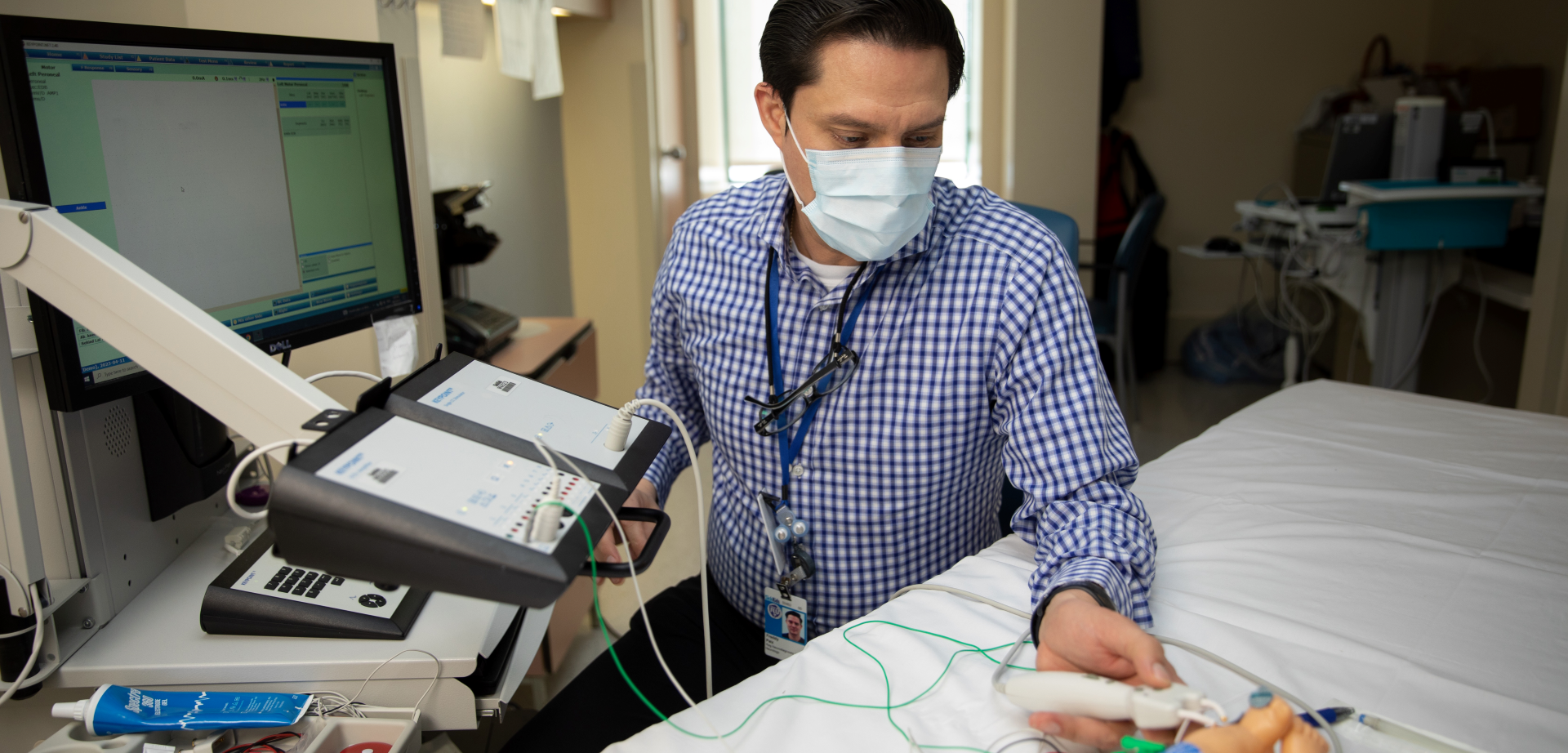 Freddy Paiz
Registered Neurodiagnostic Technologist, Neurophysiology Lab
What does a typical day in your role look like?
Each day is different. I'm a registered electromyography/nerve conduction studies (EMG/NCS) technologist, testing muscles and nerves. I also teach fellows (e.g. physicians doing their Neuromuscular subspecialty training), as well as residents in Neurology that are rotating through our program. They learn how to interpret, perform, and how to understand these procedures. Even when I'm busy, I try to help my colleagues in whatever form I can. No one day is the same.
Describe the equipment you work with. What does it do/how does it work? Tell us about the procedure.
I use two different machines that allow me to do EMG/NCS. For the NCS part of the procedure, I place stickies, also known as electrodes, on different parts of the patient's body and I use mild electrical stimuli to stimulate and record the different muscles and nerve responses. For the EMG part, the physician places a needle inside different muscles in the body and we record how the muscle and nerves "talk" to one another. When you combine these procedures, we can tell if the patient has a muscle or a nerve problem, or a combination of both.
Anything else you'd like to share?
SickKids has allowed me to be the best neurophysiology technologist that I can be. SickKids has allowed me to fulfill some major career milestones: Being able to pass on what I know via teaching our Neurology residents and our Neuromuscular fellows; do research; and learn to become a Registered EEG technologist.
Rohit (Roy) Sharma
Clinical Manager, Neurophysiology Lab, EMU and Peter Anderson MEG Suite
What does a typical day in your role look like?
As the clinical manager and a senior technologist in the lab, my role is unique and involves both administrative and clinical duties. I have to be flexible and help my team when required and it varies from day to day.
Describe the equipment you work with. What does it do/how does it work? Tell us about the procedure.
Several times a week I perform Magnetoencephalogram (MEG) studies. The MEG is a very unique diagnostic system which is managed clinically and collaboratively by Neurology (Epilepsy Monitoring Unit) and Neuroimaging. We are very fortunate have the only fully functioning clinical paediatric MEG scanning system in Canada at SickKids.
The MEG measures magnetic fields in the brain. The magnetic fields are captured by the MEG which are generated by the electrical activity of neurons in the brain. An MEG is used to map brain function near a brain lesion, the site or source of epileptic activity that causes clinical seizures or during recovery after brain injury.
What makes it rewarding to work at SickKids?
SickKids is a special place. We are making a difference every day to all the patients we see in the Neurophysiology Lab, especially those that have epilepsy. We do amazing work in the Neurophysiology Lab and provide clinical expertise and care in various modalities that is unparalleled in Canada. We are an innovative team and have established the centre of excellence in the surgical treatment of epilepsy.