U-Link Canada makes it easier to find early phase clinical trials for children with cancer
Summary:
SickKids-led database provides clinicians and families with the latest information on open clinical trials for children with cancer across Canada.
For children with cancer, and their families, clinical trials offer a potential avenue to explore new therapies which can, in some cases, be life changing. But for families and clinicians, finding open clinical trials can be tricky. In Canada, only 27.5 per cent of children with cancer up to 14 years old are enrolled in a clinical trial at the time of diagnosis and approximately 68 per cent of children with cancer are not enrolled due to lack of an available trial.
Created at The Hospital for Sick Children (SickKids) and inspired by a similar initiative in France, U-Link Canada is home to the most up-to-date information on early phase clinical trials happening at children's hospitals across the country. Since launching in Canada in 2021, the database has grown to include 63 studies including more than 40 early phase studies that are currently open to enrollment.
"Clinical trials are essential to providing children with cancer and their families with innovative therapies that they would not otherwise have access to," explains Dr. Sarah Cohen-Gogo, clinician-scientist and U-Link Canada lead. "Our central database for early phase clinical trials aims to break down some of the barriers that providers and families face when locating clinical trials and improve access to clinical trials across the country."
Making it easier to find clinical trials
Clinical trials for potential medications are usually conducted in three phases that build on one another, with the potential direct benefits to patients increasing and risks decreasing in each phase as information and results are gathered over the course of the trials.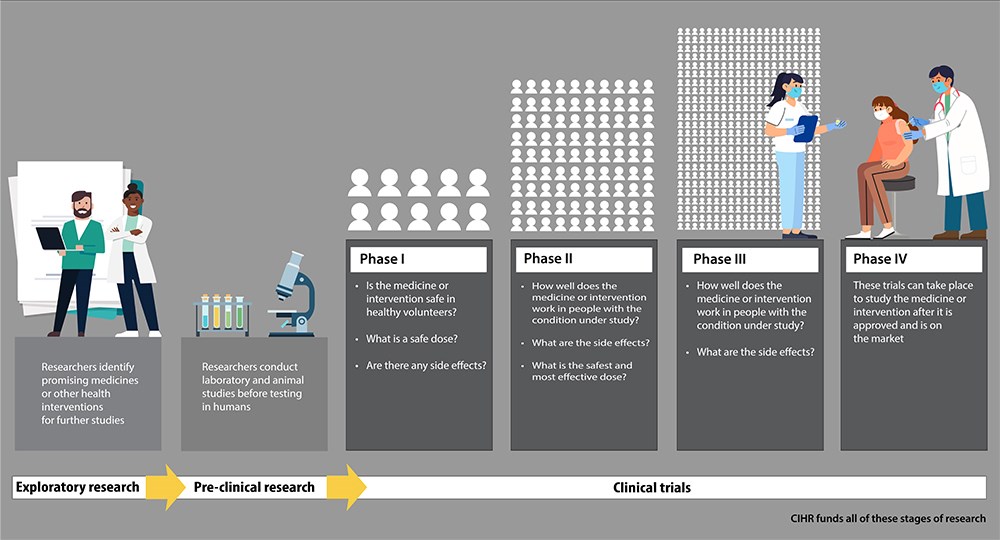 Exploratory research
Researchers identify promising medicines or other health interventions for future studies.
Pre-clinical research
Researchers conduct laboratory and animal studies before testing in humans.
Clinical trials: Phase 1
Is the medicine or intervention safe in healthy volunteers?
What is a safe dose?
Are there any side effects?
Clinical trials: Phase 2
How well does the medicine or intervention work in people with the condition under study?
What are the side effects?
What is the safest and most effective dose?
Clinical trials: Phase 3
How well does the medicine or intervention work in people with the condition under study?
What are the side effects?
Clinical trials: Phase 4
These trials can take place to study the medicine or intervention after it is approved and is on the market.
CIHR funds all these stages of research.
Currently, these trials can be found on Health Canada's Clinical Trials Database, clinicaltrials.gov, or on materials shared by the individual institution or research team when recruiting participants, but this can leave care providers and families searching for information which may no longer be relevant.
U-Link Canada employs a unique model that involves regularly updating trial information directly from representatives of each of the sixteen centres that make up the paediatric haematology, oncology, and stem cell transplant programs across Canada, ensuring that the information is relevant and up to date.
"Our priority is ensuring that everyone can access clinical trial information for children with cancer as quickly and efficiently as possible," says Ashley Doka, a Clinical Research Project Coordinator and U-Link Project Manager.
Helping Canadian families access clinical

trials
But U-Link Canada is not only for care teams. The database is also the first of its kind to include family-friendly summaries of the trials on its website and offers financial support for travel and accommodation costs when accessing clinical trials outside of local treatment centres through the U-Link Patient and Family Fund.
"Canada is a large country and many families from rural and remote areas struggle to access clinical trials due to travel time and associated expenses. Accessibility for families, whether by helping them travel to a trial location or providing them with easily understood information about a trial, is a core feature of U-Link Canada."
Dr. Sarah Cohen-Gogo
U-Link Canada has already reached almost 10,000 visits since it launched and has become an important resource for care providers seeking clinical trial information for their patients, but there are many milestones ahead.
The team hopes to expand the database from phase one and phase two clinical trials to encompass all studies, including phase three. They also want to expand the age range from under 18 years old to any clinical trials for children, adolescents and young adults with cancer.
"The development and availability of clinical trials is essential to getting children with cancer the latest therapies as soon as possible," says Dr. Jim Whitlock, Head of the Division of Haematology/Oncology, Senior Associate Scientist in the Translational Medicine program and co-lead of the Canadian Pediatric Cancer Consortium announced earlier this year. "With the information housed on U-Link, care teams and families can make a care plan together, informed by relevant and accessible information."

If you are interested in enrolling your child in a clinical trial you see on U-Link Canada, please talk with your care team directly who will work carefully with you to determine if the clinical trial is a good fit for you or your child.
U-Link Canada is supported by The C17 Council, Advocacy for Canadian Childhood Oncology Research Network (Ac2orn) and Childhood Cancer Canada, the Garron Family Cancer Centre and SickKids Foundation. The U-Link Patient and Family Fund is proudly supported by Kindred Foundation and Phoebe Rose Rocks Foundation.