The Garron Family Cancer Centre
Education & Training
Current GFCC Research Fellows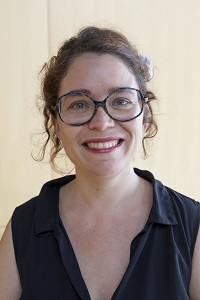 Dr. Sarah Cohen-Gogo
Supervisor: Dr. Daniel Morgenstern

PARP Inhibitors and Chemotherapy for children, adolescent and young adults harbouring Tumours with homologous Recombination repair deficiency: a phase II pilot study
While the survival rate in Canada approaches 82 per cent for all child, adolescent, and young adult cancer patients, the prognosis for patients with refractory, relapsed or metastatic disease remains unacceptably poor.
A pan-Canadian collaboration called PRecision Oncology For Young peopLE (PROFYLE) was created to improve survival for the patients with 'hard-to-treat' cancers by providing better access to next generation sequencing and targeted therapies. The PROFYLE program expands and integrates the Toronto regional paediatric cancer precision medicine program called KiCS (Kids Cancer Sequencing).
Among the identified genetic aberrations, those leading to deficiencies in a DNA repair pathway called homologous recombination are a promising group for targeted therapy. A family of drugs called PARP inhibitors is now part of the treatment for some adult cancers (ovarian, breast) that have such abnormalities.
As it remains unclear how to best identify paediatric, adolescent and young adult patients who may benefit from these drugs, we are developing a Canadian pilot clinical trial that will provide access to these new drugs for patients with hard-to-treat cancers, and take into account the information from the PROFYLE sequencing study to look for potential biomarkers.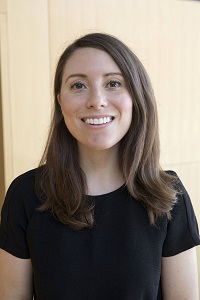 Dr. Grace Egan
Supervisor: Dr. Aaron Schimmer
Nuclear Hexokinase 2: Mechanism of Regulating Stemness
Acute myeloid leukemia (AML) remains one of the most difficult to treat childhood cancers given its high rates of relapse and treatment-related toxicity. Leukemic stem cells (LSCs) are thought to be responsible for initiation, maintenance, and recurrence of AML. Understanding the biology of leukemia stem cells is crucial for developing effective, targeted, therapies for AML.
Previous work has shown that enzymes involved in metabolism can influence gene expression when they move from the mitochondria to the nucleus. Little is known about this process in AML. Hexokinase 2 (HK2) is a metabolic enzyme involved in glucose metabolism. Recent work in our lab has demonstrated that leukemia stem cells have increased levels of HK2. When nuclear HK2 is over-expressed in AML cells, it is associated with a stem-like phenotype, making cells resistance to differentiation with chemotherapy. The mechanism of how nuclear HK2 contributes to stemness is unknown. My project will decipher these mechanisms, which appear to involve epigenetic processes and DNA damage repair signaling pathways. By exploring the interacting proteins and pathways of nuclear HK2, it may be possible to discover novel therapeutic ways of selectively reducing the leukemia stem cell population in AML.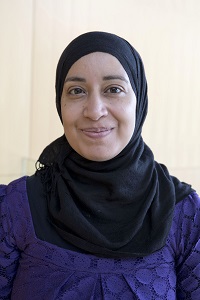 Dr. Fyeza Hasan
Supervisor: Dr. Lillian Sung
Children with Cancer as Participants in End of Life Research
Survival rates for childhood cancers have increased dramatically, but 20 per cent of patients still die of their cancer or its treatment. The end-of-life (EOL) care of these children is difficult and includes addressing complex symptoms, and challenging issues around decision making, such as decisions about resuscitation, ongoing therapy and clinical trials.
Palliative care research studies can help us to identify evidence informed strategies for managing the complex EOL issues faced by children with cancer and may improve quality of life and satisfaction with care for patients and their families.
Despite the need for this type of research, palliative care studies are extremely rare in paediatric oncology. There are a number of possible barriers including the reluctance of physicians to offer research to families, and reluctance of families to take part, or remain enrolled.
My research aims to explore stakeholder perceptions about the enrolment of children with cancer in paediatric oncology palliative care research. Studying the views of potential research participants will allow researchers to understand parents' and clinicians' decision making processes. This will assist them in designing studies that are meaningful and acceptable to stakeholders, improving recruitment and creating knowledge that ultimately improves EOL care.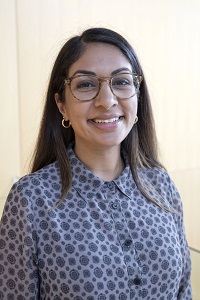 Dr. Reena Pabari
Supervisor: Cynthia Guidos
The use of high dimensional mass cytometry to detect and characterize relapse-originating cells in acute myeloid leukaemia
Patients with acute myeloid leukaemia (AML) have high rates of relapse, despite initial apparent responsiveness to chemotherapy in many cases. There is evidence that the relapsed disease derives from a population of leukemic stem cells that are present at the time of diagnosis. In patients with acute lymphoblastic leukaemia (ALL), flow cytometry is used to identify the persistence of leukemic cells (minimal residual disease) after induction chemotherapy in order to guide and intensify treatment if needed.
In contrast, AML is a heterogeneous disease that is difficult to characterize with routine flow cytometry. I will be using high dimensional mass cytometry to characterize and evaluate the relapse-originating cells in diagnosis-remission-relapse samples from patients with AML. Mass cytometry can profile up to 40 markers per cell and has a greater ability to characterize heterogeneous cell populations. Our goal is to be able to identify and monitor the relapse-seeding clones in patients with AML in order to better guide therapy and prevent further progression of disease.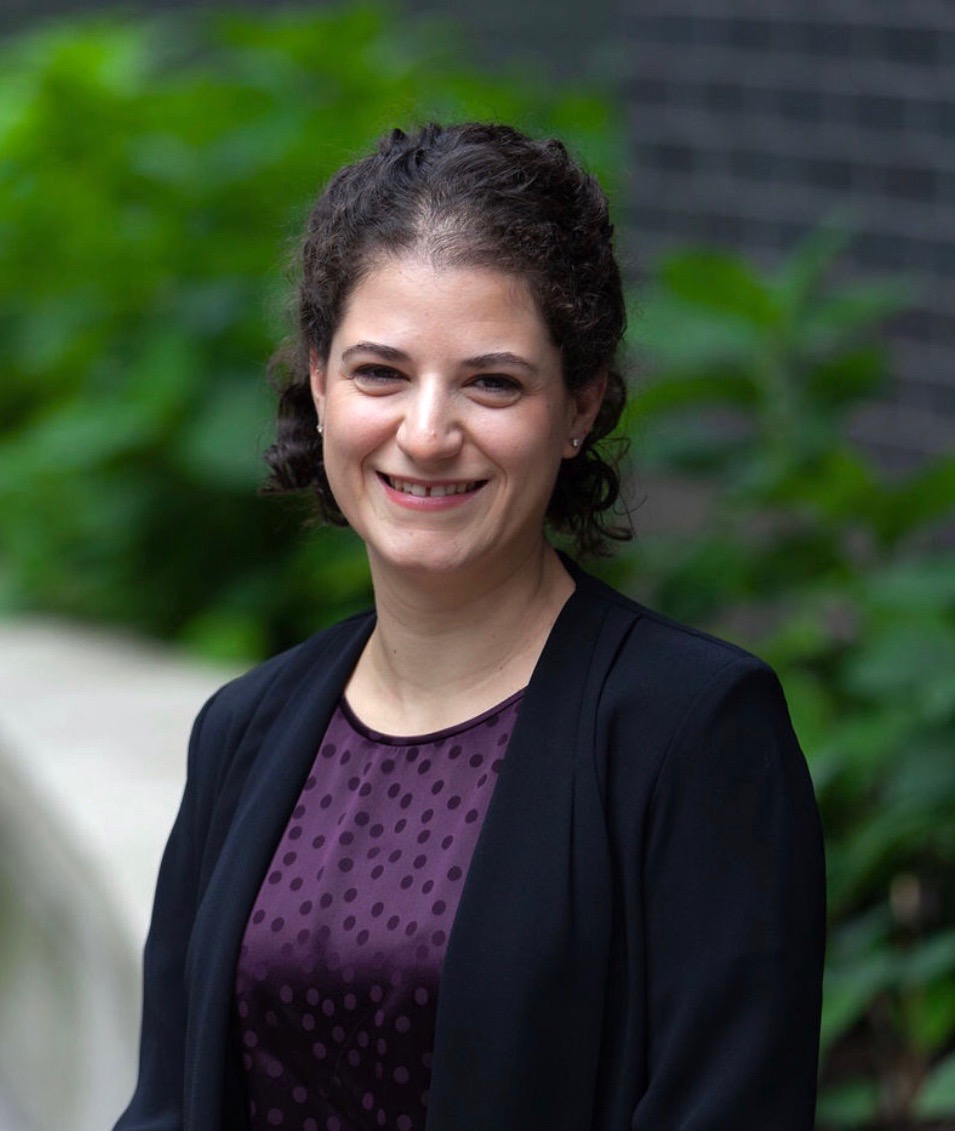 Dr. Hallie Coltin
Supervisor: Dr. Vijay Ramaswamy
Long-Term Functional Outcomes of Children with Medulloblastomas and Ependymomas: A Population-Based, Matched Cohort Study
Medulloblastomas and ependymomas are two common brain cancers in children. These cancers can only be cured with aggressive treatments such as brain surgery, chemotherapy, and radiation. Unfortunately, these treatments cause serious long-term health problems for the children who survive. These side effects can cause survivors to be hospitalized frequently or die early, but currently we do not know which children are at highest risk, and how to prevent this. The goal of our study is to understand how often survivors develop these long-term side effects. The side effects we are most interested in are: early death, hospitalizations, new cancers, cardiovascular disease, severe mental health problems and dependent living. We will look at all survivors of medulloblastoma and ependymoma who were diagnosed in Ontario between 1985 and 2018 when they were less than 18 years old. Then we will use databases which contain healthcare use in all Ontarians to look at how often and when the survivors develop these side effects. We will compare these findings to a group of healthy Ontarians to see if the survivor group is at higher risk, and which treatments and factors increase the risk of these long-term consequences. This will represent the first population based study to evaluate long-term health outcomes in children treated for medulloblastoma and ependymoma, and provide us with a better understanding how often and why survivors develop these severe complications. Our ultimate goal is to improve the ways that we monitor for these health problems with the goal of preventing them.
Dr. Razil Sussman
Supervisor: Dr. Walter Kahr
Platelets are small blood cells that play an important role in clot formation to prevent bleeding. This, and other platelet functions, such as aiding wound healing and revascularisation, are facilitated by a large variety of proteins that are stored primarily in platelet α-granules. These proteins are released when platelets encounter wounds and other stimuli. Recent reports present evidence that platelets can play a prominent role in promoting tumor growth and spreading. Before reaching sites where they can form metastases, tumor cells circulate in the bloodstream, where they must survive blood shear forces and evade immune surveillance. Platelets have been observed to coat circulating tumor cells, apparently providing them with a physical shield that protects them from destruction. Platelets have also been shown to be capable of inhibiting immune cell attack. The mechanisms by which platelets protect and assist tumor cells are not well understood, but proteins secreted by platelets have been implicated.We will study the interaction of platelets with tumor and immune cells using a model system that compares normal mice to those where platelets lack α-granules and are thus incapable of secreting most platelet-borne proteins. This system will allow us to identify platelet proteins involved in key intracellular interactions. This information will support development of treatments targeted at preventing the spread of tumor cells, adding new weapons to the ongoing battle against cancer.
Patient and family resources
AboutKidsHealth Educational Resources
AboutKidsHealth is a health education website for children, youth and their caregivers.
Photovoice Program
As leaders in child health, the oncology social workers at SickKids have implemented a therapeutic Photovoice group where teens meet weekly to record, reflect, and critique issues they have faced on their treatment journey.
Photovoice is a therapeutic photography program focused on creating a supportive peer-focused environment aimed at bringing a voice to teens with varying cancer diagnoses, while facilitating better communication between patients and their healthcare teams. A concurrent Photovoice group for teen siblings is also available. Photos from both groups are displayed at the annual Exhibition to kick off Cancer Awareness Week and are subsequently hung on clinic walls.
'It's All About Me' Sibling Appreciation Day
A child's diagnosis of cancer or serious blood disorder has a significant impact on the entire family. Siblings of children with cancer/serious blood disorders are often overlooked and their needs minimized as their parents and healthcare professionals focus on the ill child. The Annual "It's All About Me" Sibling Appreciation Day provides creative opportunities to address the most common concerns about the sibling experience.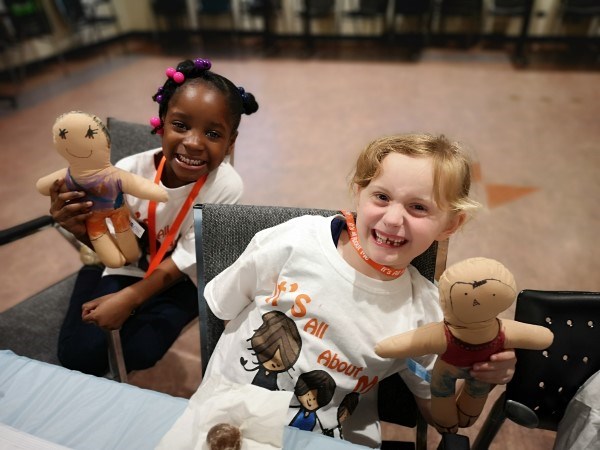 It promotes the expression of feelings, coping, and problem solving with the goal of enhancing self-esteem. Throughout our programming, we aim to enhance sibling's adjustment to living with a life-threatening illness within the family, reinforce their importance within the family, and provide much needed recognition for their important role in their family's journey at SickKids.
For more information about these initiaitves, email sonia.lucchetta@sickkids.ca or wendy.shama@sickkids.ca