Clean Hands Prevent Harm: Meet the artists behind our new hand hygiene posters
Summary:
Learn more about the artists behind our new hand hygiene campaign, Clean Hands Prevent Harm.
Exercising proper hand hygiene is one of the primary measures health-care providers use to prevent the spread of infection. As families and friends gather throughout the holiday season it's important to exercise proper hand hygiene, not only to protect yourself, but also to protect others. Young children, seniors and those with compromised immunity are at greater risk of contracting infection during the winter flu season. For tips on proper hand washing, visit AboutKidsHealth.

New posters featuring patient artwork are posted throughout the hospital as part of SickKids' hand hygiene campaign Clean Hands Prevent Harm. Each poster is unique, reflecting each child's individual views and experiences in the hospital. Jake, one of the five artists and a former SickKids patient, shared his story with us:
Some of the other artists told us their thoughts when we presented each of them with a framed copy of their poster.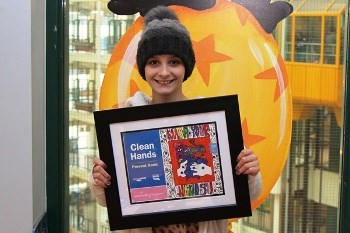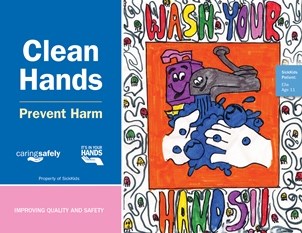 Ella Korostil, age 11. "My poster shows that germs are all around us, and I thought using bright colours would help people see the posters. I also made the tap and the soap look friendly."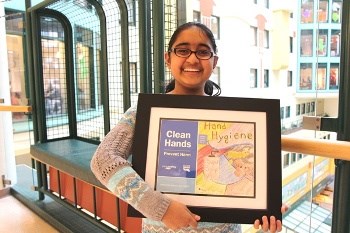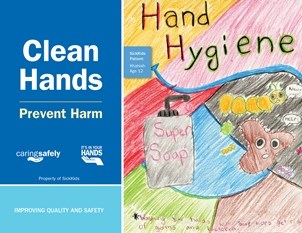 Khahish Kaur, age 12. "My Dad helped me come up with the idea for the poster. I decided to draw some soap with germs and bacteria in the background. It was hard because I could only use my left hand to draw the poster, so it took me a while to actually draw it and colour it in."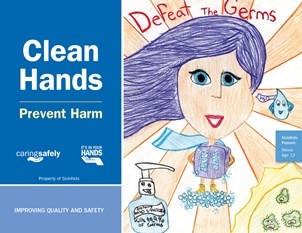 Alexia Cantore, age 12. "I've always loved to draw since I was a kid. In my drawing I made the bar of soap a superhero because soap is something that saves people. Doing the drawing was a really nice way to pass the time."