Scientists identify parent-of-origin phenomenon in devastating form of muscular dystrophy
Summary:
After more than a decade of study, an international research team co-led by SickKids and Vrije Univesriteit Brussel in Belgium has determined how the most devastating form of myotonic dystrophy (a form of muscular dystrophy) is carried through families.
Findings could lead to diagnostic marker for prenatal testing
TORONTO – Understanding how a genetic disorder is passed down through families, and having this knowledge inform the clinical care and support provided to patients and families, are what so many scientists and clinicians strive for. While this has been successfully achieved with some genetic disorders, many others are not yet well understood, leaving both families and clinicians with an incomplete picture as they grapple with major decisions about patient care.
After more than a decade of study on one such genetic disorder about which much remains unknown, an international research team co-led by The Hospital for Sick Children (SickKids) and Vrije Univesriteit Brussel in Belgium has determined how the most devastating form of myotonic dystrophy (a form of muscular dystrophy) is carried through families, a phenomenon known as the parent-of-origin effect.
In a new study published in the March 2 online edition of The American Journal of Human Genetics (AJHG), the researchers demonstrated how congenital myotonic dystrophy is carried by the mother and passed down to the child. They found that the DNA in the mother's eggs show a chemical change called methylation, which causes this severe form of the disease in children inheriting the disease from their mothers. They also showed that in fathers, this methylation inhibits sperm production. This, the researchers say, is actually a protective factor that prevents the condition from being passed down from an affected father to a child. The research team aims to use this specific methylation in the DNA to develop a diagnostic marker for prenatal testing for this severe disease.
To learn more about this research, check out the video.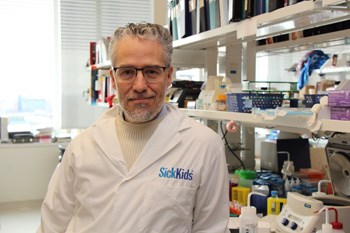 Dr. Christopher Pearson.
"Not only is this methylation mark driving the maternal effect in mothers, it's also protecting fathers from transmitting congenital myotonic dystrophy," says the study's co-principal investigator, Dr. Christopher E. Pearson, Senior Scientist in Genetics & Genome Biology at SickKids and Professor in the Department of Molecular Genetics at the University of Toronto. "We have finally provided an answer to the question of parent-of-origin effect, a question that has remained unanswered for many diseases, including myotonic dystrophy, for many decades."
Myotonic dystrophy is one of 43 different diseases caused by repeat expansions in specific genes. Of these, 16 diseases – including myotonic dystrophy and Huntington's disease – are caused by CTG-CAG DNA base repeats in the DMPK gene and also in the regulation region of SIX5, a downstream gene that regulates sperm production.
In this study, the research team collected DNA samples internationally and found that DNA methylation, coupled with the repeat expansions, is always associated with congenital myotonic dystrophy. The methylation mark they observed in these DNA samples was only present when the child inherited the mutation from its mother. This genetic mark was not observed in babies when the disorder was transmitted from the father, nor was it seen in sperm samples from affected fathers.
In addition, they studied cell samples from embryos donated by affected families. In samples where the egg came from an affected mother, the methylation mark was observed, suggesting this mutation typically occurs early in the development of the embryo. In samples where the sperm came from an affected father, the mark was not seen.
Animal models with knocked-out SIX5 genes showed some of the symptoms of myotonic dystrophy; however, there was no sperm production. Without sperm, the condition would not be transmitted.
The findings suggest that this methylation mark could be used as a diagnostic marker for the congenital form of myotonic dystrophy. The goal is to develop this diagnostic marker as a prenatal test.
"I've been studying myotonic dystrophy for over two decades, and this particular aspect for 11 years. When the first set of data came out, we knew we had something, but when we recognized the prenatal factors – not just driving (mothers) and protecting (fathers) – it was like everything aligned. It's rare for that to happen in science, but genetics can be like that. Parents really do matter!" says Pearson.
Myotonic dystrophy is a disorder characterized by neurological, muscular, cardiac, cognitive and behavioural issues. Babies born with the congenital form may also experience severe (and sometimes fatal) breathing and feeding problems. It affects one in 8,000 people worldwide, but the incidence is 20- to 30-fold higher in the Saguenay region of Quebec.
While it's a rare disease, the findings may be applicable to 15 other CTG-CAG disorders, and possibly even to the other 42 repeat expansion diseases.
In earlier related research, the SickKids research team demonstrated the phenomenon of genetic anticipation in myotonic dystrophy, whereby severity increases, and age of onset occurs earlier, as it is passed on to each new generation. In other words, while an affected grandparent may have a milder form of the disease occuring in later childhood or adulthood, their grandchild may have the congenital form, which has the most severe symptoms and outcomes.
The study is funded by the Canadian Institutes of Health Research (CIHR), Muscular Dystrophy Canada, Fonds voor Wetenschappelijk Onderzoek-Vlaanderen and SickKids Foundation.
This paper is an example of how SickKids is contributing to making Ontario Healthier, Wealthier and Smarter. www.healthierwealthiersmarter.ca.
About The Hospital for Sick Children
The Hospital for Sick Children (SickKids) is recognized as one of the world's foremost paediatric health-care institutions and is Canada's leading centre dedicated to advancing children's health through the integration of patient care, research and education. Founded in 1875 and affiliated with the University of Toronto, SickKids is one of Canada's most research-intensive hospitals and has generated discoveries that have helped children globally. Its mission is to provide the best in complex and specialized child and family-centred care; pioneer scientific and clinical advancements; share expertise; foster an academic environment that nurtures health-care professionals; and champion an accessible, comprehensive and sustainable child health system. SickKids is proud of its vision for Healthier Children. A Better World. For more information, please visit www.sickkids.ca. Follow us on Twitter (@SickKidsNews) and Instagram (@SickKidsToronto).
Media contacts
Suzanne Gold
The Hospital for Sick Children
416-813-7654, ext. 202059
suzanne.gold@sickkids.ca
Matet Nebres
The Hospital for Sick Children
416-813-6380
matet.nebres@sickkids.ca