SickKids scientists create new way to classify cancers based on unique hypermutant footprint
Summary:
A game-changing study by SickKids suggests there could be a day where cancers are not classified by their tissue of origin (i.e. brain cancer, breast cancer, colon cancer) but rather by the number and type of genetic mutations they carry. The study is published in the Oct. 19 online edition of Cell.
TORONTO – A game-changing study by The Hospital for Sick Children (SickKids) suggests there could be a day where cancers are not classified by their tissue of origin (i.e. brain cancer, breast cancer, colon cancer) but rather by the number and type of genetic mutations they carry. The study is published in the Oct. 19 online edition of Cell.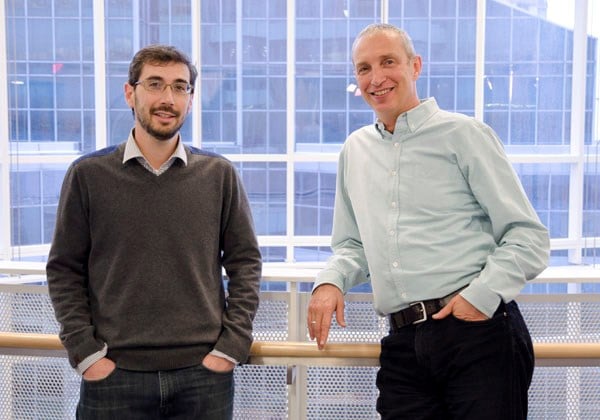 From left: Drs. Shlien and Tabori.
Using genetic sequencing analysis from more than 80,000 individual tumours, scientists uncovered for the first time that a significant portion of all human cancers are hypermutant (tumours with more than 10 mutations per million letters of DNA). The researchers found that these hypermutant tumours create distinct footprints that hold a plethora of information – the cause of the tumour, how it will grow and potential treatments.
Looking at all human cancers, researchers found that hypermutant tumours are found in 17 per cent of adult and five to 10 per cent of paediatric cancers. In classifying the cancers they took a novel approach and focused on the number and type of mutations rather than the tumour's tissue of origin. Using a combination of bioinformatics tools, they were able to divide hypermutant cancers into eight novel clusters based on the pattern of mutations driving the tumour's growth, their unique footprint, as well as the timing of the mutations. Each cluster has clinical relevance.
"We established genetic signatures that span many hypermutant tumour types. Our findings show that the unique genetic profile is more relevant than the tumour's tissue of origin in understanding how it came about, when and in what order mutations occur and potentially how to treat it," says Dr. Adam Shlien, co-principal investigator of the study and Associate Director of Translational Genetics and Scientist in Genetics & Genome Biology at SickKids. "Our paper is providing deeper insight into the cancer's past, present and future. Thanks to the massive sample size, we learned that different tissues have the same mutational context. For example, a rare prostate cancer and a rare pancreatic cancer both arose because of the same process, so what on the surface seems different may actually be very much the same."
The genetic footprints the team developed also revealed if the hypermutation was a hereditary mutation or caused by external factors like chemotherapy or carcinogens such as UV light or smoking.
Shlien says it's as though the genetic signatures are revealing how the tumour is self-reporting, "it's saying, here is how I came about, these are the milestones in my life, I am resistant to certain drugs, but other drugs may be effective against me. Uncovering these details reveals the cancer's own Achilles' heel, or weakness."
This specific information helps us care for patients, says Dr. Uri Tabori, co-principal investigator of the study, Staff Physician in Haematology/Oncology and Senior Scientist at SickKids. "Our comprehensive analysis has given clinicians and scientists alike the vocabulary to discuss and classify hypermutant cancers for the first time. Additionally, we are already using this new information clinically to determine which drugs may help specific clusters of patients."
The genetic signature for one group of patients, called Cluster One, has major clinical implications clearly revealing a hereditary mutation and predisposition to a life risk of cancer; a condition called Constitutional Mismatch Repair Deficiency Syndrome (CMMRD). "These cases are especially important to find early because they can be screened such that their inevitable cancer will be caught before it becomes deadly, and not only that, but we can do genetic testing for family members who would also be at risk," says Tabori, who is also leading an international consortium that offers free genetic testing, genetic counselling and surveillance of cancers in children and family members with CMMRD.
Similarly, Cluster three has improved survival and response to therapy regardless of tumour type and Cluster five represents a group of cancers with resistance to a type of chemotherapy called alkylators. This means that clinicians can decide which patients they should reduce therapy and which patients should avoid specific drugs just based on tumor sequencing.
These SickKids-developed genetic signatures are being used as part of the Kids Cancer Sequencing Program (KiCS), co-led by Drs Shlien and David Malkin at SickKids, and at major cancer centres across North America. Tabori and Shlien say when they began this research tumor hypermutation was not being considered as a valuable marker to be assessed. This study confirms that it is not only valuable but can lead to actionable results for far more patients than expected.
As many childhood cancers have been understudied for their genetic signatures, the next steps for the research team is to apply their approach to more cancers where hypermutation may have been overlooked.
This study was supported by Meagan's Walk, the CIHR Joint Canada-Israel Health Research Program, a Stand Up to Cancer (SU2C) – Bristol-Myers Squibb Catalyst Research and a SU2C – St. Baldrick's Pediatric Dream Team Translational Research Grant, and SickKids Foundation.
This paper is an example of how SickKids is contributing to making Ontario Healthier, Wealthier and Smarter. www.healthierwealthiersmarter.ca.
About The Hospital for Sick Children
The Hospital for Sick Children (SickKids) is recognized as one of the world's foremost paediatric health-care institutions and is Canada's leading centre dedicated to advancing children's health through the integration of patient care, research and education. Founded in 1875 and affiliated with the University of Toronto, SickKids is one of Canada's most research-intensive hospitals and has generated discoveries that have helped children globally. Its mission is to provide the best in complex and specialized child and family-centred care; pioneer scientific and clinical advancements; share expertise; foster an academic environment that nurtures health-care professionals; and champion an accessible, comprehensive and sustainable child health system. SickKids is proud of its vision for Healthier Children. A Better World. For more information, please visit www.sickkids.ca. Follow us on Twitter (@SickKidsNews) and Instagram (@SickKidsToronto).
Media contacts:
Caitlin Johannesson
The Hospital for Sick Children
416-813-7654, ext. 201436
caitlin.johannesson@sickkids.ca
Matet Nebres
The Hospital for Sick Children
416-813-6380
matet.nebres@sickkids.ca