SickKids joins new Canadian Heart Function Alliance to help improve health outcomes for Canadians living with heart failure
Summary:
SickKids researchers will lead PRIORITY, a pan-Canadian precision medicine study that aims to identify biomarkers for earlier diagnosis and more tailored therapies for patients with childhood heart failure.
Cardiomyopathy and congenital heart disease are leading causes of childhood heart failure. With no paediatric-specific therapies or drugs to date, these conditions require life-long cardiac care as patients transition into adult care. To help improve diagnosis and enhance patient monitoring, The Hospital for Sick Children (SickKids) joins five other research hubs that will form a new national network that aims to improve the prediction, prevention, diagnosis and management of heart failure among Canadians.
The Canadian Heart Function Alliance (CHF Alliance) will bring together an extensive network of researchers, clinicians, patients, caregivers, Indigenous elders, policy-makers and other partner organizations across the country to explore a breadth of approaches to extending the lifespan of Canadians who have heart failure.
SickKids will form the paediatric arm of the CHF Alliance, led by Dr. Aamir Jeewa, Section Head for Cardiomyopathy & Heart Function in the Division of Cardiology, and Dr. Seema Mital, Head of Cardiovascular Research.
"The CHF Alliance aims to help patients with heart failure from infancy to adulthood. Through this alliance, we will build on our expertise in child health to explore uncharted areas in paediatric heart failure research," says Jeewa.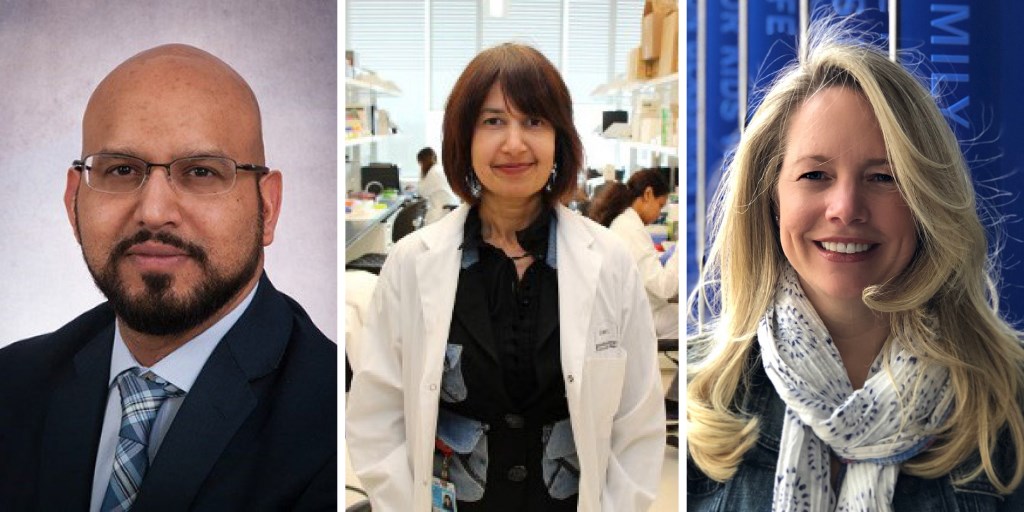 Drs. Jeewa and Mital, alongside Dr. Samantha Anthony, a Health Clinician Scientist in the Child Health Evaluative Sciences program, will lead the "Precision Medicine for Heart Failure in the Young" (PRIORITY) project. The study, which encompasses three research streams, will develop biological, technological and social solutions for early diagnosis, closer monitoring and personalized management of patients who experience childhood heart failure.
The research team will develop and validate an artificial intelligence-based model to diagnose diastolic heart failure, implement remote monitoring for childhood cardiomyopathy, and create an online peer support program to improve self-managed care among adolescents transitioning from paediatric into adult care.
"Using a precision medicine approach, we will use the power of genomics and artificial intelligence to develop tests for timely diagnosis of heart failure as well as targeted therapies," says Mital, who is also the Scientific Lead of the Ted Rogers Centre for Heart Research and Senior Scientist, Genetics & Genome Biology.
"To improve in-home and remote monitoring that can identify heart failure progression before symptoms worsen, we will leverage advances in digital technology to monitor children remotely using smart textiles and cloud-based platforms that can track physiological changes in children," adds Dr. Jeewa.
Dr. Anthony, who is also a Social Worker in the Transplant and Regenerative Medicine Centre and one of the leads of the PRIORITY project, will lead the online peer support mentorship program called iPeer2Peer (iP2P) to help improve the transition to adult care among cardiac patients.
"The transition from adolescence to adulthood is an incredibly challenging and vulnerable period for patients. We hope that a peer support program, in which young adults mentor adolescents, will provide a timely intervention that meets the unique developmental, self-management and transitional care needs of this clinical population," says Anthony.
The CHF Alliance spans eight provinces and one territory and 23 research projects. The six research hubs consist of SickKids, Population Health Research Institute at McMaster University, University of British Columbia, Western University, University of Saskatchewan and Université de Montréal. The PRIORITY study will also extend to the Montreal Heart Institute, Stollery Children's Hospital, BC Children's Hospital, Ste Justine Hospital, CHEO, McMaster Children's Hospital, Toronto General Hospital and Kingston General Hospital.
The alliance is supported by the Canadian Institutes of Health Research (CIHR) in partnership with the Heart & Stroke Foundation of Canada, Mitacs and the National Institute of Health's National Heart, Lung and Blood Institute. The PRIORITY study has also partnered with the SickKids Labatt Family Heart Centre, Ted Rogers Centre for Heart Research, the Canadian Congenital and Pediatric Cardiology Research Network, the Canadian Pediatric Cardiology Association and the Children's Cardiomyopathy Foundation.
New research fellowship to develop AI models to predict outcomes in children with cardiomyopathy and heart failure
Training the next generation of physicians and scientists in heart failure research is an important goal of the new CHF Alliance, formed to improve the lives of persons living with heart failure. The CHF Alliance Fellowship at SickKids will leverage paediatric and adult biological, clinical and physiological datasets to develop patient-centric AI prediction models, discover and validate disease-specific biomarkers, and assess precision therapies for childhood heart failure.
The CHF Alliance pleased to announce that Dr. Aine Lynch is the first recipient of the fellowship. Dr. Lynch is completing a Heart Function and Transplantation fellowship at the Labatt Family Heart Centre. Her research includes developing models that predict outcomes in children with cardiomyopathy and heart failure. As part of the research fellowship, she will lead a research project that examines the use of smart wearable textiles to monitor paediatric cardiomyopathy patients in the Cardiac Critical Care setting. Dr. Lynch holds a medical degree from the Medical School of University College Dublin, Ireland and completed medical and cardiology training at SickKids and the Royal College of Physicians of Ireland.
The CHF Alliance unites the most prolific Canadian researchers and experts in heart failure together with patients, caregivers, Indigenous Elders and Knowledge Keepers, government, policymakers, not-for-profit organizations, health-care providers, academic institutions, and industry partners to effect change in the treatment of heart failure and address therapeutic challenges. CHF Alliance members will work collaboratively on heart failure across the lifecycle, focused on innovative, and inter-related projects under an integrated and unified program of research. The fellowship was established with support from Bristol Myers Squibb, Mitacs and Myant, Inc.