How "Our Kind of Nursing" is adopting a strengths-based approach to care
Summary:
SickKids is one of five institutions pioneering Strengths-based Nursing and Health Care — a new standard of care that recognizes the strengths of every member of a child's care team.
The Hospital for Sick Children (SickKids) is one of five institutions pioneering a standard of care that recognizes and leverages the individual strengths of every member of a child's care team.
Historically, health care has been about understanding challenges and offering solutions. The Strengths-based Nursing and Health Care (SBNH) approach flips the script to focus on what is right, rather than what is wrong.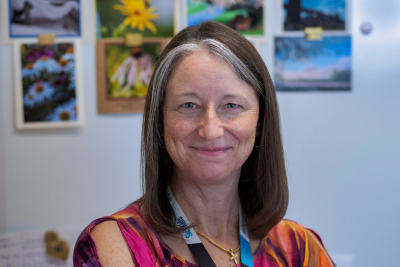 Clinical Nurse Specialist Lee-Anne Pires says introducing the Strengths-based Nursing and Health Care approach at SickKids makes perfect sense because it aligns so beautifully with the values within our kind of nursing. "They run parallel to each other," she says.
Lee-Anne Pires, a Clinical Nurse Specialist in the Blood and Marrow Transplant and Cellular Therapy program at SickKids, has been a firm believer in SBNH for nearly a decade. She first heard about the approach in 2014 when she saw SBNH founder Laurie Gottlieb speak in Toronto, and it forever changed the way she looked at nursing.
Over the next few years, Pires immersed herself in the SBNH model with Gottlieb ("the Laurie Gottlieb!") as her mentor, brought her new knowledge back to SickKids, became a strengths-based mentor herself and today, sits on the faculty of a program dedicated to Gottlieb's method.
"As a student and a faculty member, a mentee and a mentor, everything has been positive, and I've been supported through the whole journey," Pires says. "I can't say one negative thing about it."
In 2021, McGill University's Ingram School of Nursing welcomed its first cohort for an online SBNH leadership program. In partnership with five institutions in Toronto and Montreal, including SickKids and Holland Bloorview Kids Rehabilitation Hospital, the program gives clinical leaders the tools to identify strengths in themselves, their team members and patients and families, and mobilize those strengths to create a healthy, productive work environment. The framework provides a guiding set of values and the language to implement them. The second cohort completed the six-month program in October.
This program is a great example of SickKids' commitment to supporting nurses to be their best through access to educational opportunities. SickKids Associate Chief of Nursing Education Bonnie Fleming-Carroll, who is a faculty member for the program and a strengths-based mentor, says the SBNH framework "just makes sense" as a foundation for practice.
"The engagement and enthusiasm of the participants to want to lead from a strengths-based lens has been inspiring and definitely needed as we navigate a very challenging health-care environment," Fleming-Carroll says.
Seeing this commitment from leaders is inspiring to nurses at all levels across the hospital, says Sarah Brown, Clinical Research Nurse Co-ordinator for the program. As a Registered Nurse with the Neonatal Intensive Care Unit (NICU) at SickKids, Brown has personally felt the effects.
"Seeing our senior leadership team become so invested in this approach empowers me to learn more," Brown says. "Over time, the more strengths-based conversations are out there, and the more we're exposed to it, the more we'll be able to integrate this outlook."
While the program is just a few years old, its values are not new. Many nurses at SickKids are already practicing the SBNH method without even realizing it. "A lot of people are doing it already," Pires says. "The program puts language to what so many are already doing. It gives it a voice."
The program is part of a study entitled "Transforming Nurses' Work Environments through a Strengths-Based Leadership and Management Training Program." In the study, both cohorts of the program are being evaluated, with results to be published later this year.
Though the program began with nursing, it shifted to include all forms of health-care leadership. Bhupinder Heer, Clinical Manager, Social Work, has been in leadership roles within community settings for almost 20 years and as a new leader at SickKids, she enrolled in the SBNH program to expand her skills and learn more about hospital leadership. For her, strengths-based leadership is about creating strong relationships and building a culture of psychological safety.
"In order for our teams to provide excellent patient-centred care, as leaders, we also have to be employee-centred," Heer says. She says this also means recognizing that our staff are individuals who go though their own unique experiences, which they carry with them into their work life. By taking a few minutes to understand what employees are going through, leaders can create a space for trust, authenticity and healing. "If a culture of safety is built and nourished, our kind of nursing can be where all our staff do their best when they walk into work knowing that what they left behind is important too."
SBNH doesn't just focus on the strengths of nurses and health-care providers — it extends to the strengths of patients and families. Kimberly Colapinto, a Nurse Practitioner in the Neonatal Neurodevelopmental Follow-up Clinic and a past participant of the leadership program, says SBNH means validating families and celebrating their wins. As a mom, Colapinto understands the perspective of families that come into SickKids. She makes a point of acknowledging and commending them for the time and work they put into their child's care.
And in the same way that her experience as a parent informs her nursing, the strengths-based framework has brought a new understanding to parenting her two teenagers. "It integrates into all aspects of your life. It becomes a part of you and how you are in the world."
Colapinto says she'd love to see SBNH integrated into all curriculums, as the core skills of kindness, empathy and recognizing strengths in others are valuable for all people. It should even be taught in high schools, she jokes.
Introducing the SBNH approach at SickKids makes perfect sense because it aligns so beautifully with the values within our kind of nursing, Pires says. "They run parallel to each other," says Pires, who has been at SickKids for 25 years. "Our kind of nursing is individualized care. It's human-centred at its core."
She gets teary-eyed as she talks about the compassion and teamwork she sees in her fellow nurses, who always go above and beyond what they're expected to do because everyone puts patients and families first. "I don't know how you can't be proud of an institution like that," she says.