The Advanced Practice Nurse Council unites SickKids nurse practitioners and clinical nurse specialists
Summary:
The Advanced Practice Nurse Council is made up of more than 150 nurse practitioners and clinical nurse specialists across the organization.
Meet the team of advanced practice nurses who treat SickKids patients and families from a holistic point of view. The Advanced Practice Nurse (APN) Council brings together all nurse practitioners (NP) and clinical nurse specialists (CNS) in clinical roles across the hospital. It is run by co-chairs Nurse Practitioner Lianne Dulsrud and Clinical Nurse Specialist Katherine Gibson, along with past chair Nurse Practitioner Charis Kelly.
The council has been in existence since four APNs started it in 1988. Since then, the group has grown exponentially from its humble four-member beginnings — and so has its mission.
In the early 2010s, the council noticed that as numbers grew, they became disconnected. They often worked in clinical silos and found it difficult to gather as a group. So, they overhauled the council, created a new framework for APN practice and organized into communities of practice. They scheduled bi-annual meetings to increase connectivity and collaboration.
"Through the decades, we've really tried to increase our presence with more representation throughout the hospital," Kelly says. "A lot of us do very different things and have carved out our own roles. Coming together, we have the opportunity to make big changes in big ways and catapult what change we want to bring to our own areas."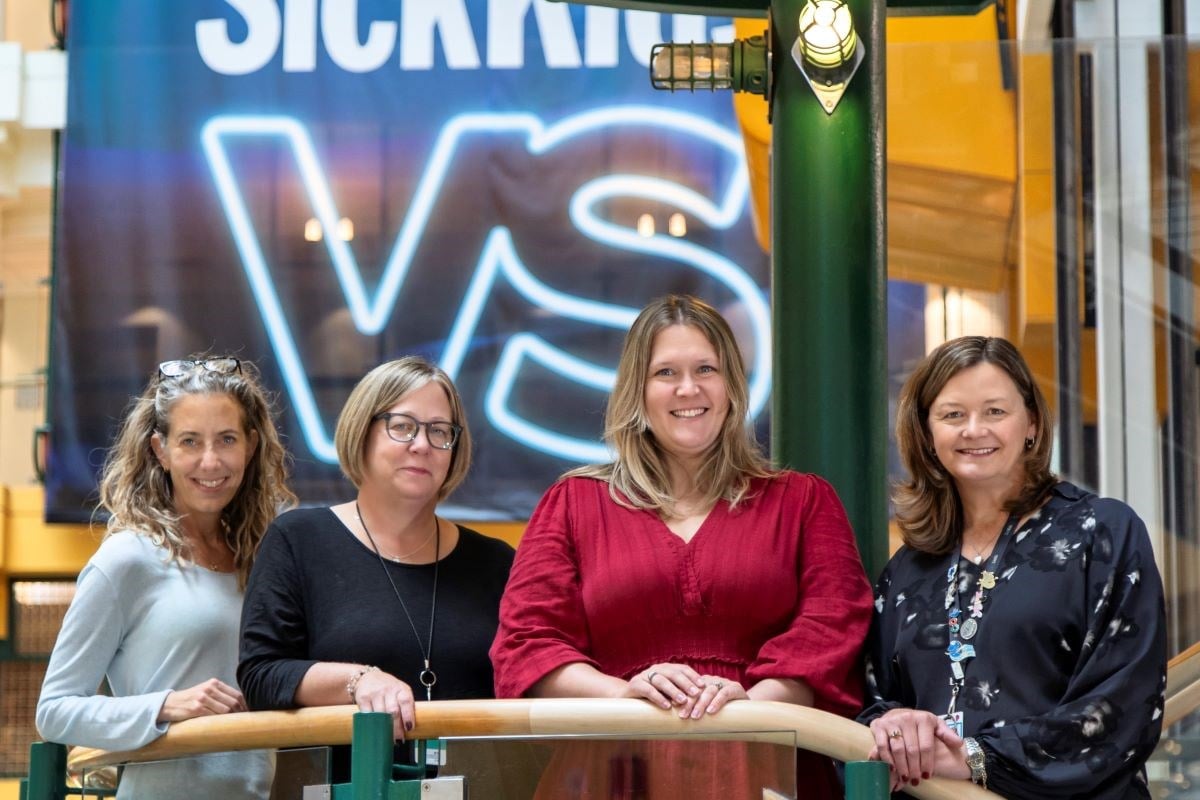 Today, the council is made up of more than 150 APNs. SickKids has long held some of the highest numbers of APNs in the country. Though their work is spread across the organization, they unite under a shared mission.
"The council is a place of like-mindedness despite working in so many places across hospital in different roles," says Gibson, who joined the council as co-chair just over a year ago. "As a newbie to this team, it's really nice to see that in a focused way."
For Nurse Practitioner Cathy Daniels, a previous co-chair who has worked as a SickKids APN for more than 20 years, this is the council's overriding objective. "To organize APN work not in clinical silos but thematically, where APNs meet to discuss and work collaboratively toward a common goal," Daniels says.
A collective voice
The role of the APN Council has changed even more in recent years. The focus used to be solely about practice within the hospital and ongoing projects. Then, in 2020, the pandemic turned the council into a space for APNs to find community and commiseration for the frustrating time health-care workers were going through.
Together the APNs found a collective voice, and learned their community could be used to spark change for all things from improving patient care to fair compensation.
"Now we have more confidence in not only our work, but in our ability to stand up for what we think is fair and right," Kelly says. "We found it was really nice to have that strength in numbers."
APNs at SickKids certainly do not work alone — they collaborate with a full interprofessional team. However, often they are the only APN in their area, so it can be easy to feel alone in certain decision-making from the APN perspective. That's where the council comes in: When APNs encounter unique challenges, both clinical and professional, the council is there to collaborate and problem-solve.
Similarly, when questions come up that require input from other care teams, they have a member of that team in their network who they can turn to.
"There is a multitude of different teams. Your APN colleagues can be that first connection to those other care teams involved," Dulsrud says.
Under their wing
Unlike other nursing leadership groups at SickKids, APNs don't need to apply or be elected to join the council. In fact, they don't have a choice. All patient-facing APNs automatically join the council as soon as they start an APN role. When they start, they receive an email welcoming them aboard. And from there, the APN Council takes them under their wing, Kelly says.
Gibson defines the APN Council as a "lovely place to be." She points to the benefits of being welcomed into a valuable network that offers learning opportunities and a space to find solutions for practice-related issues. "It's a community that has the ability to actually move things forward," Gibson says.
According to Dulsrud, the council is especially beneficial for new APNs. "It gives them a link to a network of people to go to with questions," Dulsrud says. "It's an excellent environment for connection and also for education."
For Daniels, whose unique role as APN Professional Practice Lead is dedicated to working with the Associate Chief of Nursing Practice to ensure expert practice and provide professional practice leadership, the education never stops at SickKids. She loves being a SickKids nurse for the "endless" opportunities that come with the job. "I continue to learn and grow, and every day I am inspired by the amazing work that is done by nurses."