It's been a great year at SickKids! Join us as we roll back the months and celebrate our highlights from 2015
Summary:
It's the end of another great year at SickKids! Check out some of our highlights and milestones from 2015.
Building Connections, Accelerating Impact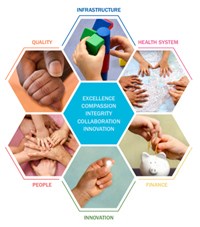 Building Connections, Accelerating Impact, SickKids' Strategic Plan for 2015-2020, was unveiled in April. The plan is a roadmap for SickKids' future, as we strive to build connections which accelerate our impact in patient care, research and education. The plan was developed with a high level of thoughtful engagement from staff, partners across the health-care system, government, the philanthropic community and, most importantly, patients and their families. SickKids' future success will depend on the ongoing engagement and commitment of this broad community of people and organizations. Learn more about our strategy.
Ensuring the best patient and family experience for years to come
The first stage of SickKids' Facility Development Plan was submitted to the Ministry of Health and Long-Term Care and the Toronto Central LHIN in September following broad consultation with patients, families, staff, partners and the broader community throughout the planning process. The proposed plan is comprised of a number of components that include the demolition and renovation of existing of out date facilities, infrastructure improvements, and development of new facilities, including a Patient Support Centre and a Patient Care Centre.
The plan will improve our current facilities and contemplates changes we might see within the health-care system and in technology, with the goal of ensuring the best patient and family experience for years to come, helping to maintain SickKids' position as one of the best children's hospitals in the world.
Eliminating preventable harm at SickKids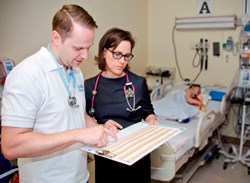 SickKids has always been a leader in advancing safe and high-quality care for children and providing a safe working environment for staff. This year, SickKids renewed its commitment to reducing preventable harm with the launch of the Caring Safely initiative, which sets ambitious targets for the reduction of hospital-acquired conditions and serious safety events. Caring Safely strengthens many of the things we already do well and introduces new ways of driving further improvements to safety, with the ultimate goal of eliminating preventable harm – to both patients and staff.
Reconstructing limbs and lives
This summer, eight-year-old Augusta Toews and her family celebrated her ability to dance, run and swim again after an experimental procedure helped save her severed leg. A boating accident the previous summer left the girl's limb 95 per cent detached. SickKids plastic and reconstructive surgeon Dr. Gregory Borschel managed to reattach and restore movement to the leg with help from a vascular surgeon from Toronto General Hospital. Several surgeries, nerve grafting and an innovative electrical stimulation procedure, which delivered 30-volt shocks to Augusta's sciatic nerve, have helped Augusta regain nearly the full function of her leg. Borschel has since used the electrical stimulation procedure to treat other patients with damaged nerves.
Largest genome sequencing finds surprises
In January, news outlets in Canada and the U.S. aired the exciting and surprising findings of a study led by SickKids that featured the largest genome sequencing study in autism and one of the largest on any disorder to date. The research found that siblings with autism spectrum disorder often carry very different genetic mutations, and emphasized the need to do whole genome sequencing on patients in order to see their complete genetic picture.
Janet Rossant awarded prestigious Gairdner Wightman Award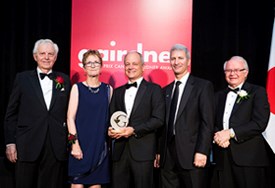 Rossant (second from left) at the Gairdner presentation ceremony.
Dr. Janet Rossant, Senior Scientist and Chief of Research Emeritus, was awarded the Gairdner Wightman Award for 2015. Among the world's most esteemed medical research prizes, the Canada Gairdner Awards distinguish Canada as a leader in science. The prestigious Gairdner Wightman Award is given to a Canadian who has demonstrated outstanding leadership in medicine and medical science throughout their career. The award has been given for Rossant's outstanding scientific contributions to developmental biology and for her exceptional international leadership in stem cell biology and policy-making, and in advancing research programs for children's illnesses. Rossant completed her 10-year term of exemplary leadership of the SickKids Research Institute earlier this year.
Largest-ever suicide-risk study identifies new prevention opportunity
Suicide prevention efforts have traditionally focused on the time period immediately following the first suicide attempt, but new research from SickKids, the Institute for Clinical Evalutative Sciences (ICES) and Sunnybrook Health Sciences Centre found that most suicide deaths occur well after the first attempt. The findings not only suggest the need for continued, long-term monitoring with individuals who have survived a suicide attempt, but also shine light on new prevention opportunities.
The study followed more than 65,000 people who survived a self-poisoning episode. Investigators found that the risk of suicide following non-fatal self-poisoning was 42 times higher than in the general population, and that the risk of death from accidents was 10 times higher following self-poisoning. The risk of suicide long after the first self-poisoning episode suggests that to save lives we may need ongoing sustained initiatives to target this high-risk group. Researchers from SickKids and ICES also found that teenagers who are hospitalized after intentionally poisoning themselves are at a significantly increased risk of dying by suicide within 10 years of the first attempt.
A lasting impact on the health and well-being of children everywhere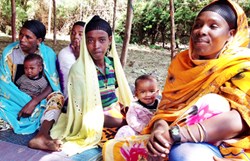 The SickKids Centre for Global Child Health was involved throughout the year in supporting and advocating for the integration of newborn, child and adolescent health in the United Nations' Sustainable Development Goals through contributions to major international reports. The centre has been working closely with Canadian partners to improve the lives of children and families living in poor-resource environments, where the largest number of deaths to children under five occurs. Early this year, the centre welcomed a significant grant from the Government of Canada to expand paediatric nursing training in Ghana. Meanwhile, SickKids International successfully completed a five-year partnership in Qatar, which will have a lasting impact on the health and well-being of children.
The nation's highest honour
SickKids staff members were among the distinguished Canadians who were invested in the Order of Canada in 2015. The Order of Canada recognizes outstanding achievement, dedication to the community and service to the nation by people in all sectors of Canadian society.
Dr. Janet Rossant, Senior Scientist and Chief of Research Emeritus, was appointed Companion of the Order of Canada, the highest level of the Order.
Dr. James Rutka, Neurosurgeon and Senior Scientist, was appointed Officer of the Order of Canada.
Dr. Brenda Gallie, Head of the Retinoblastoma Program, was appointed a Member of the Order of Canada.
Dr. Shaf Keshavjee, Director of the Toronto Lung Transplant Program, which encompasses SickKids and the University Health Network, was appointed an Officer of the Order of Canada.
Old bones can regain youthful healing power, study finds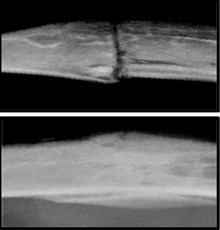 Broken bones in older people are notoriously slow to heal, but researchers may have identified a way to help them heal faster and better. Researchers at SickKids and Duke University School of Medicine discovered that young blood cells actually have the capacity to rejuvenate bone repair in older bones. It's not that bone cells can't heal as efficiently as we age, it's that the other cells may be providing the wrong signals to those cells, causing reduced healing. The research team not only traced what signals go wrong when older bones don't heal properly, but also successfully manipulated the process in mouse models by both circulating blood and transplanting bone marrow from a young mouse into an older mouse. This prompted the older mouse's bones to heal faster and better, more like the bones in the younger mouse.
Working together to address challenges, find solutions
SickKids continued its process improvement journey this past year with several initiatives achieving measurable success and, more importantly, sustaining those results throughout the year. From successfully reducing cancellations that occur three days before an appointment to improving lab result turnaround times to reducing supply chain costs, SickKids staff in several areas are working with colleagues to better understand the challenges that are impacting our patients and staff and come up with solutions. The hospital has a team that provides various levels of support for these initiatives, ranging from leading and executing the activities to supporting and coaching other SickKids staff as they lead their own projects.
We're so green we've gone silver and gold!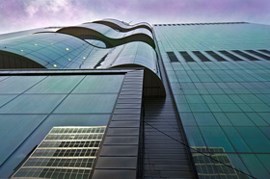 Promoting a socially responsible work environment is important to SickKids – so much so that we've made it a strategic objective. We are devoted to creating a healthier and safer environment for our patients, families, staff and the greater community and are delighted that our energy conservation, waste diversion and sustainability programs are being recognized externally.
SickKids received a Silver Seal from the Ontario Hospital Association's (OHA) Green Hospital Scorecard (GHS) for its environmental performance. The OHA noted that SickKids has made considerable strides in our internal leadership and policy development for environmental sustainability, as well as increased rates of recycling. Areas SickKids hopes to build on for next year's scorecard include reducing our water usage and improving our emissions reporting.
The Peter Gilgan Centre for Research and Learning (PGCRL) officially achieved Leadership in Energy and Environmental Design (LEED) Gold certification from the Canadian Green Building Council in March. LEED certification is an international program that promotes a whole-building approach to sustainability by recognizing performance in site development, water efficiency, energy efficiency, materials selection and indoor environmental quality.
That same month, SickKids was presented with a Leadership Award from Greening Health Care for overall innovation and performance in sustainability. Greening Health Care, managed by Toronto and Region Conservation Authority, helps hospitals work together to raise their environmental performance. The award pays tribute to the organization's efforts to create a sustainable and environmentally responsible future and highlights the culture of innovation at SickKids.
A great place to work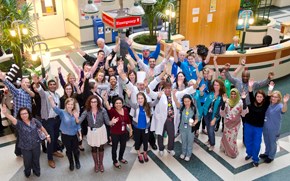 For the fourth time in the last five years, SickKids was chosen as one of Canada's Top 100 Employers. SickKids was chosen from applicants from across Canada.
SickKids supports employees in a number of ways. From wellness initiatives to employee assistance programs to education and training opportunities, SickKids wants to make sure staff find meaning and value in their work and continue to provide the best for our patients and families.
Electronic health information systems go live
SickKids went live with several new electronic clinical information systems that will help us further enhance the patient and family experience, as well as patient safety. Highlights include a new scheduling and registration system that allows for greater integration between demographic information, scheduling information and clinical information; expansion of our electronic patient information system to our critical care areas, a key element of our "one patient, one record" plan to improve patient care; electronic physician documentation in the Emergency Department to improve the capture of critical information; and the use of clinical smartphones to enable nurses to monitor patient alarms.
Study sheds surprising light on the causes of cerebral palsy
Cerebral palsy is the most common cause of physical disability in children. It has historically been considered to be caused by factors such as birth asphyxia, stroke and infections in the developing brain of babies. In a new game-changing Canadian study, researchers from SickKids and the Research Institute of the McGill University Health Centre have uncovered strong evidence for genetic causes of cerebral palsy. The study could have major implications on the future of counselling, prevention and treatment of children with cerebral palsy.
Happy 140th to us!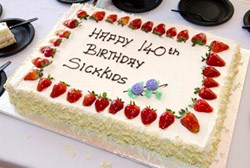 It was a milestone birthday for SickKids this year, hitting the big 4-0, as in 140! We are proud of our 140-year history of improving the lives of the children and families we have the privilege of serving. Our wonderful story began way back in the spring of 1875, when a group of Toronto women led by Elizabeth McMaster rented an 11-room house in downtown Toronto for $320 a year, set up six iron cots and declared open a hospital "for the admission and treatment of all sick children." On April 3, Maggie, a scalding victim, became SickKids' very first patient. Read more of our history.