Automation and innovation at SickKids core facility sparks research into new therapies
Summary:
SPARC Drug Discovery brings together clinicians, scientists and novel systems to explore potential therapeutics in a step towards Precision Child Health.
As scientists search for new treatments for diseases from cystic fibrosis to cancer, the SPARC Drug Discovery core facility at The Hospital for Sick Children (SickKids) offers innovative solutions which help bridge the gap between basic research and clinical applications, bringing novel and inventive therapeutics to the bedside sooner.
With a library of over 150,000 compounds, including drugs already approved by regulatory agencies and compounds with the potential to become future therapeutics, SPARC Drug Discovery works with clinician scientists and researchers to identify and test which of these compounds may be suitable to target different health conditions.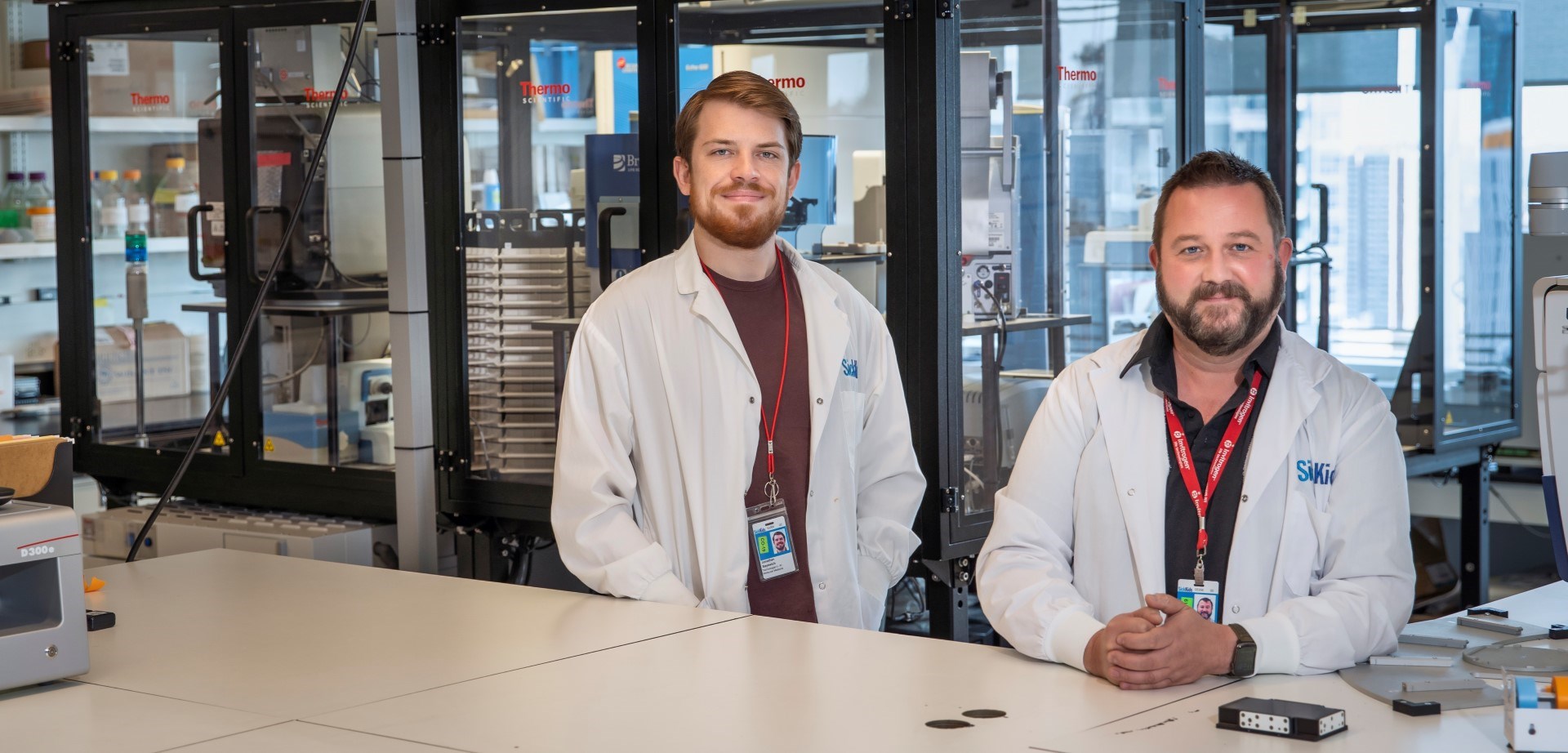 "Our facility exists at the intersection of care and research. By bringing together patient-derived cells and a library of potential therapeutics, our infrastructure is the first line for clinicians and researchers seeking to develop targeted and personalized care."
– Chris Fladd, Facility Manager
Innovative technology links research and care
While more effective treatments to improve child health outcomes is a goal for researchers around the globe, the process of identifying and testing new biological targets and potential new therapeutic molecules is time intensive. For many scientists, a lot of time is spent on repetitive tasks like pipetting different compounds and preparing plates.
To help speed-up the research process, SPARC Drug Discovery, co-directed by Drs. Daniela Rotin and Roman Melnyk, Senior Scientists in the Cell Biology and Molecular Medicine programs, contains a suite of specialized instruments that are integrated into a single system, supported by robotics and automation software. This system, called high-throughput screening, enables scientists to compare and analyze multiple tests on different compounds simultaneously.
"Our system offers a high degree of precision, which not only reduces the risk of human error, but frees up scientists and technicians to uncover new avenues for testing and treatment," explains Chris Fladd, Facility Manager.
Each research project is different, with some scientists examining new use cases for drugs already approved for other conditions, and others starting with different versions of candidate compounds to identify new therapeutics. Researchers using SPARC Drug Discovery often analyze the effects of these compounds on specific cells and proteins, but the equipment at the facility extends beyond this to the analysis of organoids, a group of cells or tissues which have been grown to mimic an organ.
"Conducting biomolecular screening on organoids presents a remarkable opportunity to explore the impact of different compounds on a network of patient-derived cells and develop a fuller understanding of the impact of a compound earlier in the research process," explains Fladd.
Collaborat

ion

informs

advancements in

research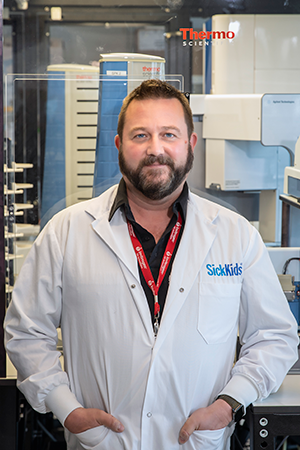 As one of over a dozen scientific core facilities at the SickKids Research Institute, SPARC Drug Discovery provides clinicians and scientists at SickKids, as well as the external scientific community, with access to the specialized tools and expertise they need to advance their research.
The facility supports a diverse range of research areas with important clinical impacts, including in cancer and infectious diseases. From seeking new molecules with Dr. Roman Melnyk that target the COVID-19 virus to working with Dr. Christine Bear, a Senior Scientist in the Molecular Medicine program, as her team examines therapies for cystic fibrosis (Stem Cell Reports, 2021), Fladd and Sayewich work closely and collaborate with every scientist that uses the facility to help them determine what infrastructure is most useful to advance their research.
"One of the most exciting areas we support right now is Precision Child Health, a movement at SickKids to deliver individualized care for every patient," says Fladd.
"As technology and artificial intelligence evolves, we will explore opportunities to add infrastructure that keeps SPARC Drug Discovery at the leading edge and supports clinician-scientists as they seek personalized treatments for each child."
Need help with your research? Get in touch with the SPARC Drug Discovery Facility.
SPARC Drug Discovery is funded by the Canada Foundation for Innovation and is available to all members of the research community on a fee-for-service basis. Visit the SPARC Drug Discovery website to learn more and book equipment.